LIVE ANTHRAX, SMALL POX, TB, and OTHER INFECTIOUS DISEASE WORK AT LANL?
Look what we found buried in the classified ads!
This is how the Department of Energy and the National Nuclear Security Agency notified you about the public information meeting for the proposed biosafety level-3 facility they are planning to build and operate at Los Alamos National Laboratory.
WHAT ELSE ARE THEY HIDING?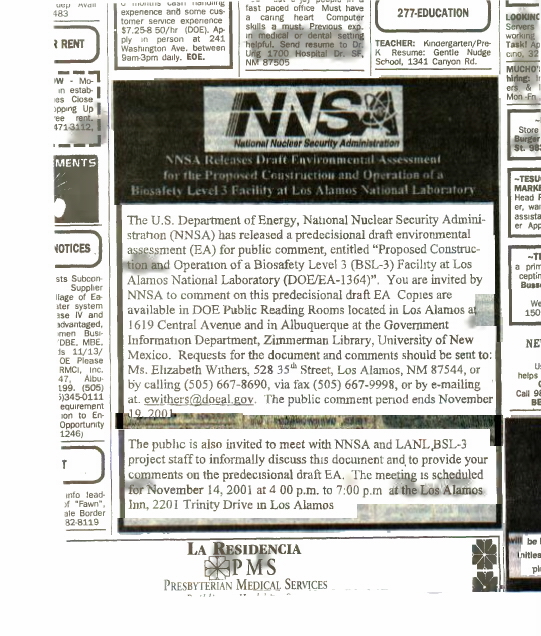 (actual size)
The public information meeting will be held on Wednesday, November 14 from 4 to 7 p.m. at the Los Alamos Inn, 2201 Trinity Drive, Los Alamos.
For more information, please contact Concerned Citizens for Nuclear Safety at 986-1973 or the New Mexico Toxics Coalition at 982-2609.
The public comment period ends November 19, 2001.
To comment on the proposal, write Ms. Elizabeth Withers, NEPA Compliance Officer, Office of Environment, 528 35th Street, Los Alamos, NM 87544, or via email at ewithers@doeal.gov.
For more information see the CCNS BSL-3 Fact sheet. Also, write to Ms. Elizabeth Withers and tell her that you are opposed to the proposed BSL-3 facility at LANL. You can download a one-page letter requesting a 120 day extension of the comment period for the draft Environmental Impact Statement here.
Read CCNS and the New Mexico Toxics Coalition's preliminary comments on the proposed BSL-3 Facility
November 10, 2001