A Third Attempt at Consent-Based Siting for High-Level Radioactive Waste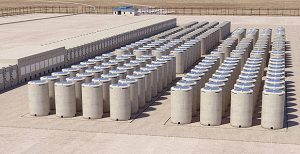 On Tuesday, November 30th, the Department of Energy (DOE) held a press conference to announce the third attempt to find communities, sovereign tribal nations, or local or state governments to host an interim federal storage facility for high-level radioactive waste from commercial nuclear reactors.  DOE issued a request for information in which it "especially welcome[s] insight from people, communities, and groups that have historically not been well-represented in these discussions."  In the past, almost all communities have rejected hosting such a site because it might become a "forever" site as no permanent disposal site has been identified.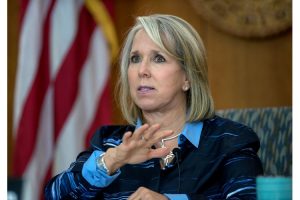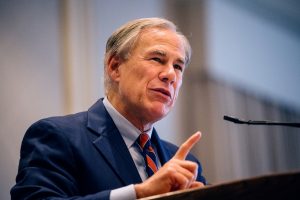 New Mexico Governor Michelle Lujan Grisham and Texas Governor Greg Abbott have both definitively stated that they do not consent to interim storage of commercial nuclear power plant waste at the proposed Holtec site in southeastern New Mexico or at Waste Control Specialists / Interim Storage Partners site in west Texas, on the New Mexico border.  http://nuclearactive.org/wp-content/uploads/2019/06/NM-Governor-Holtec-Ltr-060719.pdf  and http://nuclearactive.org/texas-bans-high-level-nuclear-waste-storage-nrc-approves-high-level-radioactive-waste-dump-there/
Despite the Governors' statements that the states do not consent, Dr. Kathryn Huff, Principal Deputy Assistant Secretary for Nuclear Energy, said that she would be glad to hear from New Mexico and Texas communities, noting that those sites are proposed by private companies and are different from the consent-based process.  Huff said she expects thousands of comments on the request for information.  https://www.federalregister.gov/documents/2021/12/01/2021-25724/notice-of-request-for-information-rfi-on-using-a-consent-based-siting-process-to-identify-federal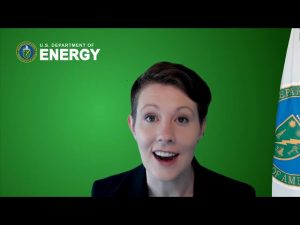 In the early 1990s, the first attempt was made with the appointment of a Nuclear Waste Negotiator who granted funds to communities to consider hosting an interim site.  The Mescalero Apaches of New Mexico accepted funding to consider it, but in the end, rejected hosting an interim storage site.  http://nuclearactive.org/report-from-december-9th-summit-to-halt-high-level-radioactive-waste-dumping-in-new-mexico-and-west-texas/
Under the Obama administration, a second attempt was made through a number of public meetings throughout the country, though no funding was provided.
The Consolidated Appropriations Act of 2021, passed by Congress, supports the third attempt.  It provides $20 million to DOE to begin the consent-based siting process "to support near-term action in managing the nation's spent nuclear fuel and is an important component of an integrated waste management system."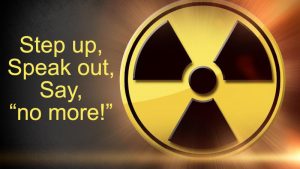 DOE asks for commenters to address questions, such as:  "How should [DOE] build considerations of social equity and environmental justice into a consent-based siting process?" and "What barriers might prevent meaningful participation in a consent-based siting process and how could those barriers be mitigated or removed?"  https://www.energy.gov/articles/doe-restarts-consent-based-siting-program-spent-nuclear-fuel-requests-input-interim
On Tuesday, December 7th at 2 pm Eastern Time, Dr. Huff will be available for a virtual question and answer.  https://pnnl.zoomgov.com/webinar/register/WN_37M0wNLUTImCkpOJdM11fQ?utm_medium=email&utm_source=govdelivery
Comments are due by 5 pm Eastern Time on Friday, March 4, 2022 and may be submitted to consentbasedsiting@hq.doe.gov.
---

TODAY! Dec. 2nd from 5:30 to 7 pm MT – New Mexico Environmental Law Center, Environmental Justice Series, featuring Youth United for Climate Crisis Action (YUCCA).  Join the community conversation with YUCCA leaders who will present their work and the importance of youth leadership and involvement in the legislative session.  Register here: https://nmelc-ejseries-yucca.eventbrite.com
Here is also a link to the Facebook event page: https://www.facebook.com/events/603594134428078?ref=newsfeed
Mobile/WhatsApp: +81(0)90 8310 5370  Skype: akirakawas :
"This will be a unique opportunity to hear powerful stories and vital messages, directly from nuclear survivors from around the globe. The Forum will be open for anyone to join, held over two time blocks to cover different timezones) and available for viewing directly on the nuclearsurvivors.org website and on Youtube.
"No registration is needed – you can just come straight to the web site and view the Youtube videos immediately from there.
"We also encourage you to join the conversation on Youtube by actively sharing your comments, thoughts, questions and so on – these will be fed into the discussions on the day and also the summary documents and outcomes to follow."
"The videos will remain available on Youtube as an archive so please do take a look even if you are not able to join in real time."
Tags: commercial nuclear reactors, consent-based siting, Consolidated Appropriations Act of 2021, Department of Energy, DOE, Dr. Kathryn Huff, high-level radioactive waste, Holtec, Mescalero Apaches of New Mexico, New Mexico Governor Michelle Lujan Grisham, no permanent disposal site, Nuclear Waste Negotiator, Obama administration, Principal Deputy Assistance Secretary for Nuclear Energy, Texas Governor Greg Abbott, Waste Control Specialists / Interim Storage Partners, "forever" site