New Mexico and Texas Targeted for Consolidated Storage of All the Plutonium Fuel from Nuclear Power Plants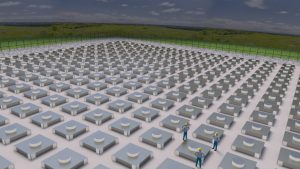 Southeastern New Mexico and West Texas are targeted for the construction and operation of two de facto parking lot dumps for all of the nation's existing irradiated plutonium fuel, also known as high-level radioactive waste, and all that would be generated in the next 30 years.  Last week, Holtec International, a private nuclear company, submitted its application to the Nuclear Regulatory Commission (NRC) for a 40-year license to store 100,000 metric tons of commercial fuel at a Highway 62 site, located halfway between Carlsbad and Hobbs, and 15 miles north of the Waste Isolation Pilot Plant (WIPP).  https://holtecinternational.com/2017/03/30/the-hi-store-consolidated-interim-storage-cis-program-reaches-a-major-milestone/  In January, Waste Control Specialists submitted its application to store more than half of the commercial fuel on its 14,900-acre dumpsite on the Texas – New Mexico border, five miles east of Eunice, New Mexico.  http://www.wcstexas.com/wp-content/uploads/2017/01/NRC.WCS_.1.27-1.pdf
Many New Mexicans and Texans oppose the proposals.  The vast majority of the nation's nuclear power plants are located in the east.  Transportation of the fuel by ship, rail and highway creates radiation risks to those living along the routes.  The emergency preparedness and response required for a radiation release is lacking.  It is estimated that a small accidental release of radiation could minimally contaminate 42-square miles and cost $9.5 billion to cleanup contamination in a large city, and $620 million in a rural area.
Proposed transportation maps are available at:  http://static1.1.sqspcdn.com/static/f/356082/27450667/1486998445013/Rail-Transport+routesWCS-1.pdf?token=wgGRSYLr7EbqxLd54LrQ0V8Jd4s%3D and http://static1.1.sqspcdn.com/static/f/356082/27010289/1462420316290/5+4+16+WCS+Transportation+Maps.jpg?token=fdXd0O9cuEa7l77eBIMXkEv0ih4%3D  and water transportation routes by state, https://web.archive.org/web/20151101154823/http://www.nirs.org/fukushimafreeways/watertransport.htm
NRC calls the proposed parking lot dumps "consolidated interim storage facilities."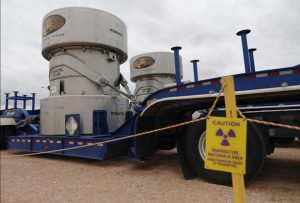 On February 21, 2017, Bexar County, Texas passed a resolution opposing the proposals.  San Antonio is the county seat and it passed a similar resolution.  The Bexar resolution states, "Bexar County does not support or consent to consolidated interim storage of radioactive waste in Texas and nearby New Mexico, or the transportation of high-level radioactive waste on our railways or highways for the purpose of consolidated storage or permanent disposal of high-level radioactive waste in Texas or New Mexico."  Bexar County Resolution – Feb 21 2017-1 The Commissioners Court of Dallas County Dallas Rad Waste Transport FINAL 4-4-17 and the Texas Democratic Party have passed similar resolutions.
In New Mexico, Governor Susana Martinez offered support.  State Representative James Townsend, who represents Artesia, said, "I don't believe the community or the state will allow something to occur that they don't believe is safe.  Look at WIPP's track record.  Overall, we have had a very good track record, and I believe this facility will perform equally."  https://www.nmlegis.gov/Members/Legislator?SponCode=HTOWJ
In contrast, Senator Tom Udall said New Mexico has already contributed to the nation's waste disposal problem.  He continued, "Any future nuclear waste mission in New Mexico would need broad support throughout the state, as well as an independent scientific analysis ensuring its safety before I would consider supporting it."  https://www.tomudall.senate.gov/
Tags: Bexar County resolution, consolidated interim storage facility, Dallas County resolution, Governor Susana Martinez, high-level waste, Holtec International, parking lot dumps, plutonium fuel, Representative James Townsend, Senator Tom Udall, transportation, waste control specialists, WCS, WIPP