States Parties to the Treaty on the Prohibition of Nuclear Weapons Will Meet at the United Nations to Strengthen the Ban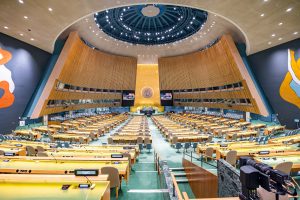 From Monday, November 27th to Friday, December 1st, the States Parties to the Treaty on the Prohibition of Nuclear Weapons will meet at the United Nations in New York to review progress on the treaty's implementation and agree on further action to strengthen it.  https://disarmament.unoda.org/wmd/nuclear/tpnw/
This will be the second meeting of the States Parties.  https://meetings.unoda.org/tpnw/tpnw-msp-2023; https://www.icanw.org/tpnw_second_meeting_of_states_parties; and https://www.reachingcriticalwill.org/disarmament-fora/nuclear-weapon-ban/2msp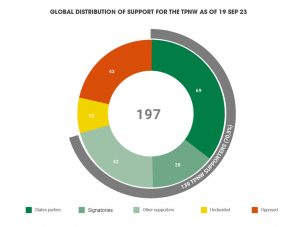 The International Campaign to Abolish Nuclear Weapons, or ICAN, is encouraged by the 97 States that have already signed, ratified or acceded to the Treaty.  https://www.icanw.org/eu_today_tpnw  It continues its work for more States to join the Treaty.  In 2017, ICAN was awarded Nobel Peace Prize.  CCNS is a member of ICAN.
The Treaty is also commonly known as the Nuclear Ban Treaty.
The States Parties have urged the nuclear-armed states and their allies to engage with the Nuclear Ban Treaty by being observers at the second meeting of the States Parties.  At the first meeting last year, several North Atlantic Treaty Organization, or NATO, members did attend.  They included representatives from Belgium, Germany, Norway, and The Netherlands.  Australia also attended as an observer.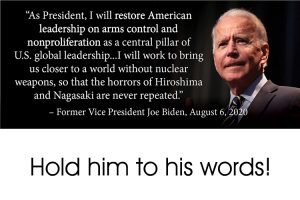 Please encourage the Biden Administration to send a delegation of U.S. observers to the second meeting and to initiate negotiations with all the nuclear weapons states for a verifiable, time-bound agreement to eliminate all nuclear weapons.  https://documents-dds-ny.un.org/doc/UNDOC/GEN/N23/269/26/PDF/N2326926.pdf?OpenElement
During this second meeting, a call will be made for all States to abandon the nuclear deterrence theory as an unacceptable threat to humanity and all life on Planet Earth and to end deployment of nuclear weapons in third states under the so-called nuclear sharing agreements.
ICAN states that deterrence is an unproven gamble, based on the implicit threat to use nuclear weapons.  That theory has brought the world close to nuclear war on a number of occasions.  Nuclear sharing agreements are a dangerous practice that further exacerbates the risks of proliferation and nuclear use.  The Nuclear Ban Treaty prohibits both of these activities.
Alongside the meetings at the United Nations, at least 40 in-person and virtual events will take place during Nuclear Ban Week.  There will be marches, rallies, art exhibits, concerts, debates, and presentations.  A full list of events is available on the ICAN website at https://www.icanw.org/2msp_events
The United Nations Side Event Calendar is available at https://docs-library.unoda.org/Treaty_on_the_Prohibition_of_Nuclear_Weapons_-SecondMeeting_of_States_Parties_(2023)/20231107_TPNW_2MSP_Side_events_calendar.pdf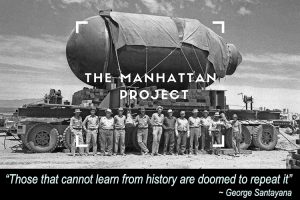 Twice daily at 9 am and 5 pm Mountain Time from Monday, November 27th until Friday, December 1st, MSP-TV will provide 15-minutes of summaries, highlights and insights from the Nuclear Ban Week events.  To receive a reminder, RSVP here:  https://www.icanw.org/msp_tv?locale=en
The second meeting of the State Parties where the end of nuclear weapons is being designed stands in direct contrast to the beginning of the Manhattan Project in the late 1930s to develop nuclear weapons.
---

Friday, November 10th from noon to 1 pm MT ***  NEW LOCATION DUE TO RECONSTRUCTION OF GUADALUPE BRIDGE.  ***  Join the weekly peaceful protest for nuclear disarmament on the corners of Alameda and Sandoval in downtown Santa Fe with Veterans for Peace, CCNS, Nuclear Watch NM, Loretto Community, Pax Christi, Nonviolent Santa Fe, and others.
In Albuquerque:  The Albuquerque Veterans For Peace will celebrate Armistice Day at the New Mexico Veterans Memorial at 1100 Louisiana Blvd. SE in Albuquerque, New Mexico, typically from 9:00 to 11:00 AM.
In Santa Fe:  Join VFP, colleagues and allies on the Santa Fe Plaza at 10:45 a.m.  The Archdiocese will ring the Cathedral bells 11 times beginning at 11 a.m.  Other bell ringing is planned along with moments of silence.
For more information:  http://nuclearactive.org/join-veterans-for-peace-to-celebrate-armistice-day-on-saturday-november-11th/
Community members may review Air Force Environmental Restoration Program documents by visiting the Kirtland AFB website at https://www.kirtland.af.mil/Home/Environment/ or the U.S. Air Force Civil Engineer Center Administrative Record website AF Administrative Record. If you would like additional information, please contact 377th Air Base Wing Public Affairs at (505) 846-5991 or by email, 377ABW.PA@us.af.mil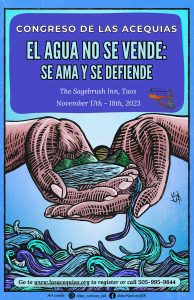 Friday, November 17th – Saturday, November 18th – New Mexico Acequia Association 24th Annual Congreso de las Acequias at the Sagebrush Inn, Taos. https://lasacequias.org/congreso/
"As governments, experts and campaigners get ready for a week of building on the treaty banning nuclear weapons, join the international day of action to call for an end to nuclear weapons and bring attention to the UN Treaty on the Prohibition of Nuclear Weapons (TPNW)! All around the world, people will be taking action to show the delegations in New York that we expect them to be bold, courageous and use the TPNW to dismantle nuclear deterrence, and make sure the rest of the world is paying attention to this crucial opportunity."
Funding may be available.  Add your action to the international calendar at:  https://www.icanw.org/2msp_global_day_of_action
Monday, November 27th to Friday, December 1st – Second Meeting of States Parties (MSP) to the Treaty on the Prohibition of Nuclear Weapons (2MSP) at UN Headquarters in New York City. https://www.icanw.org/tpnw_second_meeting_of_states_parties and https://meetings.unoda.org/tpnw/tpnw-msp-2023   
 Sign-up to watch MSP-TV at https://www.icanw.org/msp_tv  Don't have time to watch the Nuclear Ban Week events play out minute-by-minute? ICAN's  "MSP-TV" will provide you a summary, highlights and insights from the Nuclear Ban Week events – at the UN, in New York and those organized by partners around the world- twice a day at 11:00 and 17:00 ET (at 9 am and 5 pm Mountain Time) from Monday 27 November until 1 December 2023.
Friday, December 15th – Holloman 5 Anti-Drone Trial begins in Otero County, NM. https://www.veteransforpeace.org/our-work/working-groups/drones-robots-and-future-weapons-working-group http://www.shutdowndronewarfare.org/   https://www.codepink.org/shutdowndrone
Tags: Biden Administration, deterrence theory, ICAN, International Campaign to Abolish Nuclear Weapons, Manhattan Project, MSP-TV, NATO, North Atlantic Treaty Organization, Nuclear Ban Treaty, States Parties, TPNW, Treaty on the Prohibition of Nuclear Weapons, United Nations