This #WorldWaterDay, it's time Congress starts treating water as a human right.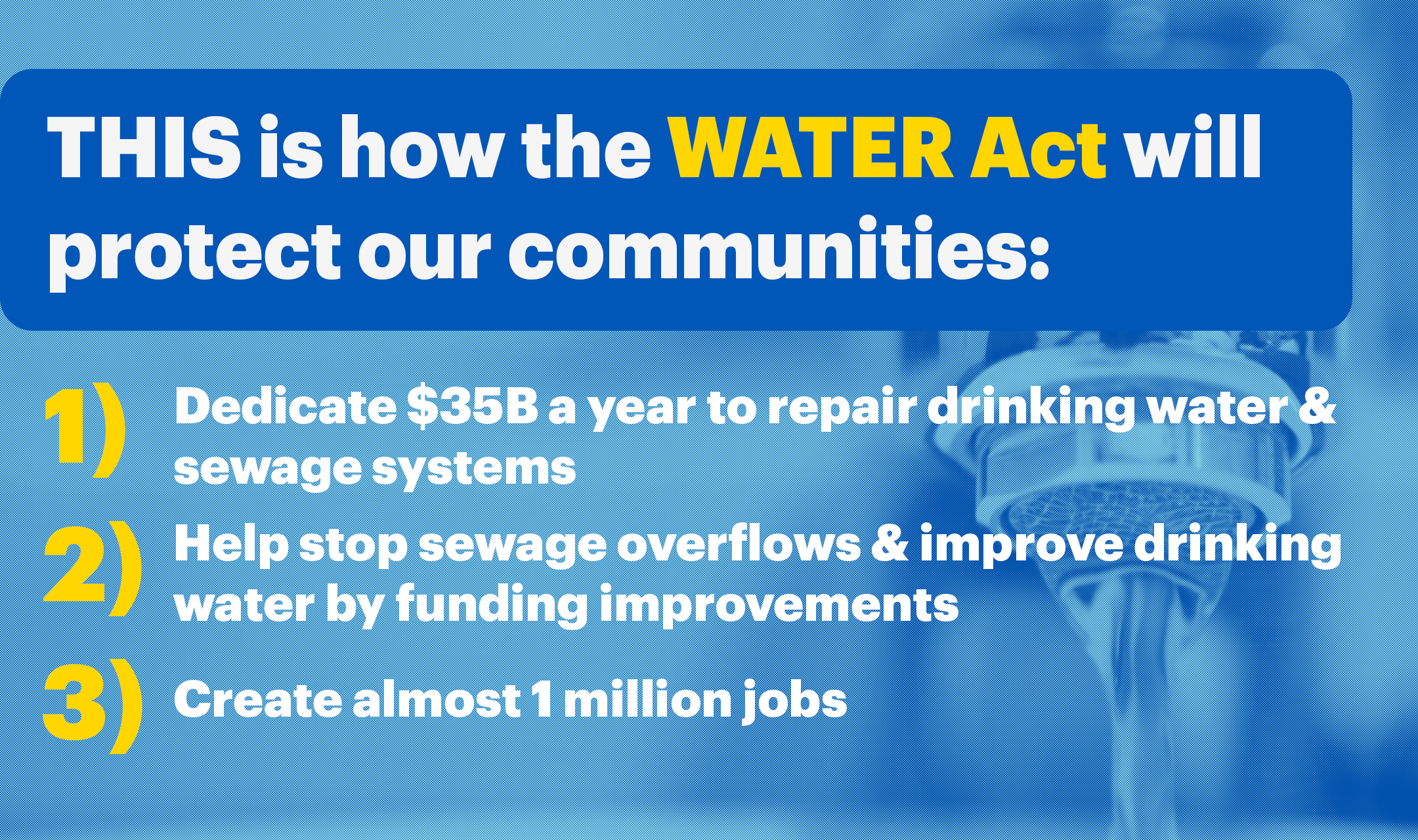 Let's pass the WATER Act so we can fix our aging water infrastructure & help ensure #WaterForAll! http://fwwat.ch/3kfTtzS

We want to share some upcoming events this week in honor of World Water Day:
Today, Monday 3/22 at 9:30 am PT/ 12:20 pm ET, the Water Equity and Climate Resilience Caucus is holding a National Call for Water, featuring Janene Yazzie, Catherine Flowers, Monica Lewis-Patrick and Rep. Debbie Dingell.
Today, Monday 3/22 at 1 pm PT/ 4 pm ET, We the People of Detroit is hosting "Democratizing Water Affordability: A discussion on structural racism and environmental segregation across America." Featuring Monica Lewis-Patrick, Peter Hammer, Jason Stanley, Coty Montag, Nadia Gaber and more!
Wednesday, 3/24 at 8:30 am PT / 11:30am ET, we are co-hosting a webinar called "Water Financialization 101: Water Futures, Water Markets and Reclaiming the Water Commons." Featuring Maude Barlow, Marcela López, Anuradha Mittal, Steve Suppan, Emiliano Terán Mantovani, and Shiney Varghese.
Friday, 3/26 all day: We're having a National Call-In Day for the Water Act, so mark your calendars.
On Friday, we are asking people to call their Congressional Representative and Senators to encourage them to cosponsor the WATER Act and push for it to be included in the upcoming infrastructure package. We have set up phone numbers that will track the number of calls we generate and that will have a quick recording at the beginning with a sample message to deliver:
House switchboard: 202-609-9041
Senate switchboard: 202-609-9043
Here is a draft message:
Hi my name is ____ and I live at ______. I am calling to urge Rep ____ to cosponsor the WATER Act (HR 1352) and push for its water justice provisions to be included in the infrastructure package. The federal disinvestment in our water systems has caused skyrocketing water rates, crumbling infrastructure, widespread pollution, mass water shutoffs, and dangerous privatization schemes – Congress must act now to end our water crisis.
(to find YOUR representative just click these links :  https://www.house.gov/representatives/find-your-representative,  https://www.senate.gov/?Class=1 )
Thank you!
Tags: the WATER Act, World Water Day