Proposed Fiscal Year 2018 Budget Released During ANA DC Days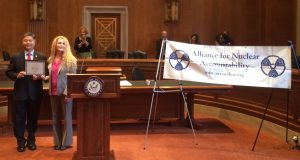 For the first time in 29 years, the proposed budget for the next fiscal year was released during the Alliance for Nuclear Accountability's DC Days.  With the proposed budget in hand, ANA members reviewed the budgets for Department of Energy (DOE), the semi-autonomous National Nuclear Security Administration, and applicable regulatory agencies.  https://www.energy.gov/articles/president-s-fy-2018-budget-proposal-emphasizes-national-security-early-stage-energy-rd-and  With a focus on the nuclear weapons, waste and cleanup budgets, the national grassroots network was in Washington, DC educating and lobbying Congress, federal agencies and the administration about their concerns.
ANA is a network of organizations and leaders seeking a nuclear-free future that safeguards communities and environment.  Over 75 activists from around the country participated in 106 meetings over the three days of DC Days. http://www.ananuclear.org/dcdays/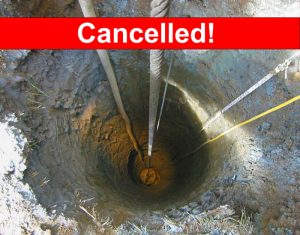 For DOE sites in New Mexico, the Trump administration proposed an 11 percent increase in the nuclear weapons budget, including a $210 million increase to expand plutonium pit production at Los Alamos National Laboratory.
Further, DOE canceled the proposed Deep Borehole Field Test project for the Nara Visa area of Quay County and the Otero Mesa in Otero County.  Residents in both communities actively opposed the drilling of a three-mile deep borehole into the crystalline formation for DOE scientists to determine if it would be suitable for the disposal of nuclear waste.  http://ksfr.org/post/eastern-nm-borehole-test-axed-ranchers-relieved
Nevertheless, the proposed budget includes $120 million for the Yucca Mountain repository in Nevada to dispose of high-level commercial nuclear waste.  It was mothballed by the Obama administration, with support from the former U.S. Senate Democratic leader, Harry Reid of Nevada.
Each year, ANA honors elected leaders and activists during an Awards Reception.  This year, Tina Cordova, of the Tularosa Basin Downwinders Consortium, was honored for her work to bring attention to the negative health effects experienced by the people living adjacent to the Trinity test site subsequent to their overexposure to high levels of ionizing radiation that occurred on July 16, 1945.  The U.S. test was a first use of a plutonium atomic weapon on a civilian population.  A similar atomic weapon was dropped on Nagasaki, Japan on August 9th, 1945. https://www.trinitydownwinders.com/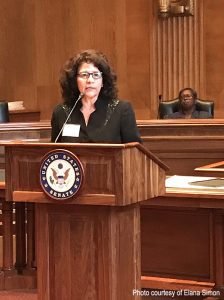 Cordova said, "It was an honor to have been nominated for this most amazing award.  When I accepted the award, I did so on behalf of the thousands of Downwinders of New Mexico who were innocently enlisted into service as the first victims of an atomic blast."
Cordova and Joni Arends, of CCNS, lobbied Congress to expand the federal Radiation Exposure Compensation Act to include the Trinity Downwinders in the $2 billion program that provides compensation and health care to those overexposed to radiation.  See Senate Bill 197 at https://www.congress.gov/bill/115th-congress/senate-bill/197/text and the companion House Bill 2049 at https://www.congress.gov/bill/115th-congress/house-bill/2049/related-bills
Describing her first experience of ANA's DC Days as "enlightening," Cordova said, "I highly recommend this event to anyone who is interested in knowing more about and advocating for a reduction in the U.S. nuclear arsenal and cleanup of sites where it is so badly needed."
Tags: Alliance for Nuclear Accountability, ANA, borehole, DC Days, DOE, National Nuclear Security Administration, otero county, quay county, Radiation Exposure Compensation Act, RECA, TBDC, Tina Cordova, Tularosa Basin Downwinders Consortium, Yucca Mountain