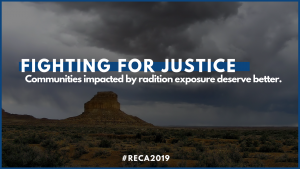 @RepBenRayLujan just introduced legislation to expand compensation for individuals exposed to radiation – a critical effort to ensure justice for the individuals, families, and communities impacted. #RECA2019
Thousands of families in New Mexico and across the country were exposed to radiation causing illness, cancer, and death in our communities. @RepBenRayLujan just introduced #RECA2019 to ensure these individuals get the compensation they need & deserve.
Radiation exposure has taken the lives of too many and continues to hurt our families – it's time to pass @RepBenRayLujan's #RECA2019 legislation to expand compensation for these families.