EPA Proposal Would Weaken Civil Rights Protection; Public Comment Period Ends March 11th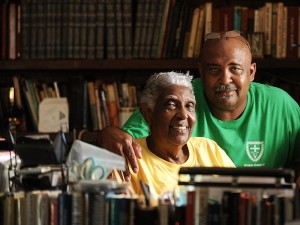 Pastor Ron Smith with his mother Ann Smith, retired teacher and community leader, in Ann's office at her home near Tallassee, AL.
In July, community and environmental groups from five states sued the U.S. Environmental Protection Agency (EPA) Office of Civil Rights over the agency's failure to take action on civil rights complaints, including one submitted by the Albuquerque-based Citizens for Alternatives to Radioactive Dumping (CARD) for the proposed Triassic Park hazardous waste facility. Several complaints that allege discrimination under the Civil Rights Act of 1964 for the siting and permitting of polluting facilities have languished for over 20 years.   http://earthjustice.org/cases/2015/challenging-epa-s-failure-to-investigate-civil-rights-complaints
The groups are the Maurice and Jane Sugar Law Center for Economic and Social Justice (complaint filed July 1994 – Genesee Power Station); CAlifornians for Renewable Energy and its President, Michael Boyd (complaint filed April 2000 – Los Medanos Energy Center and Delta Energy Center power plants); Sierra Club Lone Star Chapter (complaint filed April 2000 – Beaumont Refinery); Citizens for Alternatives for Radioactive Dumping (complaint filed September 2002 – Triassic Park hazardous waste treatment, storage and disposal facility); and Ashurst/Bar Smith Community Organization (complaint filed September 2003 – Stone's Throw Landfill).
Now the groups are calling on the EPA to significantly strengthen a proposed rule to revise the way the agency handles complaints.
In December, EPA began a public comment period about the proposed changes that, among other things, eliminate deadlines for agency action. EPA claims in its Federal Register notice that the proposed amendments, "recognize that the EPA's current, self-imposed regulatory deadlines are impracticable given the inherent scientific complexity associated with determining which and how populations are impacted by environmental pollutants; the number of discrimination allegations and theories that may be asserted in any one complaint [ ]; and the volume of the complaints received." Federal Register, Vol. 80, No. 239, Monday, December 14, 2015, Proposed Rules, p. 77285. http://www.epa.gov/ocr – under "External Compliance and Complaints Program – Title VI," click on New Developments!
The proposed changes actually weaken existing protections by removing deadlines for the agency to respond and investigate complaints. Past performance indicates more accountability is needed, not less.
For example, in September 2002, CARD filed a complaint against the New Mexico Environment Department for permitting the construction of the proposed Triassic Park hazardous waste treatment, storage, and disposal facility, located between Roswell and Tatum. The complaint alleges a pattern of discrimination against Spanish-speaking residents exhibited during the public hearing and throughout the permitting process. To view this article click HERE

Current EPA regulations require acknowledgement of receipt of the complaint within five days. EPA accepted the CARD complaint in 2005, nearly 1,100 days later.
Further, EPA is required to determine if an investigation is needed within 20 days, and if so, it must be completed in 180 days. Twelve years after the initial complaint was filed, EPA contacted Deborah Reade, former CARD Research Director, for additional information. EPA has yet to complete their investigation. Please see Environmental Justice, Denied: "Thirteen years and counting: anatomy of an EPA civil rights investigation: Complaint filed against the New Mexico Environment Department in 2002 remains open, to the exasperation of the complainant" at http://www.publicintegrity.org/2015/08/07/17706/thirteen-years-and-counting-anatomy-epa-civil-rights-investigation and http://www.nbcnews.com/news/latino/thirteen-years-counting-anatomy-epa-civil-rights-investigation-n405201
Last summer, the Center for Public Integrity released the results of its in-depth investigation of the Office of Civil Rights. Now EPA has put forward a proposal to weaken the already flawed process. http://www.publicintegrity.org/2015/08/20/17834/how-fix-epas-broken-civil-rights-office
Marianne Engelman Lado, an attorney with Earthjustice who filed suit on behalf of the groups, said, "It is shocking that the EPA would on the one hand acknowledge its failures to properly handle civil rights complaints, decide a revision is necessary and then turn around and remove the only clear basis for holding itself accountable for acting on complaints in a timely fashion."
Public comments must be received on or before March 11, 2016. Please note: The website says that comments are due February 12, 2016. In response to community requests for additional time, EPA will announce soon the additional of 30 days to the comment period.
Deborah Reade is preparing sample public comments for you to use, which will be available next week on our website.
Please submit your comments, identified by Docket ID No. EPA-HQ-OA-2013-0031, to the Federal eRulemaking Portal: http://www.regulations.gov. Follow the online instructions for submitting comments.