LANL Sparking Drum Causes Suspension of Radioactive Waste Shipments to WIPP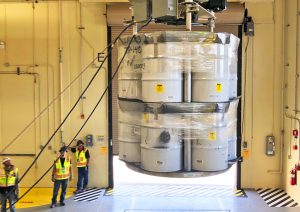 [There is a lot of information in this Update to help you understand the complexity of the LANL/WIPP/Expanded Plutonium Pit Production at LANL/Expansion Plans at WIPP issues.  Please read all the way to the end to learn about how to prepare for the May 17, 2021 public hearing about the proposed new shaft at WIPP.  There is an extensive list of links to reports about the sparking drum at LANL and WIPP.  Thank you for your interest in these issues!]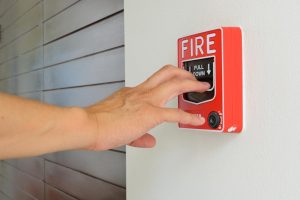 On February 26th, 2021, Los Alamos National Laboratory (LANL) workers saw sparks inside of a recently packaged 55-gallon drum of plutonium-contaminated transuranic (TRU) waste at the Plutonium Facility.  The workers followed procedures and pulled the fire alarm and evacuated the area.  LANL's investigation then found that four other drums containing similar waste were still at LANL and that two such drums had been shipped to the Waste Isolation Pilot Plant (WIPP) and disposed in 2020.  In response to LANL's findings, WIPP evacuated workers from the underground and suspended shipments from LANL.
This story is reminiscent of the February 14th, 2014 explosion of one or more drums in the WIPP underground.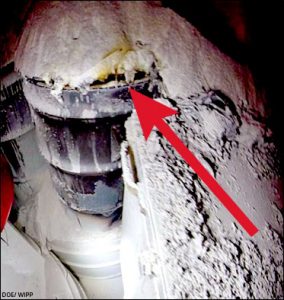 These drums also had been packaged at LANL.  In that case, LANL scientists incorrectly used organic, rather than non-organic, kitty litter to sop up liquids in the drums.  The organic kitty litter created a chemical reaction and radiation release that contaminated 22 workers and over 8,000 linear feet of the underground mine; and vented contaminated air directly to the environment.
Both incidents show inadequacies in WIPP's Central Characterization Project that operates at LANL and other sites and is supposed to ensure proper analysis of the waste.  Nevertheless, LANL again has shipped incompatible drums to WIPP.  Following the 2014 Valentine's Day explosion, WIPP was closed for nearly three years at a $2 billion cost to taxpayers. Because of the underground contamination, WIPP continues to receive waste at a much lower rate than before the explosion.
The mission of WIPP is to dispose of "legacy" radioactive and hazardous waste created by the research, fabrication, and testing of nuclear weapons during the Cold War.  It appears that the sparking drum packaged in the Plutonium Facility and the other similar ones are "newly generated" waste from efforts to modernize nuclear weapons.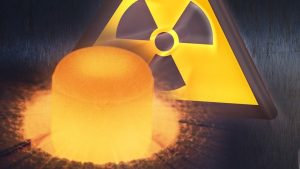 As LANL prepares to expand its fabrication of plutonium pits, the radioactive triggers for those nuclear weapons, the resulting TRU waste would exceed the capacity limits at WIPP, according to reports in 2020 from Government Accountability Office and National Academy of Sciences.  When establishing those limits in 1992, Congress tasked DOE to establish other waste repositories, but none are yet planned.
Instead DOE wants to expand the underground disposal area at WIPP for the additional waste, keep the site open until at least 2080, and develop no other repository.
A virtual public hearing about a proposed new shaft, an essential part of the WIPP expansion, begins on Monday, May 17th. New Mexicans can comment at that hearing where numerous groups are opposing the shaft.
---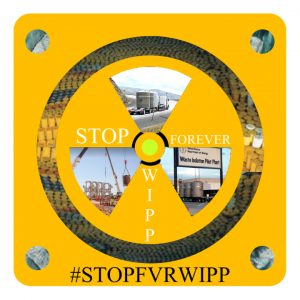 QUESTIONS ABOUT HOW TO PREPARE FOR THE  May 17, 2021 PUBLIC HEARING?
Over the next five weeks, CCNS, working with the Stop FOREVER WIPP Coalition, will be providing information about the proposed new shaft, along with the connections between proposed expanded plutonium pit production at LANL and the lack of WIPP disposal space for such waste.  Check out the animations at https://www.facebook.com/StopfvrWIPP/
The Stop FOREVER WIPP Coalition has prepared three newsletters with more detailed information.  They are:
Part 1:  The New Shaft Permit Modification – Public Hearing Begins on Monday, May 17, 2021  http://nuclearactive.org/stop-forever-wipp-newsletter/
Part 2:  The New Shaft Permit Modification – WIPP's Temporary Authorization http://nuclearactive.org/the-new-shaft-permit-modification/
Part 3:  The New Shaft Permit Modification – Your Comments and the May 17th Public Hearing.  Includes sample public comment letter you can use to submit.  http://nuclearactive.org/stop-forever-wipp-the-new-shaft-permit-modification-part-3/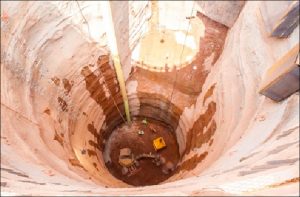 For more information, check out these links:
Defense Nuclear Facilities Safety Board (DNFSB) Los Alamos Activity Report for Week Ending March 5, 2021.  https://www.dnfsb.gov/documents/reports/resident-inspector-weekly-reports/los-alamos-week-ending-march-5-2021   "We note that this energetic chemical reaction underscores the need for Triad to fully address the concerns outlined in DNFSB/TECH-46 Potential Energetic Chemical Reaction Events Involving Transuranic Waste at Los Alamos National Laboratory."  https://www.dnfsb.gov/documents/letters/potential-energetic-chemical-reaction-events-involving-transuranic-waste-los  
DNFSB Los Alamos Activity Report for Week Ending March 12, 2021.  https://www.dnfsb.gov/documents/reports/resident-inspector-weekly-reports/los-alamos-week-ending-march-12-2021  "Triad personnel continued their efforts to identify waste containers with contents similar to those involved in the incident that occurred two weeks ago (see 3/5/2021 report.  They identified potential containers at the Plutonium Facility, Transuranic Waste Facility (TWF), and the Waste Isolation Pilot Plant."   
March 12, 2021 NNSA letter to NMED about potential non-compliance under the Hazardous Waste Facility Permit.    
DNFSB Los Alamos Activity Report for Week Ending March 19, 2021.  https://www.dnfsb.gov/documents/reports/resident-inspector-weekly-reports/los-alamos-week-ending-march-19-2021  "On Monday, Triad personnel commenced an investigation for the event associated with the suspected titanium welding fume condensate that readily ignited into sparks during a waste drum-out (see 3/5/2021 report)."
March 19, 2021:  Report of Implementation of the Resource Conservation and Recovery Act Contingency Plan at the Waste Isolation Pilot Plant Facility on March 4, 2021, Hazardous Waste Facility Permit, Number NM4890139088-TSDF, Reinhard Knerr/CBFO and Sean Dunagan/NWP to Kevin Pierard, NMED HWB  https://wipp.energy.gov/2021-information-repository-documents.asp
Los Alamos Reporter:  March 24, 2021:  "WIPP Central Characterization Project is Lynchpin for Radioactive Waste Receive from LANL, Other DOE Sites"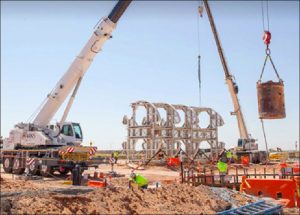 [Reinhard Knerr, DOE's field manager at WIPP] discussed the importance of the Central Characterization Project (CCP) which was established by DOE to standardize and provide efficiencies in the characterization and certification process at DOE waste generator sites such as LANL.
"The area I most worry about is the interface between the generator site and our program. We rely on Environmental Management at Los Alamos and their contractors to give us information. Sometimes they don't have the information because it's legacy waste and it really becomes a research project on both sides of the fence to make sure we understand what we're taking," he said. "Newly generated waste should be easier but sometimes the downside for newly generated waste is that people will make operational errors whenever you deal with it. There's always room for mistakes so those are the types of things I'm a little more nervous about to tell you the truth because the legacy waste – it is what it is."
Knerr said the legacy waste has been sitting for decades so "you feel pretty comfortable and if you don't know what it is, you go ahead and you sample". He said the CCP program is probably one of the most regulated programs anywhere in the world and that the people involved take a lot of pride in what they do especially when they are doing Acceptable Knowledge" research and chemical compatibility analyses to make sure they have multiple layers of control.
"I think we have learned a lesson that an error along that front has a lot of potential ramifications for us in the underground with regard to the operability of the repository. That program is a lynchpin of our characterization process but again we are dependent on the generator site," Knerr said.
https://losalamosreporter.com/2021/03/24/wipp-central-characterization-project-is-lynchpin-for-radioactive-waste-received-from-lanl-other-doe-sites/
DNFSB 31st Annual Report to Congress, March 23, 2021.  See
iii (Safety of Solid Nuclear Waste);
14 – 17 (Los Alamos National Laboratory);
22 – 24 (Safety of Solid Nuclear Waste);
29 – 30 (Los Alamos National Laboratory);
33 (Chemical Compatibility of Waste Mixtures with Nitric Acid and Nitrate Salts).
https://www.dnfsb.gov/documents/reports/reports-congress/31st-annual-report-congress
*** TODAY'S NEWS*** April 8, 2021:  "DOE prepared this supplement analysis (SA) to evaluate the Waste Isolation Pilot Plant Disposal Phase Final Supplemental Environmental Impact Statement (DOE/EIS-0026-S2) in light of changes that could have bearing on the potential environmental impacts previously analyzed. Included with this SA is a proposed change pertaining to the excavation of two underground replacement panels for the disposal of transuranic (TRU) waste."
https://www.energy.gov/nepa/articles/doeeis-0026-sa-12-supplement-analysis-waste-isolation-pilot-plant-site-wide
---


Did You Know?  We are Podcasting! 
1. Every Friday and Saturday from noon to 1 pm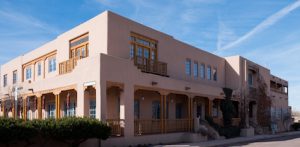 – Protest LANL signing a 10-year lease (for the former Descartes building) to establish itself in Santa Fe at the corner of Guadalupe and W. Alameda. JOIN US!  We'll have banners.  Please bring a sign.
2. Th. April 22nd from 6 to 7:30 pm –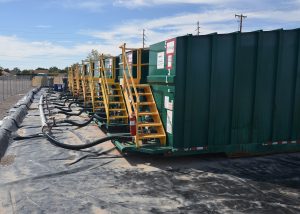 Virtual open house for the Kirtland Air Force Base Bulk Fuels Facility. You will need to download Adobe Connect software to participate.  See email below from KAFB:    
"Dear Neighbor,
"As we previously mentioned, the Air Force will be hosting a virtual open house for the Kirtland Air Force Base Bulk Fuels Facility project on Thursday, April 22, 2021 from 6:00 to 7:30 p.m. In light of Coronavirus concerns, this open house will be held virtually using a platform provided by the Air Force Institute of Technology (AFIT). Due to issues with previous software, there is a new update.
"Attendees will need to download the free Adobe Connect software to join the virtual meeting. It is suggested this be done in advance of the meeting date and time. The updated software can be downloaded at https://helpx.adobe.com/adobe-connect/connect-downloads-updates.html.
"Community members interested in joining the virtual open house can join using the following internet connection: https://ceschool.adobeconnect.com/afcec/
"An updated presentation will be provided that will include a project status update and a question and answer period. To submit questions, e-mail brannon.lamar@us.af.mil.
"If you would like additional information, please contact Brannon Lamar at 377 Air Base Wing Public Affairs at (505) 639-8420 or by email, brannon.lamar@us.af.mil.
"We ask that you share this notification with others in your community and hope you can join us at the upcoming event!
"Regards,
"Kirtland Air Force Base Public Affairs"
3. Submissions due Tuesday, June 1st: Calling all youth and community artists!
Communities for Clean Water (CCW) is working on a new ZINE and would love to feature your art, poetry, photography or writing. Open to all mediums and creative ideas.
Some questions to spark your reflection:
** Why is water sacred to you?
** What does it feel like in your body to live near LANL?
** How has your family and community been impacted by LANL?
** If water, land and air could speak, what would their message be?
Contact – ccwyouthreps@gmail.com – with submissions or questions!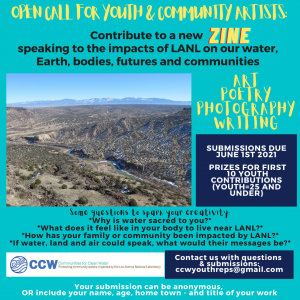 Tags: Central Characterization Project, evacuation, expansion, February 14 2014, Government Accountability Office, LANL, legacy waste, Los Alamos National Laboratory, modernization of nuclear weapons, National Academy of Sciences, newly generated waste, organic kitty litter, Plutonium Facility, plutonium-contaminated, proposed new shaft, sparking drum, transuranic, TRU, Waste Isolation Pilot Plant, WIPP