Pastoral Letter from Santa Fe's Archbishop: Living in the Light of Christ's Peace: A Conversation Toward Nuclear Disarmament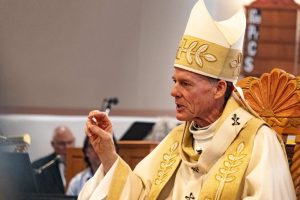 On January 11th, Archbishop of Santa Fe John C. Wester released his historic pastoral letter Living in the Light of Christ's Peace:  A Conversation Toward Nuclear Disarmament. https://archdiosf.org/living-in-the-light-of-christs-peace (You can watch the press conference there.)
The Archbishop said, in part: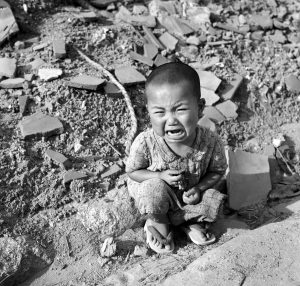 "In September 2017, I traveled to Japan and visited Hiroshima and Nagasaki. It was a somber, sobering experience as I realized that on August 6, 1945, humanity crossed the line into the darkness of the nuclear age. We can now kill billions of people instantly and even destroy the world in a flash. The reality of this evil becomes very real as you walk through Hiroshima and Nagasaki today.
"In one exhibit, I read about school children in Hiroshima who, on that fateful morning in August 1945, ran to the windows, attracted by a bright light. I wonder how many were running to their deaths, either instantaneously incinerated or dying later in agonizing pain. Normally, light brings new life and clearer vision. Not that day. Sadly, the light generated by the first nuclear explosion used in war brought only destruction and death.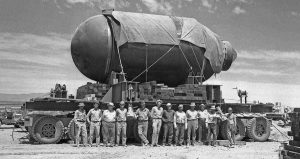 "… Those Japanese school children had no time to be afraid. They had no time to run and there was no home left to run to ….
"Within a day or two of my return to New Mexico, I took [some friends] to the New Mexico History Museum. There I saw a different exhibit with a different story. With Hiroshima and Nagasaki still fresh in my mind, I read about the Manhattan Project, the development of the Los Alamos and Sandia National Laboratories, and the creation of the nuclear bombs that were eventually dropped on Hiroshima and Nagasaki … It was eerie to see photos of Little Boy and Fat Man … when I had just been in those very places only weeks before. I knew now what those bombs did to our Japanese brothers and sisters….
"[I]t seemed blasphemous to me that we could create a weapon with the potential to destroy our entire planet, our common home, given to us by a loving God to be cared for and nurtured so that all might live in God's peace. It became clear … that the Archdiocese of Santa Fe must be part of a strong peace initiative, one that would help make sure that these weapons would never be used again, that we would never destroy our planet or one another, that instead we would clean up our poisoned land and fund global institutions that resolve all international conflicts through nonviolent means such as dialogue and negotiation."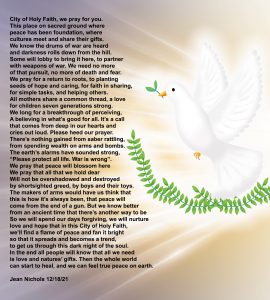 ---


1. Saturday, Jan. 15th at 10am: 2022 Martin Luther King, Jr. Holiday March/ Parade,
organized by the UNM Institute for the Study of "Race" and Social Justice, begins at the corner of Dr. Martin Luther King, Jr. Ave. NE and University Blvd. NE on the UNM campus. From there, the procession will continue down Martin Luther King, Jr. Blvd. to One Civic Plaza where a celebration with praise and music will happen.
You are also invited to help Veterans for Peace, ABQ Chapter 63 carry banners and flags at this event. com/ watch/?v=1585512518210459.
2. Tuesday, Jan. 18th at noon:
NM Legislature begins its 30-day session.  http://nmlegis.gov  To get involved:  https://www.earthcarenm.org/ , https://retakeourdemocracy.org/ , https://cvnm.org/
3. Wednesday, January 19th at 9 am MT: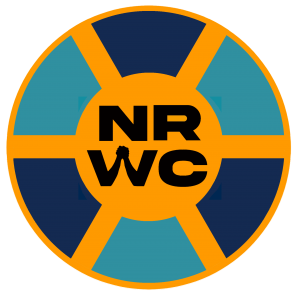 Wake up call on nuclear waste!  Meet the National Radioactive Waste Coalition! NRWC!
There is a radioactive waste crisis in America. This crisis motivated over 40 grassroots organizations from across the country to come together to address the monstrous problem of radioactive waste. They formed the National Radioactive Waste Coalition (NRWC) to advocate for environmentally safe, just, and equitable nuclear waste policy.
Register in advance for this webinar:  https://us02web.zoom.us/webinar/register/WN_zxQmUSYzRNKBrl7P4eIc0w
https://radioactivewastecoalition.org/
https://www.instagram.com/nrwcmedia/
https://www.facebook.com/nrwcmedia
4. Saturday, January 22, 2022 from 1 to 3 pm –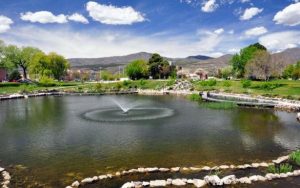 Commemoration of Martin Luther King, Jr.'s Birthday and First Anniversary of the Treaty on the Prohibition of Nuclear Weapons Rally at Ashley Pond, 2200 Trinity Drive, Los Alamos, NM.  Please join us with signs, flags and banners.  Be prepared for inclement weather:  wear layers, warm shoes and a hat. Bring water and snacks.  https://www.icanw.org/cogreg/commemoration_of_mlk_jr_birthday_and_tpnw_anniversary
5. Thursday, January 27, 2022,
National Downwinders Day. https://www.deseret.com/2021/10/4/22709221/utah-nuclear-testing-downwinders-congress-compensation-health-effects
Tags: : Living in the Light of Christ's Peace: A Conversation Toward Nuclear Disarmament. Archbishop of Santa Fe John C. Wester, Fat Man, Hiroshima, LANL, Little Boy, Los Alamos National Laboratory, Nagasaki, Sandia National Laboratories