Public Comment about Proposed Expansion of Storage Capacity at WIPP due Friday, February 3rd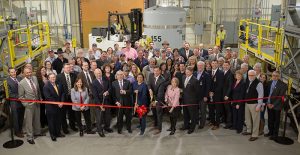 The U.S. Department of Energy (DOE) and its contractor, Nuclear Waste Partnership, LLC, reopened the Waste Isolation Pilot Plant (WIPP) on Wednesday, January 4th with the disposal of two pallets of plutonium contaminated radioactive and hazardous waste that had been stored in the Waste Handling Building since 2014 into the underground salt mine.  Workers were required to wear personal protective equipment to protect them from radiation exposure.  An official ribbon-cutting ceremony was held on Monday, January 9th with DOE Secretary Ernest Moniz and New Mexico Governor Susana Martinez, as well as other dignitaries, who did not wear protective equipment when they descended into the uncontaminated areas of the dump.  WIPP was reopened following a truck fire and a radiation release that contaminated a large portion of the mine in February 2014.
Once all of the waste containers stored in the Waste Handling Building are disposed of, shipment from other DOE sites could begin.  It is anticipated that shipments from the Idaho National Laboratory would have priority because it has about 20,000 nuclear waste containers ready to go.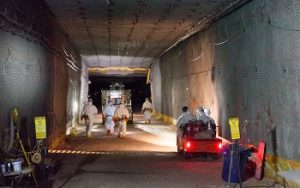 Activists question bringing shipments from other sites when necessary mine safety work is needed now.  The work includes installing roof bolts in the ceiling to keep it from falling; required improvements to the ventilation system, which will not be completed until at least 2021; and closing 60 percent of the contaminated areas where recently slabs of salt have fallen.
The current WIPP hazardous waste permit, issued by the New Mexico Environment Department, allows for storage of waste containers in the Waste Handling Building and the Parking Area for a maximum of 90 days.  [Correction:  Normal storage time limits at WIPP are 60 calendar days, not 90. See Sections 3.1.1.7. CH TRU Mixed Waste Storage Time Limit; 3.1.1.10. RH TRU Mixed Waste Storage Time Limit; and 3.1.2.6. Storage Time Limit (Parking Area Unit).]  The permit also allows for "surge" storage of a third of the existing capacity.  http://www.wipp.energy.gov/library/Information_Repository_A/Searchable_Permit_10-2016.pdf, see Sections 3.1.1.3 and 3.1.2.4.  Despite the allowance for surge, WIPP had never used the surge storage until the February 2014 shutdown when the Waste Handling Building surge has been used.
Nevertheless, DOE recently requested permission from the Environment Department to expand operations by constructing a 65,280 cubic foot waste container storage unit on the surface at WIPP, next to the Waste Handling Building and Parking Area.  DOE's proposal would expand surface storage ten times the volume currently allowed in the Waste Handling Building.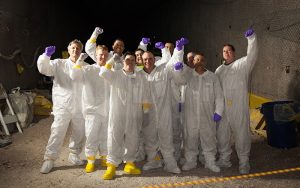 The proposed facility, called a Concrete Overpack Container Storage Unit, would store waste above ground for up to a year.  Unlike the current system where containers are delivered and disposed of, waste containers would be delivered, placed in the storage unit, removed from the storage unit, processed in the Waste Handling Building, and then disposed of.  Waste containers would be handled multiple times, increasing the likelihood of accidents and worker exposures.
Don Hancock, of Southwest Research and Information Center, said, "The outside surface storage facility is contrary to the law and is unnecessary.  It's important for people to tell the Environment Department to deny the surface storage permit request."  NoSurfaceFacilityFactSheetrev3 
CCNS and our colleagues have prepared a sample comment letter for you to use, which is available at  WIPPSurfaceStorageComment011917 Simply copy the text from the PDF and paste into an email to the indicated recipient, Ricardo.Maestas@state.nm.us, changing the highlighted portions to your relevant data (current date plus your name and email address)
Please submit those comments by February 3rd, 2017 at 5 pm Mountain Time to Ricardo.Maestas@state.nm.us
Tags: 2017, concrete overpack container storage unit, expansion, fact sheet, February 3, Governor Susana Martinez, Idaho National Laboratory, reopening, sample comment letter, Secretary Ernest Moniz, storage capacity, surge, WIPP