Sunday, July 16th Vigil to Commemorate the 1945 Trinity Nuclear Test in New Mexico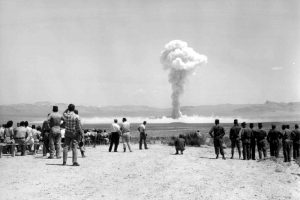 You are invited to come to a free in-person and live stream public vigil entitled "From Reflection to Action:  An Interfaith Remembrance of the Trinity Test" on Sunday, July 16th from 4 to 6 pm Mountain Time at Santa Maria de la Paz Church at 11 College Avenue in Santa Fe.  The vigil will commemorate the 78th year since the detonation of the first atomic weapon, called The Gadget,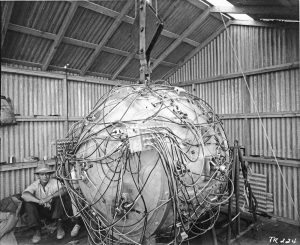 at the Trinity Test Site in south central New Mexico and provide you with tools to work for the complete elimination of nuclear weapons. Doors open at 3:15 pm so you may view exhibits and visit with representatives of local organizations, including CCNS.
The organizers have asked you to pre-register to attend in person or on youtube at: form.jotform.com/ASFPMD/July162023Event  To view the event on July 16th:  youtube.com/watch?v=2EnpL0aDQ1E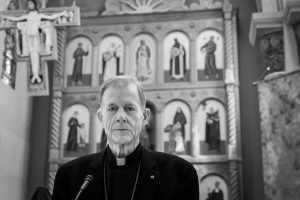 Among the scheduled speakers is Most Reverend John C. Wester, Archbishop of Santa Fe.  Wester declared, "We can no longer deny or ignore the extremely dangerous predicament of our human family.  We are in a new nuclear arms race even more dangerous than the first, and I believe we need to rejuvenate a sustained, serious conversation about universal, verifiable nuclear disarmament."
Other areas of New Mexico had already been impacted by nuclear weapons research.  Beginning in the spring of 1943, design research for The Gadget was done at the Y Site, now known as Los Alamos National Laboratory, in Northern New Mexico.  The Tewa name is Sankaweh.
Research was needed to determine the amount of time for the spherical shell of the atomic bomb to collapse, or implode, on itself.  The Y-Site scientists conducted 32 open-air explosive tests in Bayo Canyon at Sankaweh before the Trinity test.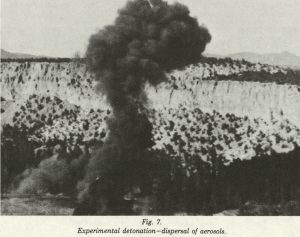 They used high-level radioactive lanthanum, or RaLa, as a substitute for plutonium, which was still being developed.  Along with RaLa, depleted uranium and conventional high explosives were used.  Some of the spherical shells were the size of a matchhead, but contained hundreds, or in some cases, thousands of curies of radioactivity.
Each test used hundreds of pounds of high explosives that dispersed the radioactivity upwind and downwind to the Rio Grande and northeast to Pueblo de San Ildefonso, Santa Clara Pueblo and beyond.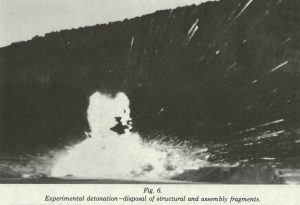 The RaLa tests and Trinity test are documented in the Centers for Disease Control and Prevention's Los Alamos Historic Document Retrieval and Assessment Project 2010 Final Report.  https://wwwn.cdc.gov/LAHDRA/Content/pubs/Final%20LAHDRA%20Report%202010.pdf
Information about the 254 Radioactive Lanthanum (RaLa) experiments is found throughout the Final LAHDRA Report.  For an overview, check out Chapter 16:  Partial Chronology of Accidents, Incidents and Events at LANL (pp. 427-461 of the pdf), which provides information about each of them.
Chapter 10 is devoted to the Trinity Test (pp. 237-291 of the pdf).  Check out the Conclusions Regarding Public Exposures from the Trinity Test (p. 286 of the pdf).
Joni Arends, of CCNS, said, "The nuclear weapons industry has severely impacted the People, lands and economy of New Mexico.  It is beyond time to eliminate nuclear weapons.  To learn what you can do, come to the July 16th vigil."
---


Friday, July 14th from noon to 1 pm MT – Join the weekly peaceful protest for nuclear disarmament on the corners of Alameda and Guadalupe in downtown Santa Fe with Veterans for Peace, CCNS, Nuclear Watch NM, Loretto Community, Pax Christi, Nonviolent Santa Fe, and others.
Saturday, July 15th from 7 am to 9 am MT free virtual meeting of the Global Network Against Weapons and Nuclear Power in Space – Latest development on war via space. https://space4peace.org/  To register:  https://www.eventbrite.co.uk/e/global-network-31st-annual-meeting-latest-developments-on-war-via-space-tickets-638565886757  
Saturday, July 15th from 7 am to 4 pm – 44th Annual Church Rock Uranium Tailings Spill Commemoration, hosted by the Red Water Pond Road Community, the Eastern Navajo Diné Against Uranium Mining, and the Pipeline Road Community. For more information, please contact Susan Gordon at sgordon@swuraniumimpacts.org
13th Annual Candelight Vigil from 7:30 pm to 9:30 pm at Albert Johnson Park, 896 N. Main Street, Las Cruces, NM.  Program begins at 8 pm.  Bring a chair or blanket, sunscreen, bug spray and water.  For more information:  https://www.trinitydownwinders.com/  
Message from the Downwinders of New Mexico: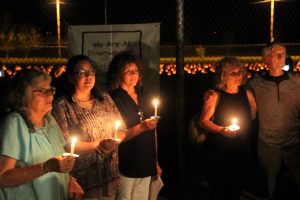 Stand in solidarity with the Downwinders of New Mexico.  Many people cannot be with us in Las Cruces for our 13th Annual Candlelight Vigil where we memorialize those we've lost to cancer.  If you want to participate from your own home make a luminaria and light it in solidarity with us on the evening of July 15, 2023.
For those of you who are not familiar with the traditional New Mexico luminaria, it is a brown paper lunch bag with a cup or so of sand in the bottom and a votive candle placed in the middle of the bag.  You can write your own message on the bag.  At dusk you light the candle and leave it lit until the candle extinguishes.  Let us know that you are standing with us by sending us an email at info@trinitydownwinders.com
Sunday, July 16th – Santa Fe Archbishop John C. Wester's service about A WORLD WITHOUT NUCLEAR WEAPONS: An Interfaith Remembrance of the Trinity Test on July 16, 1945, at the Santa Maria de la Paz Center at 11 College Avenue, Santa Fe (just before the Santa Fe Community College (road work is taking place in the area – allow for extra travel time). https://archdiosf.org/living-in-the-light-of-christs-peace
Friday, July 21 release of Oppenheimer in the U.S. and U.K. by Universal Pictures. https://www.oppenheimermovie.com/
Thursday, July 27, 2023 from 5 to 7 pm – Kirtland AFB Bulk Fuels Facility leak project open house at the groundwater treatment system facility. The GWTS is located on Kirtland Air Force Base, with public access provided for this event through the Ridgecrest Gate (Ridgecrest Dr SE & Louisiana Blvd SE, south of Gibson Blvd.)
If you would like additional information, please contact the 377th Air Base Wing Public Affairs office at (505) 846-5991 or by email at 377ABW.PA@us.af.mil.
Tags: Archbishop of Santa Fe, Centers for Disease Control and Prevention, interfaith vigil, LAHDRA, Los Alamos Historical Document Retrieval and Assessment Report, Los Alamos National Laboratory, Most Reverend John C. Wester, radioactive lanthanum, RaLa, Sankaweh, Santa Maria de la Paz Church, the Gadget, trinity test site, "From Reflection to Action: An Interfaith Remembrance of the Trinity Test", "Y" Site