Public Hearing about LANL Groundwater Permit Next Week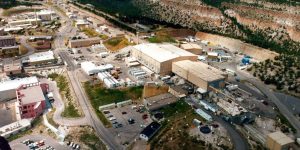 Beginning on Thursday, November 14th, at 9 am, the New Mexico Environment Department will hold a public hearing in Los Alamos about a draft groundwater discharge permit for a key facility at the Los Alamos National Laboratory (LANL).  The draft permit for the Radioactive Liquid Waste Treatment Facility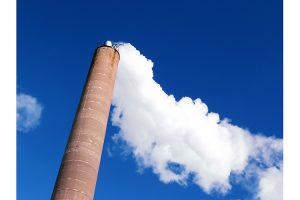 would allow the discharge of 40,000 gallons per day of water containing state regulated contaminants through the existing Outfall 051.  It also would allow use of an existing and a new evaporation disposal unit, thus creating exposure pathways into the air.  One of these units has been operating for almost a decade.  It is called the Mechanical Evaporative System.  The other is called the Solar Evaporative Tanks and has not been used because it does not have a permit.  https://www.env.nm.gov/gwqb/public-notice/
The Radioactive Liquid Waste Treatment Facility began operations in 1963.  It receives contaminated liquid wastes from facilities across the LANL site, including the Plutonium Facility, or PF-4.  After treatment and over many decades, the Facility has discharged millions of gallons of liquid wastes into Effluent Canyon, a tributary of Mortandad Canyon, which discharges to the Rio Grande.  Pollutants include radionuclides for which the Department of Energy (DOE) is self-regulating.  These include plutonium, americium, tritium, cesium, strontium, and uranium.  Other contaminants include metals, high explosives, as well as volatile organic compounds, including perchlorate, which is a fast moving hazardous chemical.
Tewa Women United http://tewawomenunited.org/ , the New Mexico Acequia Association https://lasacequias.org/ , Honor Our Pueblo Existence https://honorourpuebloexistence.com/ , and CCNS oppose the issuance of the permit.  Since December 2013, the groups have argued that because the Facility handles, treats, and stores hazardous waste, the New Mexico Hazardous Waste Act, which adopts most of the federal Resource Conservation and Recovery Act, also known as RCRA, should regulate it.  http://nuclearactive.org/ccns-august-19th-meeting-about-fake-lanl-discharge-permit/ and http://www.nuclearactive.org/docs/RiceFS.pdf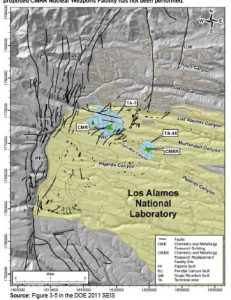 Further, LANL is located on the Pajarito Plateau in the Jemez Mountains, above the Rio Grande.  The mountains and Valles Caldera were formed by volcanic action.  The Pajarito Fault System is extensive on and below LANL.
Seismic issues were raised in the mid-2000s when DOE proposed to build a Super Walmart-sized Nuclear Facility.  After several years of controversy and increasing cost estimates to meet the applicable seismic standards, the Obama Administration canceled it.
The proposed Nuclear Facility, PF-4, and the Radioactive Liquid Waste Treatment Facility are all located within one block of one another.   Under RCRA and the Hazardous Waste Act, the Treatment Facility would be required to meet stringent seismic requirements.
The hearing will take place at Fuller Lodge, Pajarito Room, located at 2132 Central Avenue, in Los Alamos.  If needed, it will continue into Friday, November 15th.  The public is invited to attend and present their concerns.
---

1.   December 4, 2019, from 5:30 to 7:30 pm.  LANL will hold a public meeting about the application they will be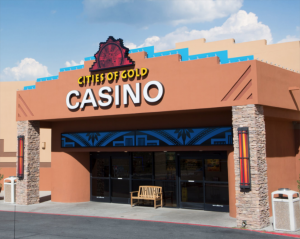 submitting to NMED for renewal of the Hazardous Waste Act permit.  They want NMED to continuing regulating 27 hazardous waste units, as well as to add three interim status units.
The meeting will be held at the Cities of Gold Hotel & Casino Conference Center in Pojoaque.
2.    If you appreciate our work to keep you informed, please support CCNS with an end-of-the-year tax-deductible contribution.  Mail your check to CCNS, P. O. Box 31147, Santa Fe, NM  87594-1147, or use our e-contribution form on the right side of our home page at http://nuclearactive.org/
Tags: CCNS, Department of Energy, DOE, groundwater discharge permit, Honor Our Pueblo Existence, LANL, Los Alamos National Laboratory, New Mexico Acequia Association, New Mexico Environment Department, New Mexico Hazardous Waste Act, New Mexico Water Quality Act, Radioactive Liquid Waste Treatment Facility, Resource Conservation and Recovery Act, Tewa Women United