This Weekend We Remember the Trinity Downwinders – Events in Tularosa and Mescalero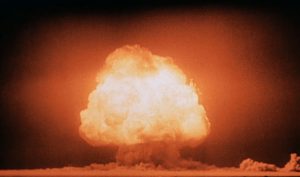 You are invited to three events to commemorate the long-lasting harm done by the first atomic bomb test at the Trinity site in south central New Mexico on July 16th, 1945.  The Tularosa Basin Downwinders Consortium, who seeks justice for the unknowing, unwilling, and uncompensated innocent victims of the Trinity test, organized the events.  https://www.trinitydownwinders.com/
Tina Cordova, Co-founder of the Tularosa Basin Downwinders Consortium, described the fallout from the secret U.S. government test.  She said, "For days, radioactive ash fell from the sky and settled on everything – the soil, in the water, in the air, on the plants and on the skin of every living things.  It was a public health disaster of grand proportions."
On Saturday, July 17th, two important events will take place in Tularosa.  The first is an informative Town Hall Meeting, followed by the 12th Annual Candlelight Vigil.
The Town Hall Meeting will take place at the Tularosa Community Center, located at 1050 North Bookout Road between 2 and 4 pm.  Refreshments will be provided.  The main topic will be the progress being made by the U.S. Congress to amend the Radiation Exposure Compensation Act (RECA) to include the Trinity Downwinders and Post '71 uranium workers.  It sunsets in 2022.  https://www.justice.gov/civil/common/reca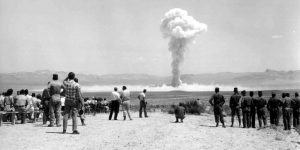 RECA is a federal program to provide compensation to Downwinders of the aboveground nuclear weapons test at the Nevada Test Site who contracted one or more of 22 listed cancers.  Passed into law in 1990, RECA has paid out over  $1.2 billion to Downwinders residing in certain counties in Nevada, Utah, and Arizona, but nothing to the Trinity Downwinders.  In total, RECA has provided $2.5 billion in compensation to Downwinders, on-site nuclear weapons test participants, and uranium miners, millers and ore transporters.  https://www.justice.gov/civil/awards-date-07142021
The 12th Annual Candlelight Vigil will begin at 8 pm at the Tularosa Little League Field, located at 1407 La Luz Avenue, west of the Tularosa High School.  Gates open at 7:30 pm.  The Tularosa Downwinders will memorialize loved ones who have lost their lives to cancer and honor those who are living with or who have survived cancer by lighting luminarias with individual names written on the paper bags.
The Reverend Warren L. Robinson, Pastor of the Owen Chapel AME, or African Episcopal Methodist, Church, in Alamogordo, will offer the invocation.  https://ame-aznmd.org/directory/new-mexico-ame-churches/owen-chapel-ame/
On Sunday, July 18th, at 10:30 am, a special Mass dedicated to the Mescalero Downwinders will be held at St. Joseph Apache Mission Church, in Mescalero.  https://stjosephmission.org/
For more information, please visit trinitydownwinders.com.
---

Did You Know?  We are Podcasting!
1. Every Friday from noon to 1 pm –
Protest LANL signing a 10-year lease (for the former Descartes building) to establish itself "permanently" in Santa Fe at the corner of Guadalupe and W. Alameda. JOIN Veterans for Peace, CCNS, Nuclear Watch NM, and others.  We'll have banners.  Please bring a sign.
2. A new informative video about Sandia's Mixed Waste Landfill and its threats to Albuquerque's groundwater,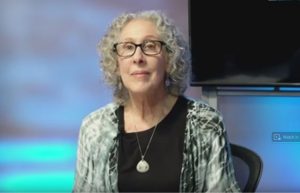 with Eileen O'Shaughnessy of the Nuclear Issues Study Group, Dave McCoy of Citizen Action New Mexico, and hosted by Robin Seydel, is available at https://www.youtube.com/watch?v=BfXwN2et6Dk   The IndyMedia Show produced the video.
3. Thursday, July 15th from 6 pm to Friday, July 16th around 6 pm,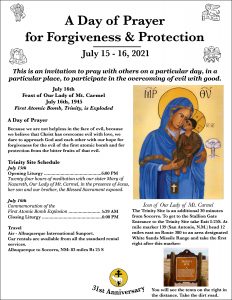 A Day of Prayer for Forgiveness and Protection, at the Stallion Gate Entrance to the White Sands Missile Range and the Trinity Site. July 16th is the Feast of Our Lady of Mt. Carmel, as well as the 76th year since the first atomic bomb test at the Trinity Site in New Mexico.
4. Thursday, July 22nd from 5:30 to 7:30 pm: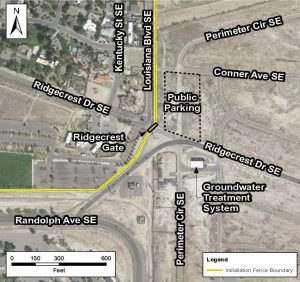 In-Person Open House for Kirtland Air Force Base (KAFB) Bulk Fuels Facility Remediation Project.  It will be held at the KAFB Groundwater Treatment System facility, located just inside the Ridgecrest Drive Gate near Bullhead Park.  Normal security procedures not required because this is a special event.  For more information, please contact Brannon Lamar, 377 Air Base Wing Public Affairs, at (505) 846-5991, or by email, brannon.lamar@us.af.mil.
Flyer: GWTS22July2021OpenHouseINVITE.docx
Tags: 12th Annual Candlelight Vigil, Commemoration Events, Mescalero Downwinders, nevada test site, Post '71 Uranium Workers, Radiation Exposure Compensation Act, RECA, Reverend Warren L. Robinson, St. Joseph Apache Mission Church, Tina Cordova, town hall meeting, Trinity Test, Tularosa Basin Downwinders Consortium