Trinity Downwinders to Testify at June 27th RECA Hearing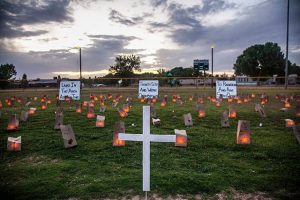 Late last Friday, the Tularosa Basin Downwinders Consortium received an invitation to testify at the upcoming U.S. Senate Judiciary Committee hearing about the proposed amendments to the Radiation Exposure Compensation Act (RECA) that would include them in this program for people overexposed to radiation.  Because the hearing's focus is on downwinders of the U.S. above-ground atomic tests, unfortunately the Post'71 Uranium Workers were not included to testify.  Nevertheless, the Post'71 Uranium Workers will be sending two representatives to attend the hearing.
Tina Cordova, a co-founder of the Tularosa Basin Downwinders Consortium, said, "On behalf of the Tularosa Basin Downwinders Consortium and the tens of thousands of people we represent, we want to thank all those people who stood with us and contacted their congressional representatives to let them know it was vital that the Downwinders and the Post'71 Uranium Workers had seats at the Senate Judiciary Committee hearing on June 27th."
Congress first passed RECA in 1990.  Certain uranium workers and downwinders of the Nevada Test Site were covered by the comprehensive health care program.  In 2000, additional groups of harmed individuals were added.  The Act has not been amended since, even though bills have been introduced over the past eight years to include the Trinity Downwinders and Uranium Workers who worked after a 1971 cut-off date.
The proposed Senate Bill 197 would include New Mexico as a downwinder area.
The Trinity Downwinders recommend five changes be made to Senate Bill.
First, they request that the U.S. government issue an apology to the people of New Mexico for the intentional bombing of those living downwind of the first atomic test on July 16, 1945 at the Trinity site in southcentral New Mexico.
Second, the eligibility period must be expanded.  Currently, only those who were exposed between June 30, 1945 and July 31, 1945 – a 30-day period – would be eligible to apply for RECA.  The Downwinders request that an open-ended eligibility period be provided.
Third, the bill must require that the medical care provided to New Mexicans be similar to that available to nuclear workers under the Energy Employees Occupational Illness Compensation Program Act.
Fourth, the current RECA legislation is set to end, or sunset, on July 9, 2022.  The Downwinders request that the sunset provision be extended to July 9, 2045.
And finally, Congress does not always provide the necessary annual funding to the RECA Trust Fund.  The Downwinders request that recurrent annual funding be included in the proposed amendments.  https://www.trinitydownwinders.com/health-impact-assessment, Section 5.3, p. 75.
Please contact your congressional members and ask them to support the Downwinders' recommended changes.  SenatorContactInformation
Tags: downwinders, Post'71 uranium workers, Radiation Exposure Compensation Act, RECA, Senate Judiciary Committee, TBDC, Tularosa Basin Downwinders Consortium