ANA Releases "Trillion Dollar Trainwreck" Report and Chuck Montaño Receives ANA Whistleblower Award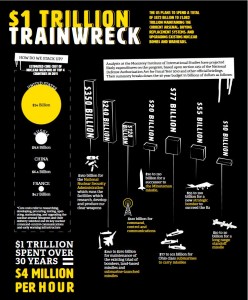 Dozens of community leaders from around the country will visit Washington, DC from April 18th through the 20th to oppose what they call "out-of-control" U.S. Department of Energy (DOE) nuclear weapons projects that accelerate wasteful spending, increase proliferation risks, and generate radioactive and toxic pollution.  The group will meet with leading members of Congress, committee staffers, and administration officials responsible for U.S. nuclear policies to press for new priorities.
Activists from nearly a dozen states are participating in the 28th annual Alliance for Nuclear Accountability (ANA) "DC Days."  They will deliver copies of ANA's new report entitled, "Trillion Dollar Trainwreck," which dissects the Obama Administration's latest plans to spend more than a trillion dollars over the next 30 years on the U.S. nuclear arsenal, including over $1.5 billion a year for on-going production of plutonium triggers for nuclear weapons at Los Alamos National Laboratory (LANL).  http://www.ananuclear.org/the-nuclear-free-frontpage/2016/4/13/trillion-dollar-trainwreck or http://bit.ly/trilliondollartrainwreck or http://www.theunion.com/opinion/21573075-113/amy-goodman-obamas-trillion-dollar-nuclear-arms-train-wreck
According to the 20-page analysis, "Most of [the projects] are completely unnecessary for national security.  All of them are mismanaged, behind schedule, and wildly over budget."  ANA members will urge policymakers to redirect the funding saved by cutting these programs to speeding up the dismantlement of the U.S. stockpile of warheads and cleaning up the legacy of nuclear weapons research, testing and production.
ANA is a network of local, regional and national organizations representing the concerns of communities downwind and downstream from U.S. nuclear weapons research, production and waste disposal sites.  DC Days participants include activists groups that monitor U.S. nuclear weapons facilities such as the DOE sites in New Mexico.  They are LANL, Sandia National Laboratories, and the Waste Isolation Pilot Plant.  ANA member groups in New Mexico are Southwest Research and Information Center, Nuclear Watch New Mexico, and CCNS.
As part of its DC Days, ANA will sponsor an Awards Reception honoring leaders of the movement responsible nuclear policies on Tuesday, April 19th in the Hart Senate Office Building on Capitol Hill from 5:30 to 7:30 pm.    Honorees include U.S. Senator Dianne Feinstein; U.S. Representative Adam Smith, the ranking member of the House Armed Services Committee; anti-nuclear reactor organizer Kay Cumbow; and LANL Whistleblower Chuck Montaño.
Whistleblower Montaño spent most of his 32-year career at LANL in various accounting and auditing positions.  He quickly learned that "Laboratory managers routinely ignored what auditors reported.  Because of this, serious security and financial lapses occurred that otherwise could have been averted … and ended up costing the taxpayers lots of money."
Montaño documented his experience in his new book, "Los Alamos:  Secret Colony, Hidden Truths – a Whistleblower's Diary," which is a clarion call for citizen action to address waste, fraud and abuse at LANL.  http://www.losalamosdiary.com/index.html