Annual Sack Cloth and Ashes Hiroshima Memorial Set for Saturday, August 6th in Los Alamos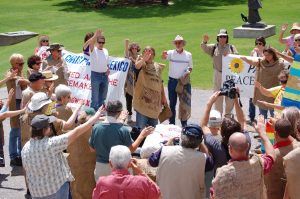 To commemorate the 71st anniversary of the U.S. bombing Hiroshima and Nagasaki, Japan with nuclear weapons on August 6th and August 9th, 1945, respectively, Pax Christi New Mexico is hosting their Annual Sack Cloth and Ashes Memorial on Saturday, August 6th in Los Alamos, New Mexico.  People will gather around Ashley Pond, in the center of town, from 2 to 4 p.m.  Sack cloths, or burlap bags, and ashes will be provided.
After receiving instructions and a blessing from John Dear, participants will carry sackcloth and ashes and walk mindfully on Trinity Drive toward Los Alamos National Laboratory (LANL), the birthplace of the atomic bomb.  At 2:30 p.m., participants will sit down in silence for 30 minutes to meditate, pray and mournfully remember Hiroshima and Nagasaki and envision a day when nuclear weapons will no longer exist.  Afterwards, participants will walk back to Ashley Pond for reflection, music and speakers.
The use of sack cloths and ashes is the oldest symbol of protest, going back 3,000 years.  As described in the Book of Jonah, the people of Ninevah sat in sackcloth and ashes and repented for their sins.  On August 6th, the people attending the event will repent for the mortal sin of war and nuclear weapons.
In 2008, John Dear described the event in Common Dreams.  He wrote, "You might think it strange that people resort to sackcloth and ashes.  But in a town where thousands of people build and perfect weapons of mass destruction, in a world of war, executions, poverty, starvation, nuclear weapons, and global warming, our gesture was an eminently sane thing to do."  http://www.commondreams.org/views/2008/08/06/hiroshima-ninevah-and-los-alamos
Bud Ryan, an organizer of the event, invites you to join Pax Christi New Mexico and to take action.  He said, "If you can't join us here in New Mexico, please write and/or call your two senators, your congressperson and President Obama and tell them you do not want the proposed $1 trillion dollar modernization and upgrade of our nuclear weapons."
On Thursday, August 4th from 4 to 5 pm, Bud Ryan and John Dear will be guests on "Living on the Edge," a KSFR 101.1 FM radio show, with hosts David Bacon and Xubi Wilson.  You may listen live by going to http://ksfr.org/ and click on the "Listen Now" button.  There will be a discussion of the August 6th event; nuclear weapons and Los Alamos National Laboratory; the 10-year, $1 trillion dollar plan to modernize nuclear weapons; why the international community needs to abolish nuclear weapons; and why the U.S. needs to implement its promises made when it signed the Nuclear Non-proliferation Treaty in 1970.
For more information, please contact Bud Ryan at bud@siochainworld.org or by phone at (505) 264-2838.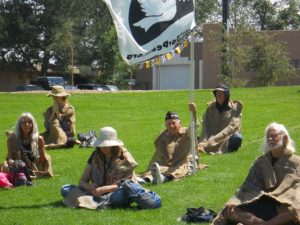 Last August to commemorate the 70th anniversary, Pace e Bene, Peace + All Good, hosted a sold-out Campaign Nonviolence National Conference in Santa Fe.  In 1989, Pace e Bene was founded by the Franciscan Friars of California and is now an independent, nondenominational organization.  http://www.paceebene.org/  To learn more about their conference, please visit http://www.paceebene.org/programs/campaign-nonviolence/campaign-nonviolence-national-conference/  Videos of the Sack Cloth and Ashes events, as well as the conference speeches are, available on You Tube at https://www.youtube.com/watch?v=WNgZp3dmm4Y&feature=youtu.be&list=PL_hAAoZ6si8N5LW1vWEbS0rhzccf0dwYG