Congressman Ben Ray Luján is a RECA Champion for All New Mexicans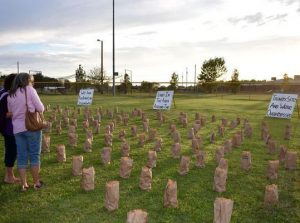 After nearly 600 luminarias were lit on the Tularosa Little League field, U.S. Congressman Ben Ray Luján expressed his apologies to those who are suffering from or have died of illnesses caused by exposure to the first atomic bomb test on July 16, 1945, at the Trinity Site.  The bomb contained 13 pounds of plutonium, but only three pounds fissioned.  The remaining plutonium and toxic ash fell out over fields, gardens, houses, and mountains, eventually flowing into cisterns and waterways.  The people, now called "Trinity Downwinders," were not notified of the danger, nor were they evacuated.
At the Eighth Annual Candlelight Vigil on Saturday, July 15th , Congressman Luján said, "Back in 1945 when that bomb was set off here, it set off a chain of events and that wrong has never been made right.  Families were impacted in a negative way, from those that had windows broken on their homes to those who saw the light (from the bomb) go off, to those who had to deal with the dust and ash that collected through the area."  https://lujan.house.gov/
Unlike downwinders in Arizona, Nevada, and Utah, the Trinity Downwinders have never been included in the federal Radiation Exposure Compensation Act (RECA).  It provides medical care and compensation to those exposed to atmospheric nuclear tests and uranium industry workers, some of which worked in New Mexico.  Since 1990, over $2 billion has been awarded to claimants.  https://www.justice.gov/civil/common/reca
Congressman Luján is leading to amend RECA to include the Trinity Downwinders, the Post '71 uranium workers, and New Mexicans exposed to radioactive contaminants living downwind and downstream of the national laboratories.  https://www.congress.gov/bill/115th-congress/house-bill/2049/all-info
Last week Congressman Luján introduced an amendment to the National Defense Authorization Act stating the U.S. should compensate and recognize uranium workers, downwinders, and others.  It passed the House.  http://amendments-rules.house.gov/amendments/RECASense_xml7717090419419.pdf and https://lujan.house.gov/press-releases/lujan-amendment-to-protect-those-exposed-to-radiation-passes-house/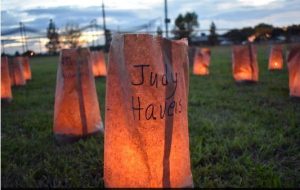 The Tularosa Basin Downwinders Consortium organized the vigil.  They have been working diligently for 12 years to ensure that the Trinity Downwinders are included in the proposed amendments.  https://www.trinitydownwinders.com/
Tina Cordova, a co-founder of the Consortium, said, "This community cannot thank Congressman Luján enough for his dedication to our efforts."
She added, "It is heartbreaking every year when we add names to the list of people we've lost as we light luminarias and call out names. We look forward to the occasion when we can announce that the amendments to RECA have passed and people can finally receive much needed help.  The hearings in the Senate Judiciary Committee are a big first step."
Recently they learned the Senate Judiciary Committee scheduled an oversight hearing about RECA for the last week of July.  The hearing has been postponed to September.  To contribute to sending Consortium representatives to the hearing in Washington, DC, please visit https://www.trinitydownwinders.com/donate
Disclosure:  CCNS serves as the Consortium's fiscal agent and Joni Arends, CCNS Executive Director, serves on the Steering Committee.
Tags: Atomic Bomb Test, Ben Ray Lujan, Candlelight Vigil, NDAA, plutonium, Post'71 uranium workers, Radiation Exposure Compensation Act, RECA, TBDC, trinity downwinders, Tularosa Basin Downwinders Consortium, U.S. Senate Judiciary Committee