DOE/LANL Host August 30th Public Meeting about Less Cleanup, Less Groundwater Protection


The Department of Energy (DOE) and Los Alamos National Laboratory (LANL) are proposing less groundwater protection and less cleanup of unlined dumps containing radioactive, hazardous, and toxic pollutants under a permit modification they recently submitted to the New Mexico Environment Department.  Modifying the hazardous waste permit, as proposed, would allow DOE and LANL to continue to dispose of low-level radioactive waste at Area G as other dumps are closed, despite assurances last fall that they would stop; and prevent regulation of the 54-year old Radioactive Liquid Waste Treatment Facility as a hazardous waste facility; among others.  http://nuclearactive.org/ccns-decries-lack-of-water-protection-in-nmed-and-lanl-agreement/
DOE and LANL are hosting a public meeting to discuss the permit modification on Wednesday, August 30th from 5:30 to 7:30 pm at Fuller Lodge in Los Alamos.
The permit modification is the result of federal and state litigation between the federal and state government.  In December 2010, DOE and LANL sued the New Mexico Environment Department over requirements in the final hazardous waste permit.  The parties recently came to a settlement in which DOE and LANL were required to submit a permit modification that reflects the settlement agreement.  The Environment Department Hazardous Waste Permit is available at https://www.env.nm.gov/HWB/Permit.htm  and the 312-page permit modification request is available at http://permalink.lanl.gov/object/tr?what=info:lanl-repo/eprr/ESHID-602518  The Settlement Agreement begins on p. 21 of the permit modification.
The public will have the opportunity to provide public comments to the Environment Department by Friday, September 22nd.  CCNS will prepare sample public comments for you to use, following the public meeting.
In 2010, CCNS also sued the Environment Department in state court because the final hazardous waste permit was not protective of groundwater and did not ensure the best cleanup of nearly 75 years of dumping, emitting and discharging pollution into the soil, air, and water, and by extension, into our bodies.  CCNS is a party to the hazardous waste permit litigation, but did not sign the settlement agreement.  The New Mexico Environmental Law Center represents CCNS.
Joni Arends, a co-founder and executive director of CCNS, said, "CCNS remains committed to critical cleanup of the unlined dumps that are leaking into our regional drinking water aquifer.  The settlement agreement and resulting permit modification support the myth that DOE and LANL know how to cleanup leaking dumps and protect regional drinking water supplies.  This is not the case.  DOE and its contractors have a long track record of failed cleanups at DOE sites across the country."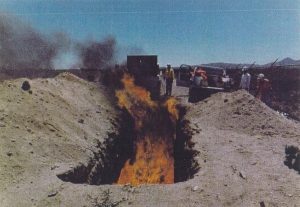 Other threats to our health and safety from LANL, including fires, electrical problems, and near criticalities have been documented in the Center for Public Integrity's five-part series called Nuclear Negligence.  https://apps.publicintegrity.org/nuclear-negligence/
Arends continued, "It's time to get involved again.  To stay informed, please sign up on our website to receive the weekly Updates, and check out our Facebook page and Twitter feeds."
Tags: Area G, Center for Public Integrity, cleanup, Department of Energy, DOE, groundwater protection, hazardous waste permit, LANL, litigation, Los Alamos National Laboratory, New Mexico Environment Department, NMED, permit modification request, settlement agreement