Halt Holtec! Hobbs NRC Scoping Meeting and Shimkus Bill Moving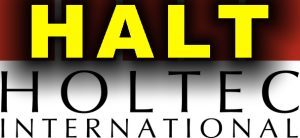 On Tuesday night, locals and New Mexicans from across the state joined together at a public meeting in Hobbs to tell the Nuclear Regulatory Commission to Halt Holtec!  The NRC heard from 47 people, of which seventy percent opposed the proposal to bring all of the high-level radioactive waste from all of the nuclear power plants from across the country to south eastern New Mexico for storage.  https://www.nrc.gov/waste/spent-fuel-storage/cis/holtec-international.html
The 13 speakers in support included Holtec; representatives from the Eddy-Lea Energy Alliance, who are the property owners; the mayor of Hobbs; and local state legislators.  https://www.leacounty.net/p.aspx?pID=Elected-Officials/Elected-Officials/Lea-County-Commissioners/231&  They spoke about the 55 jobs that would be created, and their support and trust the NRC process.  They cited the other nuclear sites in the area, including the Waste Isolation Pilot Plant for plutonium-contaminated nuclear weapons waste; and the URENCO uranium processing plant.  They claimed the communities are very "nationalistic" about the about the nuclear sites.
The 33 who spoke in opposition included mothers and fathers, grandmothers and great-grandmothers; teachers and professors; business owners; truck drivers; Downwinders; activists; and a geologist specializing in gas and oil exploration.  They raised concerns about the health, safety, and financial impacts of this controversial high-level radioactive waste storage project on surrounding communities and communities along the transportation routes.
Over 10,000 overweight rail cars would carry waste from across the country to the proposed site and the waste would likely travel very near the Carlsbad sinkhole.  Rose Gardner, of the Alliance for Environmental Strategies, spoke about the number of train derailments and accidents in the area.  She cited recent rail events in Texas, including a seven-car train derailment near Odessa, and the collision of two trains in Monahans.  https://www.mrt.com/news/article/Union-Pacific-train-derails-along-Highway-80-12879319.php and http://www.newswest9.com/story/37982562/two-trains-collide-in-monahans
Further, the federal government may never find a permanent place for the waste, potentially creating a permanent storage site at a site designed for temporary storage.  Many asked about why the communities that have benefited from the nuclear power generated are now saying it is no longer safe and that it must be stored in New Mexico – far from their homes.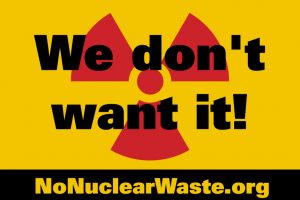 Scoping comments will be accepted until Tuesday, May 29, 2018.  A sample public comment letter is available for you to use at http://nonuclearwasteaqui.org/ and you can email your comments to Holtec-CISFEIS@nrc.gov
In this regard, we understand that next week a congressional bill that would open the door to the proposals of Holtec and Waste Control Specialists for so-called "centralized" or "consolidated" interim storage facilities will be heard on the floor of the U.S. House of Representatives.
Please contact your U.S. representative about H.R. 3053, called the Nuclear Waste Policy Act of 2018.  https://www.congress.gov/bill/115th-congress/house-bill/3053/committees  It is also known as the "Shimkus Mobile Chernobyl, Screw Nevada, Nuke Waste Parking Lot Dump Bill."  For more information, please go to the websites of Nuclear Information and Resource Service, at http://org2.salsalabs.com/o/5502/t/0/blastContent.jsp?email_blast_KEY=1414685 and Beyond Nuclear, at http://www.beyondnuclear.org/centralized-storage/ and get involved.
Tags: Alliance for Environmental Strategies, Beyond Nuclear, Eddy Lea Energy Alliance, ELEA, H.R. 3053, high-level radioactive waste, Hobbs, NIRS, NRC, Nuclear Regulatory Commission, Nuclear Waste Policy Act of 2018, rail collisions, Rose Gardner, Shimkus bill, train derailment, URENCO, Waste Isolation Pilot Plant, WIPP