Happy Holidays! It's Giving Tuesday and We Need Your Support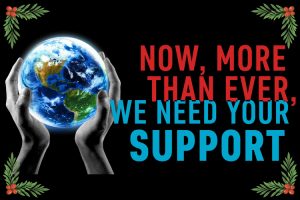 November 29, 2021
Season's Greetings,
   We'll get right to the point.  We need your financial support.  Year in and year out, you rely on CCNS's experience and strategic positioning of nuclear weapons complex issues to provide your input into the process.  We want to continue this important work in 2022.
   Perhaps most importantly, we will continue to urge the Governor to utilize the tools she has to prevent the expansion of the Waste Isolation Pilot Plant (WIPP).  Extending WIPP operations from 2024 to 2080, if successful, would threaten to normalize the idea that the rest of the country may treat New Mexico as a nuclear dumping ground.  It would make it harder to oppose increased levels of nuclear pit production at Los Alamos National Laboratory (LANL) by creating the false impression that plutonium-contaminated waste can be carted away to WIPP and then ignored.  We need a safe and clean environment in New Mexico:  we do not need more plutonium pits. 
   With your help, we'll celebrate the first anniversary of the Treaty on the Prohibition of Nuclear Weapons on January 22, 2022.  We'll launch a campaign to ask our congressional delegation about the plan to transition LANL away from nuclear weapons to life-affirming science, such as cleanup. 
   CCNS will continue to produce our weekly CCNS News Update and social media outreach. 
   We will continue to challenge WIPP expansion through the administrative hearing processes and in the New Mexico Court of Appeals.
   Protecting water from LANL contamination is essential.  Since the May 2000 Cerro Grande fire, CCNS has taken a lead role in that effort.  We continue to monitor the monthly meetings of the Buckman Direct Diversion Board, oppose the proposed return flow pipeline from the Paseo Rael Wastewater Treatment Plant (on Airport Road) to the Buckman, and challenge groundwater discharge permits that do not protect water quality.
   Working with diverse groups of young people from the Communities for Clean Water and St. John's College is continuing.  They are sensitive to environmental and social justice, civil rights, and environmental protection and are eager to learn and participate in the public processes.  It is exciting work! 
   We thank you in advance for your moral support and for your financial contributions in any amount you are able to give at this time.  Please consider:
joining our amazing group of monthly contributors at http://nuclearactive.org/
donating mutual funds, stocks and securities
giving through an IRA Charitable Rollover
leaving an estate gift such as a bequest or other planned gift

Spread the word by sharing our message via email with your contacts

Make sure you're following us on Facebook and Instagram
Best wishes for a healthy, safe and peaceful 2022!

Grant Franks, Myrriah Gómez and Basia Miller, CCNS Board
Joni Arends, Co-founder and Executive Director
Tags: CCNS, Giving Tuesday, nuclearactive.org