New Mexico Governor Petitions EPA to List PFAS Chemicals as Hazardous Waste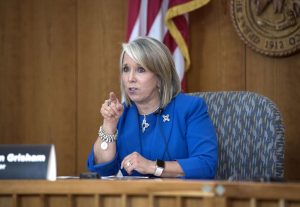 What power does a Governor have to address toxic chemicals found in her state?  In this case, PFAS chemicals detected at Department of Defense and Department of Energy sites in New Mexico.  State Governors have special statutory authority to petition the Administrator of the federal Environmental Protection Agency (EPA) to identify or list a material as a hazardous waste.  New Mexico Governor Michelle Lujan Grisham did just that this week when she petitioned EPA Administrator Michael S. Regan to list per- and poly-fluorinated substances, or PFAS, as a class of toxic chemicals.  2021-06-23-Governor-letter-to-EPA-for-PFAS-petition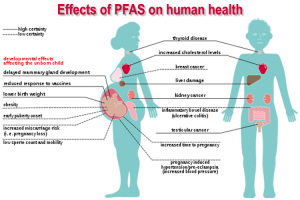 Her petition, filed under the federal hazardous waste law, declared, "PFAS chemicals present an imminent and substantial endangerment to human health and the environment."  Importantly, under the law, EPA is required to respond to the petition within 90 days, or on or before September 21st.
Governor Lujan Grisham referenced two highly technical petitions from the Environmental Law Clinic at the University of California, Berkeley and the Public Employees for Environmental Responsibility that were also filed with the EPA Administrator.  UC Berkeley EJ Clinic pfas_petition_for_haz_waste_jan_2020_metadata_added and https://www.peer.org/groups-petition-epa-to-regulate-pfas-waste/
Here in New Mexico, Lake Holloman, about a mile from Holloman Air Force Base, near Alamogordo, is contaminated with two individual PFAS, called PFOA and PFOS.  EPA's health advisory sets an exposure limit of 70 parts per trillion.  To comprehend the toxicity of PFAS chemicals, one part per trillion is equivalent to one second in 32,000 years.
Astronomical levels of PFOA were detected in Lake Holloman, as high as 5,900,000 parts per trillion, which is more than 84,000 times the EPA's health advisory.  PFOS were detected at 1,600,000 parts per trillion, more than 22,000 times the EPA's exposure limit.  Governor's Petition, p. 3.
The Governor's petition is an important step to protect and cleanup New Mexico's waters.
In related news, the virtual public hearing before the New Mexico Water Quality Control Commission to review New Mexico's Surface Water Quality Standards begins on Tuesday, July 13th.  The Clean Water Act requires states to review their surface water standards every three years, thus the administrative process is called the Triennial Review.  Monitoring for PFAS chemicals is part of the review.  https://www.env.nm.gov/surface-water-quality/2020-triennial-review/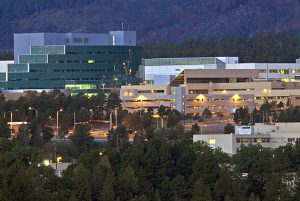 Significantly, Los Alamos National Laboratory (LANL), through the Department of Energy and its contractor, Triad National Security, LLC, has petitioned the Water Quality Control Commission to limit the definition of "toxic pollutants."  https://www.env.nm.gov/water-quality-control-commission/wqcc-20-51-r/  If approved, LANL would be allowed to evade all monitoring of PFAS chemicals, and would eliminate New Mexico's authority to protect surface waters.  The Governor's Environment Department opposes the LANL petition.
To learn more about the Triennial Review and how you can help protect New Mexico's waters, please visit the Communities for Clean Water website at http://ccwnewmexico.org/
---


Did You Know?  We are Podcasting! 
1. TODAY! Th. June 24th from 5:30 to 7 pm –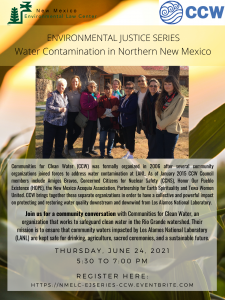 NM Environmental Law Center Environmental Justice Series about Water Contamination in Northern New Mexico with the Communities for Clean Water (CCW).   CCW's mission is to ensure that community waters impacted by LANL are kept safe for drinking, agriculture, sacred ceremonies, and a sustainable future.  CCNS is a founding member of CCW.  https://nmelc.org/  To register:  https://nmelc-ejseries-ccw.eventbrite.com  
 2. Every Friday from noon to 1 pm –
Protest LANL signing a 10-year lease (for the former Descartes building) to establish itself "permanently" in Santa Fe at the corner of Guadalupe and W. Alameda.  JOIN Veterans for Peace, CCNS, Nuclear Watch NM, and others.  We'll have banners.  Please bring a sign.
3. Sat. June 26th from 9 to 11 am MDT webinar –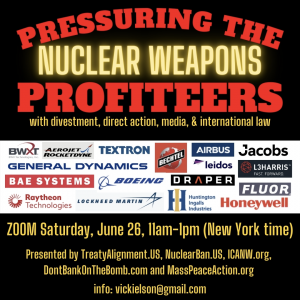 Pressuring the Nuclear Weapons Profiteers with divestment, direct action, media, and international law. Speakers and Facilitators:  Susi Snyder, Don't Bank on the Bomb, Nick Cantrell, Green Future Wealth Management, and Vicki Elson, Treaty Alignment Campaign.  CCNS is a co-sponsor of the webinar.  REGISTER HERE or https://masspeaceaction.org/event/pressuring-the-nuclear-weapons-profiteers/
4. MARK YOUR CALENDAR!  Saturday, July 17th –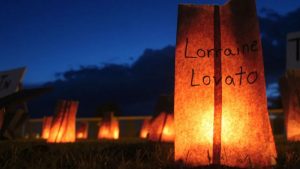 Tularosa Basin Downwinders Consortium (TBDC) Town Hall Meeting and Candlelight Vigil in Tularosa.  From 2 to 4 pm, the TBDC will host a Town Hall meeting to discuss the Radiation Exposure Compensation Act (RECA) at the old Community Center.  At 8 pm, the TBDC will host the 12th Annual Candlelight Vigil to memorialize loved ones who have lost their lives to cancer and honor those who are living with or who have survived cancer.  It will take place at the Tularosa Little League Field.  Gates open at 7:30 pm.  Stay tuned for more details.  https://www.trinitydownwinders.com/
Tags: Clean Water Act, Communities for Clean Water, Department of Defense, Department of Energy, Environmental Law Clinic at the University of California – Berkeley, Environmental Protection Agency, EPA, EPA Administrator Michael S. Regan, Holloman Air Force Base, Lake Holloman, LANL, Los Alamos National Laboratory, New Mexico Governor Michelle Lujan Grisham, New Mexico Water Quality Control Commission, per- and poly-fluorinated substances, PFAS, Public Employees for Environmental Responsibility, toxic chemicals, Triennial Review, "toxic pollutants