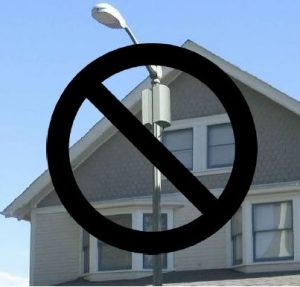 The Santa Fe City Council will vote August 30 on a proposed ordinance that would strip away our rights to protect our health, safety, and property. It would enable the wireless industry to put cell tower transmitters on every block in front of people's homes without their consent or their ability to object for any reason.
Bill No. 2017-22 would repeal most zoning regulations that now protect us. It would allow cell tower transmitters to be built
• on any street or sidewalk
• without a public hearing
• without notice to neighbors
• without notice to the public
• without an application
• without information regarding radio frequency radiation
• without proof of compliance with the FCC's safety rules
Cities all over the country are opposing similar legislation. An Ohio law that repealed zoning regulations for wireless facilities throughout Ohio was challenged by 70 cities and was overturned by a court. A California bill that would do the same thing in California, S.B. 649, is being opposed by 216 cities, 34 counties, and 45 health, environmental, and consumer justice organizations.
Tell the Santa Fe City Council to VOTE NO
WEDNESDAY, AUGUST 30, 2017, 7 PM
CITY HALL, 200 LINCOLN AVE.
info: 471-0129