Resist "Normalization" of Nuclear Weapons Industry in New Mexico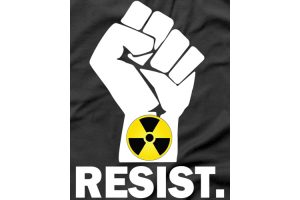 This summer a plethora of events, activities, and dialogues are taking place to "normalize" the nuclear weapons industry in New Mexico.  Knowing the details of the harm done to air, water, soil, and all living beings by the nuclear weapons industry, CCNS is resisting these attempts.  There are two events of note.  They are the August 4th Hiroshima Peace Day Commemoration in Los Alamos and this week's exhibition of Erika Wanenmacher's "Artifacts from the Boy's Room" in Santa Fe.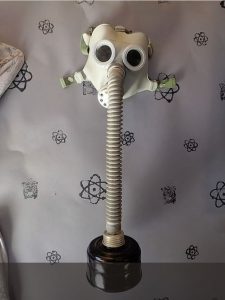 In Wanenmacher's exhibition, she investigates the U.S. government's Human Radiation Experiments, conducted by the Atomic Energy Commission and its progeny, including the Department of Energy, that occurred from the 1940s through the 1970s.  The experiments were conducted without informed consent on many of society's most vulnerable – the poor, the sick, the disenfranchised, and children.  http://erikawanenmacher.com/archives.html  Reviews by the Santa Fe Reporter and Santa Fe New Mexican Pasatiempo are available at https://www.sfreporter.com/arts/2018/07/18/lessons-from-the-boys-room/ and  http://www.santafenewmexican.com/pasatiempo/art/dismantling-history-artifacts-from-the-boy-s-room/article_4c552b5e-940e-5ad7-be38-638db0d72606.html
The exhibition is housed in Axle Contemporary, which will be parked at various locations in Santa Fe this week.  Photos of the exhibition are available at https://www.axleart.com/
All items are for sale through a silent bidding process.  All proceeds will support the work of CCNS, Nuclear Watch New Mexico, Los Alamos Study Group, and Axle Contemporary.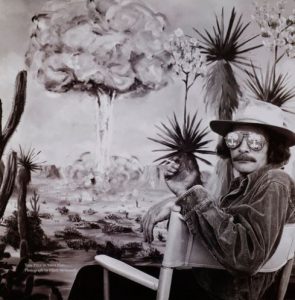 The closing event and final auction bidding will take place on Sunday, July 29th, at Phil Space, located at 1410 Second Street, from 5 to 8 pm.  Bidding can be done at the mobile gallery or by contacting the gallery at info@axleart.com or by telephone at (505) 670-5854 or (505) 670-7612.  Bidding ends at 8 pm on Sunday, July 29th.
Phil Space is current exhibiting The Works of Tony Price.  http://www.philspacesantafe.com/the-work-of-tony-price/   For more information, please visit http://www.philspacesantafe.com/ .
Also, to commemorate the August, 1945 U.S. atomic bombings of Hiroshima and Nagasaki, Japan, the 15th Annual Hiroshima Peace Day Commemoration and Peace Vigil will take place on Saturday, August 4th in Los Alamos.  People will gather at Ashley Pond, in the center of town, at 2 pm. Hiroshima Peace Day 2018 Flyer-1
Participants will remember the 73rd anniversary of the bombings at the place where the first nuclear weapons were built and where they continue to be built.  There will be a silent procession towards Los Alamos National Laboratory.  Participants may sit in silence for 30 minutes in sackcloths, or burlap bags, and ashes, which will be provided.  Afterwards, participants will gather back at Ashley Pond for discussion and reflection, which will be led by Father John Dear, an activist and author.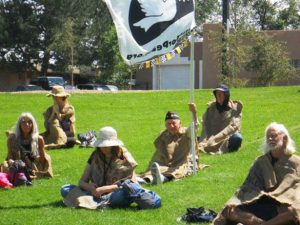 Father John Dear said, "We've been going to Los Alamos every August for fifteen years now, to pray and speak out for the abolition of nuclear weapons; but the world's violence and war making is only worsening while we continue to waste billions of dollars on these weapons of mass destruction."
For more information, please contact Ellie Voutselas at (505) 474-8557, or Ken Mayers, of Veterans for Peace – Santa Fe, at (505) 466-6954.
Tags: " Human Radiation Experiments, "normalization, Artifacts from the Boy's Room, Ashley Pond, Atomic Energy Commission, Axle Contemporary, Department of Energy, Erika Wanenmacher, Father John Dear, Hiroshima Peace Day, Los Alamos National Laboratory, resist, sackcloth and ashes, Tony Price