Support CCNS on Giving Tuesday, November 28th and Two Nuclear Issues Events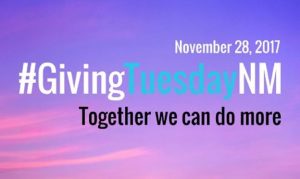 The days following Thanksgiving provide shoppers with many ways to save money during Black Friday, Small Business Saturday, and Cyber Monday.  Then shoppers may turn their savings into tax-deductible contributions to worthy non-profit organizations on Giving Tuesday.  On Tuesday, November 28th, CCNS will actively participate in the statewide coalition of  #GivingTuesdayNM.  Please give generously to support the weekly production of the CCNS News Update with your tax-deductible contribution to CCNS.  On Tuesday, please go to #GivingTuesdayNM, or go directly to http://nuclearactive.org/ to use PayPal to make your tax-deductible contribution.
Each day, CCNS works to keep you informed about the nuclear weapons industry in New Mexico – from the birthplace of the atomic bomb, Los Alamos National Laboratory, to the place where the plutonium contaminated nuclear weapons waste is disposed of at the Waste Isolation Pilot Plant.  In between, CCNS keeps you informed about the consequences of the daily operations of these sites:  the emissions of pollutants into the air, discharges to surface water and ground water, and burial of radioactive, toxic, and hazardous waste in unlined pits, trenches, and shafts, above drinking water aquifers and the Rio Grande.  We also keep you informed about harm done to workers and people living around these sites, including the Trinity test downwinders and uranium workers.  We know you are busy and for that reason, CCNS provides you with sample public comment letters you can use to express your concerns to federal, state, and local officials and decision makers.
We also keep you informed about events in New Mexico dealing with nuclear issues.  Following Giving Tuesday, there will be two gatherings.
The first is the "Dismantling the Nuclear Beast Symposium," beginning at 2:30 pm on Friday, December 1st, running through Sunday, December 3rd at 5 pm.  The symposium, with accompanying art, poetry and music events, will be held at the Hibben Center on the University of New Mexico campus in Albuquerque, near the corner of University and Martin Luther King Boulevard.  The full program will be posted soon at https://nuclearnewmexico.com/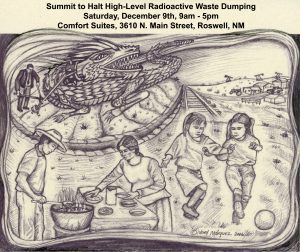 The second is the "Summit to Halt High-Level Radioactive Waste Dumping," on Saturday, December 9th from 9 am to 5 pm at the Comfort Suites, 3610 North Main Street, in Roswell, New Mexico.  It is sponsored by the Alliance for Environmental Strategies, which is opposing plans to store and/or dispose of all of the commercial high-level radioactive waste in either southeastern New Mexico or west Texas.  For more information, please visit http://nonuclearwasteaqui.org/ or contact Noel Marquez at marquezarts@yahoo.com.
Since 2015, the Center for Nonprofit Excellence (CNPE), a program of United Way of Central New Mexico, has made it easy for donors, volunteers and other organizations to find New Mexico nonprofits running #GivingTuesdayNM campaigns.  The CNPE is funded through United Way's Corporate Cornerstones program and the generous support of United Way's Community Fund donors.
Tags: #givingTuesdayNM, Alliance for Environmental Strategies, CCNS, Dismantling the Nuclear Beast Symposium, Giving Tuesday, high-level radioactive waste dumping, Nuclear Issues Study Group, Nuclear New Mexico, Summit to Halt High-Level Radioactive Waste Dumping