Ban Treaty Must Strengthen Victim Assistance and Environmental Remediation Provisions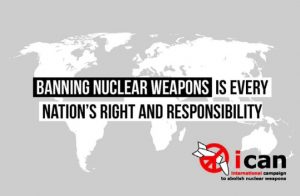 Recognizing the enduring harms to those exposed to nuclear weapon testing and use and the consequent long-term environmental damage and destruction, many are urging that those provisions be strengthened in the draft Nuclear Weapon Ban Treaty.  New papers by the Women's International League for Peace and Freedom http://wilpf.org/, Reaching Critical Will http://reachingcriticalwill.org/, the International Campaign to Abolish Nuclear Weapons http://www.icanw.org/; and the International Human Rights Clinic at Harvard Law School and Article 36 http://www.article36.org/nuclear-weapons/va-er-harvard-papers/ document the harm and urge the more than 130 countries, or states parties, negotiating the treaty to broaden the assistance to those exposed to radiation and to reduce the harm from contaminated areas by providing guidelines for environmental remediation.  The second session of United Nations treaty negotiations began on Thursday, June 15th and is expected to conclude on Friday, July 7th in New York City.
The suggestions are based on provisions found in existing weapon ban treaties, including the Chemical Weapons Convention and the Convention on Cluster Munitions.  Further, the 1996 International Court of Justice advisory opinion concluded the use or threat of use of nuclear weapons is generally contrary to international law.
While the treaty will not eliminate nuclear weapons, it will "normalize" a nuclear weapon free world.  As stated by the Women's International League for Peace and Freedom, the treaty will  "stigmatize these remaining weapons of mass destruction, codify their illegality and illegitimacy into international law, and help set standards and rules to facilitate their elimination."  http://www.reachingcriticalwill.org/images/documents/Publications/bnw-prohibitions.pdf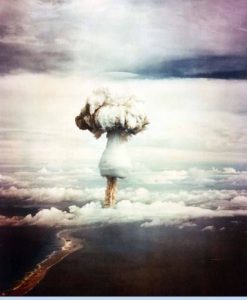 Unfortunately, the draft treaty does not specifically mention the harm done to New Mexicans and the beautiful Land of Enchantment.  Both have been damaged by the research and development of the first atomic bomb at Los Alamos National Laboratory; the test of that nuclear weapon at the Trinity Site on July 16, 1945; the mining and milling of uranium; the pollution emitted from the national laboratories at Los Alamos and Sandia; the transportation of nuclear and hazardous materials throughout the state; and the disposal of nuclear bomb waste at the Waste Isolation Pilot Plant.  Bringing the treaty into force would put pressure on the U.S. to provide assistance to those harmed by these activities and prioritize cleanup of contaminated water and land.
Joni Arends, of CCNS, said, "The victim assistance provisions in the draft Ban Treaty must be based on international human rights law.  Detailed language must be provided to address the victims' needs, especially their long-term medical and mental health, and outline the responsibilities of the affected states parties, including the U.S.  Environmental remediation can mitigate the continuing harm from exposure to radiation and toxic chemicals.  Clarifying the states parties' obligations with cleanup guidelines would strengthen the treaty."
For more information and to receive the Nuclear Ban Daily, " a source for news and analysis from the UN conference to negotiate a legally binding instrument to prohibit nuclear weapons, leading towards their total elimination. It is produced by the Reaching Critical Will programme of the Women's International League for Peace and Freedom (WILPF)," go to http://mailchi.mp/e5f564940efa/reaching-critical-will-e-news-april-1090737?e=35769975f7 and http://www.reachingcriticalwill.org/disarmament-fora/nuclear-weapon-ban/reports
Tags: 1996 International Court of Justice advisory opinion, Article 36, Ban Treaty, Beatrice Fihn, Chemical Weapons Convention, Comprehensive Nuclear Test Ban Treaty, Convention on Cluster Munitions, Elayne Whyte Gomez, ICAN, ICJ, International Campaign to Abolish Nuclear Weapons, International Human Rights Clinic at Harvard Law School, Los Alamos National Laboratory, Nuclear Non-Proliferation Treaty, Nuclear Weapon Free Zone, nuclear weapons, Prohibition, Reaching Critical Will, Sandia National Laboratories, States Parties, Trinity Site, United Nations, WILPF, women's international league for peace and freedom, Women's March and Rally to Ban the Bomb