Seismic Analyses Needed for LANL's Two New Radioactive Liquid Waste Treatment Facilities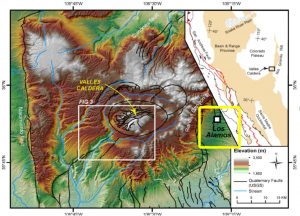 There has not been an adequate examination of the seismic vulnerabilities and increasing risk of seismic activity in the area of Valles Caldera, with Los Alamos National Laboratory on the eastern slope.   https://www.researchgate.net/figure/Location-of-Valles-Caldera-New-Mexico-Inset-map-shows-location-of-Valles-Caldera-in_fig1_261597049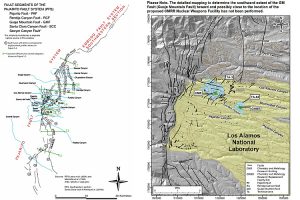 Under the New Mexico Hazardous Waste Act, seismic analyses are required for hazardous waste facilities located in Los Alamos County, which includes two new Radioactive Liquid Waste Treatment Facilities at LANL.  It is unknown whether the 1963 version of the Treatment Facility has been operating without such analyses.
Seismic analyses are also required for any hazardous waste facility located between Taos and Bernalillo counties that lie along the Pajarito Fault System and the connected Embudo Fault System.  For more information about the seismic danger along the Pajarito Fault System, please check out the papers and maps of the late Robert H. Gilkeson, an independent registered geologist and LANL whistleblower at http://nuclearactive.org/gilkeson/   If you have limited time, check out:  http://nuclearactive.org/wp-content/uploads/2014/06/fLANLSeismicFactSheet8-8-11pdf.pdf and  http://nuclearactive.org/wp-content/uploads/2014/06/LANL-PAJARITO-FAULT-SYSTEM-FIGURES.pdf
The Hazardous Waste Act implements the federal Resource Conservation and Recovery Act in New Mexico.  Hazardous waste can be a solid, a liquid, a semi-solid, or a contained gaseous material.  It can be corrosive, ignitable, reactive or toxic.  Hazardous waste has properties that make it dangerous or capable of having a harmful effect on human health or the environment.
The New Mexico Water Quality Act contains a limitation that no Water Quality permit may be issued if the Hazardous Waste Act covers a facility. The Environment Department and LANL have ignored that limitation, sacrificing proper regulation of the old and new Radioactive Liquid Waste Treatment Facilities.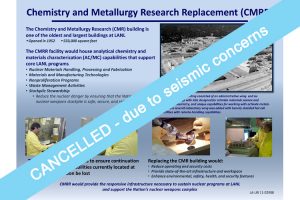 CCNS's concerns about seismic activity are well founded.  Recall the proposed super Wal-Mart-sized Nuclear Facility, as part of the Chemistry and Metallurgy Research Replacement Project at LANL, was canceled in 2014 because of the additional cost to address the threats of seismic activity within the Pajarito Fault System.  The price tag grew from $600 million in 2004 to over $6 billion in 2011.  https://nuclearactive.org/news/030411.html and http://nuclearactive.org/what-is-the-los-alamos-seismic-network-and-why-is-it-not-working-properly/
Since 1963 and continuing until today, the Radioactive Liquid Waste Treatment Facility at LANL has handled, treated and stored radioactive and hazardous liquid waste generated at the Plutonium Facility and other LANL facilities.  In the Plutonium Facility, spherical triggers, or plutonium pits, for nuclear weapons are fabricated using toxic and hazardous materials.  There are underground pipes from the Plutonium Facility to the Treatment Facility, where the radioactive and hazardous liquids are treated.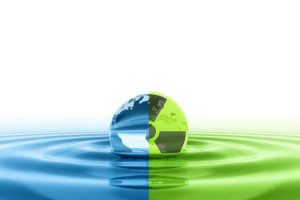 The Environment Department insists on regulating the Facility under the New Mexico Water Quality Act, which has no provisions for hazardous waste and does not require seismic analyses as the Hazardous Waste Act does.
Honor Our Pueblo Existence (HOPE) https://shuffle.do/projects/honor-our-pueblo-existance-h-o-p-e and CCNS http://nuclearactive.org/ argue that the radioactive liquid waste treatment facilities must be managed under the Hazardous Waste Act.
---

Did You Know about these Opportunities to Get Involved?
Friday, April 21st at 3 pm Mountain Time – A Special Webinar to Address the Question of the Hour: The Rising Danger of Nuclear War – Daniel Ellsberg Speaks.  REGISTER HERE 
April 15th to 22nd – Shut Down Drone Warfare – Holloman Air Force Base in southern New Mexico – "From Tax Day to Earth Day, Rise Up!" Co-sponsored by CODEPINK, Veterans for Peace and Ban Killer Drones.  Join in a week of peaceful resistance against drone warfare and out-of-control U.S. empire.  Why Holloman?  It is the largest-drone training base in the U.S. – training 600 or more drone pilots and operators annually.  For more information:  http://www.shutdowndronewarfare.org/
Monday, May 1st – Last Day for DIRECT ACTION, a solo exhibition by Mexican artists PEDRO REYES at Site Santa Fe. Over the course of his career, Reyes' work follows a double path:  art as aesthetic research, and art as social practice.  Reyes explores New Mexico's unique and local nuclear history with the nuclear industry.   https://sitesantafe.org/exhibition/pedro-reyes/
Tags: 2023 WQCC hearing, CCNS, Chemistry and Metallurgy Research Replacement Project, CMRR, Concerned Citizens for Nuclear Safety, Department of Energy, DOE, DP-1132, Embudo Fault System, hazardous waste, Honor Our Pueblo Existence, HOPE, LANL, Los Alamos National Laboratory, May 9, National Nuclear Security Administration, New Mexico Environment Department, New Mexico Hazardous Waste Act, New Mexico Water Quality Act, New Mexico Water Quality Control Commission, NMED, NNSA, Pajarito Fault System, Plutonium Facility, Radioactive Liquid Waste Treatment Facility, RCRA, Resource Conservation and Recovery Act, RLWTF, seismic activity, seismic vulnerabilities, super Wal-Mart-sized Nuclear Facility, Valles Caldera, WQCC