Speeding Up LANL Plutonium Pit Production Is Very High Risk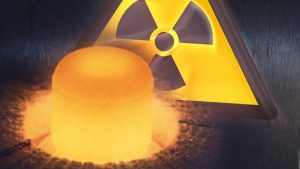 An unclassified five-page executive summary released this week during the Alliance for Nuclear Accountability DC Days reveals risks and problems inherent in a renewed U.S. effort to reconstitute plutonium pit production capacity by 2030.  The government contractors from the Institute for Defense Analysis found that "[t]rying to increase production at [the Plutonium Facility at Los Alamos National Laboratory (LANL)] by installing additional equipment and operating a second shift is very high risk."  LANL is the only U.S. manufacturing location for plutonium pits, the triggers for nuclear weapons. IDA ExecSum UNC March2019
The Department of Energy (DOE) and its semi-autonomous National Nuclear Security Administration have been trying to increase the number of pits manufactured at LANL since the end of the Cold War.  Such proposals include a Modern Pit Facility and a super Wal-Mart-sized Nuclear Facility as part of the Chemistry and Metallurgy Research Replacement Project.  Neither was built.
The Institute cited these failures, and others across the nuclear weapons complex, as historical evidence of the difficulties DOE could encounter.  The Institute wrote, "Put more sharply, eventual success of the strategy to reconstitute plutonium pit production is far from certain.  DOE historical data make clear that difficulties are to be expected in a project of this scale and complexity.  [The Institute] examined past [DOE] programs and could find no historical precedent to support starting initial operations [ ] by 2030, much less full rate production."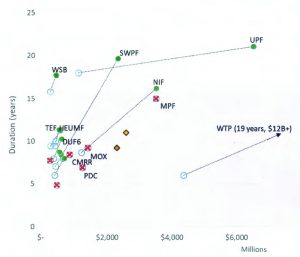 The Institute continued, "Of the few major projects that were successfully completed, all experienced substantial cost growth and schedule slippage; we could find no successful historical major project that both cost more than $700 million and achieved [initial operations] in less than 16 years."
On May 10, 2018, the nuclear weapons bureaucracy announced that it supports the manufacture of 80 plutonium pits per year.  They chose two facilities.  One is the LANL Plutonium Facility for the manufacture of 30 pits per year.  The other is the uncompleted Mixed-Oxide Fuel Fabrication Facility at the Savannah River Site in South Carolina.  Fifty pits per year could be manufactured once the mixed-oxide, or MOX, facility was reconstructed.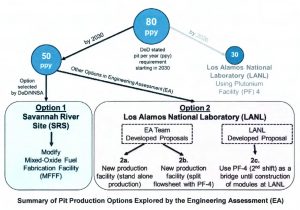 Jay Coghlan, Director of Nuclear Watch New Mexico, said, "This report makes clear that DOE is blowing smoke when it says that it will produce 80 plutonium pits per year by 2030 for new unneeded nuclear weapons.  After all, this is the gang that can't shoot straight.  They need to slow down, do it right and for sure do it safely.  Above all the feds must concretely demonstrate a real need for expanded pit production before they fleece the American taxpayer of tens of billions of dollars."https://nukewatch.org/
---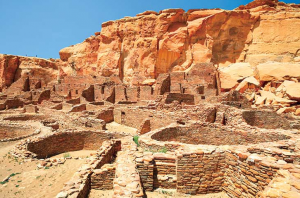 1.    CHACO CANYON – Santa Fe County Commissioner Anna Hansen is bringing forward a Resolution at the Tuesday, May 28th Board of County Commissioners' meeting about Resolution No. 2019-____, A Resolution Urging Congress to Enact 'The Chaco Cultural Heritage Area Protection Act, S. 1079' and Withdraw the Federal Lands Around Chaco Canyon from Further Mineral Development and Ensure the Protection of Chaco Ruins and the Greater Landscape Surrounding the Chaco Culture National Historical Park. https://www.santafecountynm.gov/committees/board_of_county_commissioners_bcc Please support Commissioner Hansen's efforts by attending Tuesday's meeting (on agenda around 3:30 or 4 pm) and/or call your commissioners and urge their support.
Here's the Resolution and Memo. Resolution Memo – Chaco Canyon and Resolution – Chaco Canyon for CAO review 05-17-19
2.    CCNS has been trying to obtain a color paper copy of LANL's application for a National Pollutant Discharge Elimination System (NPDES) permit for over two weeks?  LANL used to provide color paper copies of their permit applications to the public.  They state they will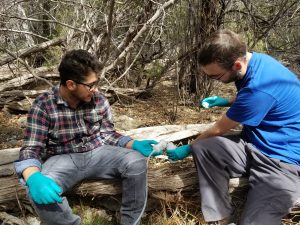 provide a CD.  Well, a CD doesn't do it for us.  Our shelves include the two volume 2014 NPDES permit application, which we refer to often in our work to protect the Rio Grande.
Having a color paper copy of the application, maps, and appendices is important in our preparation for a public hearing this fall about the discharges from LANL outfalls into the canyons that flow to the Rio Grande.
Please help us by emailing Peter.Maggiore@nnsa.doe.gov and saladen@lanl.gov and ask that LANL provide a color paper copy of the application, maps, and appendices TO CCNS.  Remind them that the LANL buget has increased from $2.2 billion/year to $2.7 billion/year under the Trump administration.  Surely they can find the funding to provide CCNS with a color paper copy of their complete application.  Thank you for your help!
Tags: Alliance for Nuclear Accountability DC Days, Chemistry and Metallurgy Research Replacement Facility, CMRR-NF, Department of Energy, DOE, Institute for Defense Analysis, Jay Coghlan, LANL, Los Alamos National Laboratory, Mixed Oxide Fuel Fabrication Facility, Modern Pit Facility, MOX, National Nuclear Security Administration, Nuclear Facility, Nuclear Watch New Mexico, Plutonium Facility, Savannah River Site