WIPP Expansion Continues; Public Comments on Proposed Panels 11 and 12 Due Monday, October 4th


At what point will the New Mexico Environment Department acknowledge the Department of Energy's proposals for the Waste Isolation Pilot Plant (WIPP) for what they are – EXPANSION of the underground geologic repository for national defense related radioactive and hazardous waste?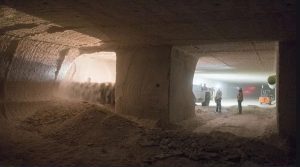 The Stop Forever WIPP Coalition, of which CCNS is a member, formed to educate and encourage public involvement in DOE's proposed expansion plans.  The Coalition envisions a future of fairness and safety where New Mexicans are informed and involved in protecting public health and the environment.  You are invited to join the efforts to stop the expansion of the nuclear waste dump site in New Mexico.
One step you can take right now is to submit a public comment to the Environment Department about DOE's proposal to mine three new access drifts to the west of the existing disposal site and construct and use two waste disposal Panels 11 and 12.  https://www.env.nm.gov/hazardous-waste/wipp/ , scroll down to the August 3, 2021 post.
DOE plans to begin mining October, after the start of the federal Fiscal Year 2022.  A one-click public comment letter is available at https://stopforeverwipp.org/ and a word version is available at http://nuclearactive.org/ .
The public comment letter also requests that the Environment Department proceed with the WIPP Permit Renewal, which should consider all of the proposed expansions at one time.  Many people believe that the Permit Renewal, which has been delayed for 18 months, should proceed before any further permit modifications are considered.  https://www.env.nm.gov/hazardous-waste/wipp/, scroll down to Vpost.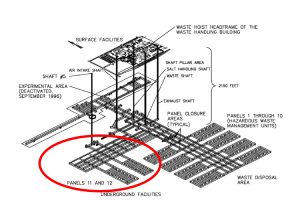 In total, DOE plans five "West Wing" access drifts, each parallel to one another and approximately 2,400 feet long.  From the southern-most drift, the proposed Panels 11 and 12 are planned to be constructed directly to the south of the proposed Shaft No. 5, which is under permitting consideration by the Environment Department.
The Environment Department can prevent the mining of three of the access drifts and Panels 11 and 12 until such time as there is a final decision on the permit modification, which could take at least 18 months.  Due to the significant public interest in DOE's expansion plans, a public hearing would be held.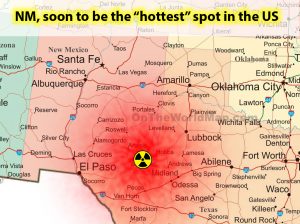 On Wednesday, October 6th from 3 to 5 pm, the New Mexico Radioactive Waste Consultation Task Force, sometimes called the "Governor's WIPP Task Force," will hold an online and telephonic public meeting.  There will be time for public comment to discuss WIPP expansion.  A primary duty of the Task force is to negotiate with the federal government about WIPP.  For more information, please visit:  https://www.emnrd.nm.gov/wipp-transportation-safety-program/the-radioactive-waste-consultation-task-force/   Please use link in the Public Notice (which is attached to the Update) to register for the Task Force meeting. RadioactiveWasteTaskForcePublicNotice  Task-Force-Meeting-Agenda-Final
---

We are podcasting!
Wed., Sept. 29th from 5:30 to 7:30 pm virtual LANL Cleanup Contractor, N3B, Cleanup Forum. For meeting information including login details, visit www.n3b-la.com/outreach.
Sat. October 2nd from 9 am to 1 pm – Join the Tularosa Basin Downwinders Consortium (TBDC) at its 8th Annual Trinity Site Peaceful Demonstration at the Stallion Gate Entrance to the Trinity Site, east of San Antonio, NM, off Hwy. 380. Please bring your own water, snacks, sunscreen, chair, hat, posters, etc.  Portable facilities will be available on-site.  For more information, please visit:  https://www.trinitydownwinders.com/   
            Check it out!  7-minute podcast with NPR's Leila Fadel and Lesley Blume, reporter for National Geographic, about 1945 Trinity Atomic Test.  www.npr.org/2021/09/27/1040983335/survivors-of-the-trinity-nuclear-test-werent-warned-then-were-lied-to-after
Locals were not given warnings prior to the 1945 Trinity Nuclear Test, and their resulting health issues were largely ignored.
Sun. Oct. 3rd:

DEADLINE FOR PUBLIC COMMENTS: OCT 3

The National Park Service (NPS) and Federal Aviation Administration have prepared a draft Air Tour Management Plan (ATMP) to define "acceptable" levels of commercial air tours over Bandelier National Monument — ancestral Tewa land. Under the draft ATMP, 101 annual commercial air tours would be authorized. You can read more about the proposal and the process 

here

.

Commercial air tours have already been happening over Bandelier since 2003 (up to 126 flights a year at 800–1000 ft above the ground), so the ATMP draft is not a proposal to 'allow' these flights to happen but to regulate frequency, duration, altitude, and routes. Therefore, we are not asking you to oppose the ATMP as it's a step in the right direction to address the situation.

CALL TO ACTION

We are calling for this inclusion in the plan: restricting any commercial/for-profit flights over this area, as this is ancestral Tewa land. (We recognize that there may be times when search-and-rescue and emergency flights may be necessary.) The airway frequency of these planes has a dire impact on elk, deer, turkey, and other beings who live on this land. From an environmental standpoint, these unnecessary flights are just that — unnecessary — and contribute to environmental violence. These "pleasure" tours are a violation of rights to clean air and sacred space, which extends above and below. We Tewa have never left.

We are calling for tribal voices to be centered in every part of this process, and for the NPS to recognize that Bandelier is not only an historical site but a current site of great cultural importance to Indigenous people.

We ask you to stand with us and advocate against commercial air tours over Bandelier, and help us to amplify the above points.

From now until October 3, the NPS is accepting comments from the public.

You may submit your written comments via postal mail to the following address, or use

this link

to submit a comment through the NPS website. Please note the NPS is not accepting comments via email.

National Park Service

Natural Sounds and Night Skies Division

BAND ATMP

1201 Oakridge Dr., Suite 100

Fort Collins, CO 80525
Mon., October 4th: Public comments are due to NM Environment Department about the proposed construction and use of hazardous waste disposal Units 11 and 12.  This is DOE's plan to "replace" the panels that were contaminated due to years of mismanagement (also known as "DOE's mismanagement panels").  For more information see http://nuclearactive.org/does-latest-plan-for-expanding-wipp-three-new-drifts-and-two-new-waste-disposal-panels/ ,  https://nuclearactive.org/doe-continues-its-push-for-wipp-expansion/  and https://wipp.energy.gov/wipp_news_20210810.asp   A sample public comment letter you can use is available here. here
Tags: Department of Energy, DOE, five access drifts, Governor's WIPP Task Force, National Nuclear Security Administration, New Mexico Environment Department, New Mexico Radioactive Waste Consultation Task Force, NMED, Panels 11 and 12, Stop Forever WIPP Coalition, Waste Isolation Pilot Plant, WIPP, "west wing, " Shaft No. 5