Annual Sackcloth and Ashes Hiroshima Day Peace Vigil at Los Alamos, NM – Saturday, August 5, 2017 2:00 pm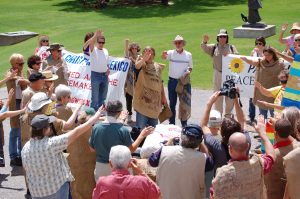 On Saturday, August 5th, people will gather at 2:00 p.m. at Ashley Pond Park in Los Alamos, NM for the annual sackcloth and ashes peace vigil to commemorate Hiroshima Day.
There will be a quiet walk, then sitting in sackcloth and ashes for 30 minutes, then returning to the park, where we will reflect together on the experience as well as the current United Nations movement to outlaw nuclear weapons.  On July 7th, 122 countries voted for the United Nations to adopt the Treaty on the Prohibition of Nuclear Weapons.  Countries can sign the Treaty when the United Nations General Assembly meets at its Annual Meeting, beginning on September 20, 2017.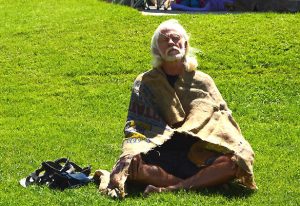 Rev. John Dear, and Jay Coghlan of Nuclear Watch New Mexico, will be speaking at the Peace Vigil.
Please bring water, an umbrella and a peace sign.  Sackcloths and ashes will be provided.
For info, contact Bud Ryan at bud@siochainworld.org
Please help spread this announcement!
Tags: ashes, Hiroshima, Los Alamos, peace vigil, sackcloth