Another Leaking Container at WIPP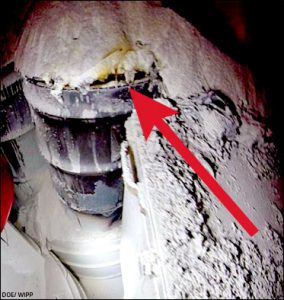 Eight years after the 2014 explosion of one or more waste containers disposed in the Waste Isolation Pilot Plant (WIPP) underground, on Saturday, April 9th, WIPP announced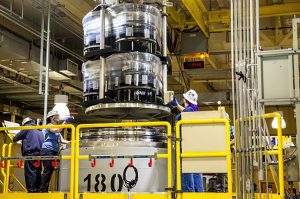 that one or more waste containers had leaked radioactive liquids while being unloaded from a TRUPACT-II shipping container in the Waste Handling Building.  WIPP reported that no contamination was found on the hands and feet of the workers and that "no indication of airborne contamination [was found] at this time."  Workers were first told to remain indoors, but were later evacuated from the Waste Handling Building.
Liquids are prohibited at WIPP unless they are contained in a very limited amount inside of the waste containers.  Those liquids must be documented.  WIPP and its contractor, Nuclear Waste Partnership, a limited liability corporation, have yet to provide any more information in writing about the release.  https://www.nwp-wipp.com/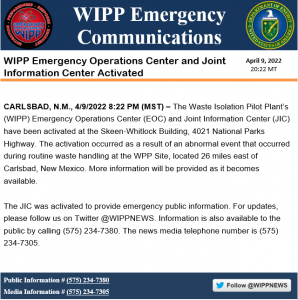 After the discovery of the radioactive leak, the WIPP Emergency Operations Center was opened for two hours and 39 minutes.  All alerts were posted on Twitter.  https://twitter.com/WIPPNEWS
According to verbal notices to the New Mexico Environment Department, the waste shipment originated at the Idaho National Laboratory where 55-gallon metal drums containing plutonium-contaminated waste are crushed or supercompacted.  The compacted waste containers are not supposed to contain liquids.
After being discovered, the leaking waste container, or containers, was reloaded into the TRUPACT-II shipping container.  It is unknown if the shipment will be returned to the Idaho National Laboratory.
The Nuclear Waste Partnership's contract to operate WIPP expires on September 30, 2022.  The Partnership did not reapply to manage the WIPP facility.  The Department of Energy's announcement of a new contractor is anticipated any day now.
In the meantime, the Defense Nuclear Facility Safety Board monthly reports reveal basic maintenance problems at the site.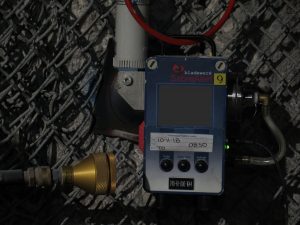 For instance, three continuous air monitors, or CAMs, located in the underground mine where workers dispose of radioactive and hazardous waste, were inoperable.  Corrosion and excess salt built-up was found in the vacuum pump.  There are three CAMs so that if one or more malfunctions, there is a backup.  In this case there was no backup.
Further, two workers replaced two fuses in one of the hoists without following the Hazardous Energy Control protocols.  These examples are only two of many.  https://www.dnfsb.gov/sites/default/files/document/25491/WIPP%20Monthly%20Ending%20March%202022.pdf , https://www.dnfsb.gov/sites/default/files/document/25366/WIPP%20Monthly%20Ending%20February%202022.pdf ,  https://www.dnfsb.gov/sites/default/files/document/25201/WIPP%20Monthly%20Ending%20January%202022.pdf , and https://www.dnfsb.gov/sites/default/files/document/25076/WIPP%20Monthly%20Ending%20December%202021.pdf
At this point, it is documented that Nuclear Waste Partnership is not taking its worker protection and safety responsibilities seriously.  CCNS urges complete documentation of the leaking container and more oversight by federal and New Mexico regulators during the transition from one management contractor to another.
---


Friday, April 22 (Earth Day) – Sunday, April 24, 2022 – Taos Environmental Film Festival – important films, a staged reading of a play, a forum and more – at the Taos Community Auditorium.  https://taosenvironmentalfilmfestival.com/   On Saturday, April 23rd from 5 to 7:30 pm, a staged reading of Exposed, a play by Mary Dickson, a Downwinder of the above-ground atomic tests at the Nevada Test Site, will be presented. Mary Dickson will be present.
Friday, April 22nd from 3 to 4 pm, Thomas De Pree, Ph.D., a Postdoctoral Fellow, University of New Mexico Health Sciences, will present live and virtually, The Politics of Baselining in the Grants Uranium Mining District of Northwestern New Mexico. To register:  https://goto.unm.edu/22   
Saturday, April 23, 2022 from 8 am to 5 pm – Symposium on Rocky Flats: Impacts on the Environment and Health. Brought to you by Physicians for Social Responsibility (PSR) Colorado and The Colorado Medical Society.  This Symposium will span topics ranging from the history of Rocky Flats, contamination issues still plaguing the area, legal issues, critical analyses of epidemiological studies, and effects of radiation on the genome and epigenome.  Everyone, regardless of education or career background, is welcome to register.  For more information:   https://www.psrcolorado.org/
The meeting will be held virtually using Microsoft TEAMS. You may join the virtual meeting using the link provided at https://www.sandia.gov/about/environment/environmental_management_system/index.html, follow the Public Meeting Link on the left of the page. On mobile devices and Apple devices, you may need to download a free app to join the meeting.
DOE/SNL presentations can be reviewed in advance at: https://www.sandia.gov/about/environment/environmental_management_system/index.html, follow the Public Meeting link on the left of the page.   KAFB presentations can be found at https://www.kirtland.af.mil/Home/Environment/.
Please note: if a presentation and associated questions take less time than allotted, we will continue to the next presentation. Therefore, we recommend attending the entire meeting to ensure you do not miss presentation(s) of interest to you.
The federal agencies encourage questions and recommend submitting them in advance by email. Questions will be prioritized and will be addressed as time permits. Attendees may also ask questions via chat during the meeting, and those will be answered as time permits. Emailed questions that are not addressed during the meeting will be answered by email following the meeting. To submit a question, please send an email to envinfo@sandia.gov, please include April 2022 Public Meeting Question in the Subject line.
Tags: CAMs, continuous air monitors, Defense Nuclear Facilities Safety Board, Department of Energy, DNFSB, Hazardous Energy Control protocols, Idaho National Laboratory, New Mexico Environment Department, Nuclear Waste Partnership LLC, oversight, radioactive liquids, TRUPACT-II, Waste Handling Building, Waste Isolation Pilot Plant, WIPP, WIPP Emergency Operations Center