CCNS and NMED Negotiate Settlement Agreement for the WIPP Hazardous Waste Renewal Permit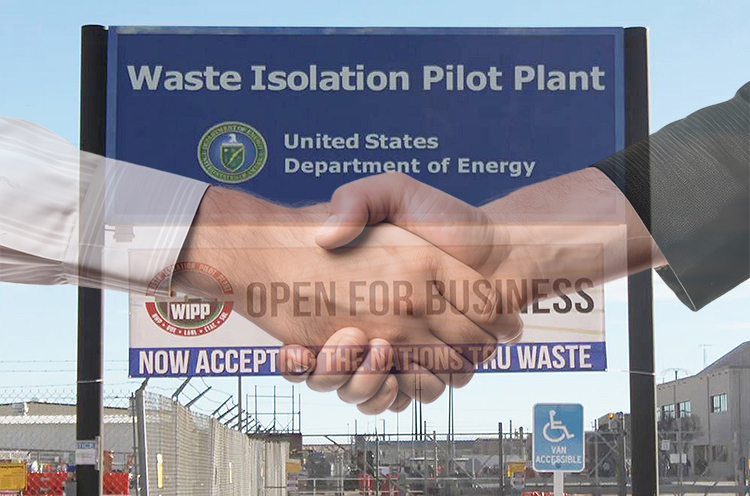 CCNS and five other non-governmental organizations and one individual successfully negotiated a settlement agreement last week to revise the draft ten-year hazardous waste renewal permit for the Waste Isolation Pilot Plant (WIPP).  Also at the table were the New Mexico Environment Department (NMED) https://www.env.nm.gov/ and the co-Permittees, the U.S. Department of Energy (DOE) and Salado Isolation Mining Contractors, LLC (SIMCO).  https://wipp.energy.gov/
The NGOs are Citizens for Alternatives to Radioactive Dumping (CARD) https://www.cardnm.org/ , Concerned Citizens for Nuclear Safety (CCNS) http://nuclearactive.org/ , Conservation Voters New Mexico (CVNM) https://cvnm.org/ , Nuclear Watch New Mexico (NWNM) https://nukewatch.org/ , Southwest Alliance for a Safe Future (SAFE) https://www.swalliance.org/ , and Southwest Research and Information Center (SRIC) http://www.sric.org/ .  The individual is Steve Zappe, a grandfather and former NMED WIPP Program Manager.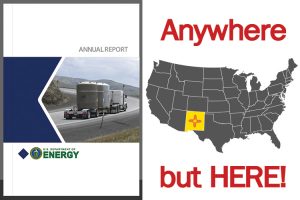 In April, the NGOs and the individual requested a public hearing because they opposed portions of the draft renewal permit.  The four days of successful negotiations resulted in changes to the renewal permit and the withdrawal of the requests for a public hearing.  https://www.env.nm.gov/hazardous-waste/wipp/
The NGOs claimed victory that DOE is now required to provide an annual report about establishing another repository for plutonium-contaminated radioactive waste in a state other than New Mexico.  WIPP was never supposed to be the only repository for this waste, called transuranic, or TRU, generated by the production of nuclear weapons.
Additional protective conditions include the Environment Department exercising its power to revoke and require closing the site if the volume of waste disposed of at WIPP is increased or the types of waste are changed.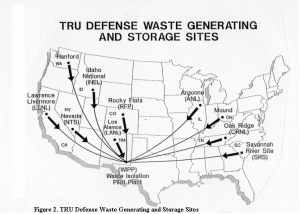 The permit requires the Permittees to implement a new plan with a full inventory of legacy waste around the U.S. for disposal at WIPP.  This should be the first definition of legacy waste generated by the first 55 years of nuclear weapons production.
It includes additional public notice and participation opportunities.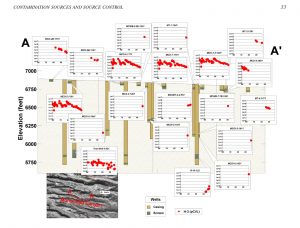 The permit also prioritizes getting legacy waste "off the hill" at Los Alamos National Laboratory to WIPP.   With timely implementation it may reduce contamination reaching the regional drinking water aquifer.
New Mexico Environment Department Cabinet Secretary James Kenney said, "Communities in New Mexico and around the U.S. benefit from the cleanup of legacy waste and its disposal at WIPP.  The new permit conditions affirm New Mexico's authority and position that all roads lead from WIPP – we are no longer the last stop for cleanup but the driving force in that process that begins here."
The Environment Department will host an in-person and virtual public meeting on September 22nd.  The public comment period will remain open through the September 22nd public meeting.  https://www.env.nm.gov/hazardous-waste/wipp/, see June 27, 2023 entry under "WIPP News."
DOE will host an in-person and virtual Community Forum and Open House on Tuesday, July 11th from 5:30 to 7:30 pm at the Marriott Albuquerque.  Registration is available at https://wipp.energy.gov/wipp_news_20230627.asp
---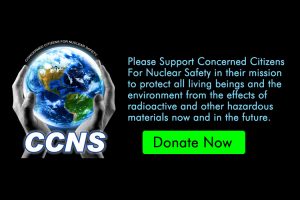 A gentle reminder:  CCNS is seeking donations large and small through throughout the summer as we challenge DOE, WIPP and LANL in court and to keep the Update and social media program going.  We are extremely grateful for your support! 
---


Friday, June 30th from noon to 1 pm MT – Join the weekly peaceful protest for nuclear disarmament on the corners of Alameda and Guadalupe in downtown Santa Fe with Veterans for Peace, CCNS, Nuclear Watch NM, Loretto Community, Pax Christi, Nonviolent Santa Fe, and others.
Four EM-LA Strategic Vision Meetings about cleanup at LANL – three in-person meetings and one virtual meeting. The same information will be presented in each of the meetings.  Pre-register for one of the meetings at bit.ly/EM-LAStrategicVisionMeetings or https://n3b-la.com/outreach/#strategic-vision
a. Monday, June 26 from 5 to 7:30 pm in-person meeting at Moving Arts Española, 68 NM-291, Española, NM
b. Wednesday, June 28 from 5:30 to 7:30 pm in-person meeting at Santa Fe Community College, West Wing, Room 213, 6401 Richards Avenue, Santa Fe, NM. (Follow signs for West Wing entrance, once inside, walk up the stairs, take a left and the meeting room is on the left.)  Please note:  roadwork is taking place in the area – allow extra travel time.
c. Thursday, June 29th from 5:30 to 7:30 pm virtual
d. Friday, June 30th from 5:30 to 7:30 pm in-person meeting at Fuller Lodge, 2132 Central Avenue, Los Alamos, NM
Saturday, July 8th through Sunday, July 9th for a 24-Hour Peace Wave 2023 on Zoom, produced by International Peace Bureau and World BEYOND War. It begins on Sat. July 8th at 9 am Eastern, 7 am Mountain; and ends on Sun. July 9th at 9 am Eastern, 7 am Mountain.  Watch live peace actions in the streets and squares of the world moving around the globe with the sun.  To register:  https://worldbeyondwar.org/wave/
Saturday, July 15th from 7 am to 9 am MT free virtual meeting of the Global Network Against Weapons and Nuclear Power in Space – Latest development on war via space. https://space4peace.org/  To register:  https://www.eventbrite.co.uk/e/global-network-31st-annual-meeting-latest-developments-on-war-via-space-tickets-638565886757  
Saturday, July 15th from 7 am to 4 pm – 44th Annual Church Rock Uranium Tailings Spill Commemoration, hosted by the Red Water Pond Road Community, the Eastern Navajo Diné Against Uranium Mining, and the Pipeline Road Community. For more information, please contact Susan Gordon at sgordon@swuraniumimpacts.org
Sunday, July 16th – Santa Fe Archbishop John C. Wester's service about A WORLD WITHOUT NUCLEAR WEAPONS: An Interfaith Remembrance of the Trinity Test on July 16, 1945, at the Santa Maria de la Paz Center at 11 College Avenue, Santa Fe (just before the Santa Fe Community College (road work is taking place in the area – allow extra travel time). https://archdiosf.org/living-in-the-light-of-christs-peace
Tags: CARD, CCNS, Citizens for Alternatives to Radioactive Dumping, Concerned Citizens for Nuclear Safety, Conservation Voters New Mexico, CVNM, Department of Energy, DOE, James Kenney, LANL, Los Alamos National Laboratory, New Mexico Environment Department, NMED, Nuclear Watch New Mexico, NWNM, SAFE, Salado Isolation Mining Contractors LLC, SIMCO, Southwest Alliance for a Safe Future, Southwest Research and Information Center, SRIC, Steve Zappe, ten-year hazardous waste renewal permit, Waste Isolation Pilot Plant, WIPP