How did we get here? Putin Threatens Use of Nuclear Weapons


On Wednesday, September 21st, the International Day of Peace, Russian President Vladimir Putin threatened to use nuclear weapons in the Ukrainian War.  His threats to use nuclear weapons surpass Russia's official nuclear doctrine.  As posted on http://en.kremlin.ru/events/president/news/69390 , Putin said, "In the event of a threat to the territorial integrity of our country and to defend Russia and our people, we will certainly make use of all weapon systems available to us.  This is not a bluff."
Putin's threats demonstrate that nuclear rhetoric moves us all towards nuclear destruction.  On the same day, U.S. President Joe Biden, speaking at the United Nations, reported that, "141 nations in the General Assembly came together to unequivocally condemn Russia's war against Ukraine," while noting the "responsibilities of the non-proliferation regime."  https://www.whitehouse.gov/briefing-room/speeches-remarks/2022/09/21/remarks-by-president-biden-before-the-77th-session-of-the-united-nations-general-assembly/
How did we get here?  We know that non-proliferation regime does not work.  Just look at the recent failure of the four-week long United Nations Review Conference on the 1970 Nuclear Non-proliferation Treaty in August.  https://www.reachingcriticalwill.org/news/latest-news/16322-tenth-npt-review-conference-concludes-its-work  Is it because the corporate interests to make weapons overwhelm the efforts for peace and stability?  Over the next 30 years, it is estimated that trillions of dollars would be spent on modernizing nuclear weapons.
The International Campaign to Abolish Nuclear Weapons urged the international community to respond swiftly and strongly to the new and more aggressive threats by Russia to use nuclear weapons.  The Campaign reminds us "In June 2022, states parties to the Treaty on the Prohibition of Nuclear Weapons (TPNW) condemned 'unequivocally any and all nuclear threats, whether they be explicit or implicit and irrespective of the circumstances.'" The Campaign urges countries to join the TPNW now.  https://www.icanw.org/
What tools do we have to give peace a chance?  The TPNW prohibits the "use or threaten to use nuclear weapons or other nuclear explosive devices."  While the nine nuclear states, including Russia and the U.S., have not signed and ratified the Treaty, a growing number of countries around the world have.  https://www.un.org/disarmament/wmd/nuclear/tpnw/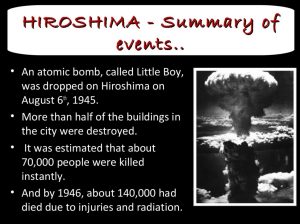 And as many countries recognize – any use of nuclear weapons would have catastrophic and wide-ranging consequences, especially in densely populated regions such as Europe.  Even so-called tactical nuclear weapons of the kind that some speculate Russia might use in the Ukraine conflict typically have explosive yields in the range of 10 to 100 kilotons.  In comparison, the U.S. atomic bomb that destroyed Hiroshima in 1945, killing 140,000 men, women and children, had a yield of just 15 kilotons.  https://www.icanw.org/catastrophic_harm and https://www.icrc.org/en/resource-centre/result?t=nuclear+weapons
---


Capitol Hill Citizen: Letter from New Mexico: Nuclear bombs are US:  "They all say one thing to get elected and another once they get there," by Carol Miller.  This is a new print tabloid that is delivered to every DC Congressional office and committee.  Ralph Nader is the editor.  It is not online, paper only. You can obtain a paper copy at  https://www.capitolhillcitizen.com/
Friday, September 23rd from noon to 1 pm – Join the weekly peaceful protest for nuclear disarmament on the corners of Alameda and Guadalupe in downtown Santa Fe. Join us to discuss next steps toward nuclear disarmament, including local organizing efforts for Defuse Nuclear War.  https://defusenuclearwar.org/
Friday, September 23rd from 3 to 7 pm – New Mexico Environment Department (NMED) will host an Open House / Los Alamos Community Engagement Meeting Notice at the NMED Oversight Bureau Office, located at 1183 Diamond Drive, Suite B, Los Alamos, NM. There will be NMED staff demonstrations and information areas throughout the office with opportunities to ask questions about activities at LANL within the Oversight Bureau purview. 2022-09-15 – COMMS NMED hosts Los Alamos Community Engagement Meeting and Open House (Final)
Saturday, September 24th from 4 to 8 pm. Celebration of community activist Allen Cooper's life, from 4 to 8 pm at the Albuquerque Peace and Justice Center, 202 Harvard Drive SE, Albuquerque, NM.  "Come to this community celebration of our dear friend Allen's life.  Bring a potluck dish to share, & a mask to protect yourself & others. Feel free to share your stories, memories, & photos if you have any!"   https://www.abqpeaceandjustice.org/events
Thursday, September 29th at 11 am Mountain, 7 pm CEST (Central European Summer Time) – Online Panel on Current Developments in Nuclear Disarmament: "One Year, Two Conferences – Where Do We Go from Here?  International Perspectives on Nuclear Disarmament in 2022."  To register:  https://www.icanw.de/termine/event-1-year-2-conferences-where-do-we-go-from-here/
Monday, October 3rd at 11 am Mountain, 6 pm BST (British Summer Time) – Scottish Campaign for Nuclear Disarmament (CND) will host an online event for the 70th anniversary of the first UK nuclear tests in Australia.  To register:  https://www.eventbrite.co.uk/e/70th-anniversary-of-first-uk-nuclear-tests-tickets-415882635157
Tuesday, October 4th – Public Comments due to the NM Environment Department about Remedy Selection for Area of Concern: The Tijeras Arroyo Groundwater at the DOE Sandia National Laboratory.  For more information:  https://www.env.nm.gov/hazardous-waste/sandia-national-laboratories/ , scroll down to Tijeras Arroyo Groundwater (TAG).
Tuesday, October 18th – Scoping Comments due to DOE/NNSA/LANL about the Notice of Intent to Prepare a Site-Wide Environmental Impact Statement for Continued Operations of the Los Alamos National Laboratory. https://www.energy.gov/nnsa/nnsa-nepa-reading-room and http://nuclearactive.org/lanl-grants-a-whopping-15-day-extension-of-time-until-october-18th-to-provide-scoping-comments/
Tags: condemn, Hiroshima, ICAN, International Campaign to Abolish Nuclear Weapons, International Day of Peace, non-proliferation regime, Russian President Vladimir Putin, TPNW, Treaty on the Prohibition of Nuclear Weapons, U.S. President Joe Biden, Ukrainian War, United Nations, United Nations Review Conference on the 1970 Nuclear Non-proliferation Treaty, use of nuclear weapons