Latest SEC Filing – WCS Could Close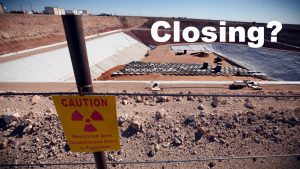 In its first quarter filings with the Securities and Exchange Commission, the parent company of Waste Control Specialists, Inc., Valhi, Inc., reported that without a win in the U.S. Department of Justice antitrust litigation, and a change in federal law allowing the Department of Energy to retain title to its high-level plutonium fuel and allow for storage and disposal on their privately held facility, the Waste Control Specialists' dump may have to close.  https://www.sec.gov/Archives/edgar/data/59255/000156459017009869/vhi-10q_20170331.htm  The statement did not disclose what would happen to the existing radioactive and hazardous waste that is stored or disposed on the 14,900 acre-site leased from Andrews, Texas, located on the Texas – New Mexico border.
WCS has not made a profit for many quarters, except the first quarter in 2017 due to non-recurring income.  Hopes are high for a $367 million merger with EnergySolutions, a competitor of WCS.  The merger would include $270 million in cash, plus assumption of all financial assurance obligations and third-party indebtedness.  Such indebtedness includes the financing capital lease with Andrews County, Texas, with a $63.6 million carrying amount, at an effective interest rate of seven percent, with monthly payments through August 2035.  https://www.sec.gov/Archives/edgar/data/59255/000156459017009869/vhi-10q_20170331.htm, p. 42.
In mid-November, the Department of Justice filed an antitrust suit against the sale.  The trial in the U.S. District Court for Delaware ended on May 5, 2017.  Senior Judge Sue Thompson is expected to rule before her retirement in June.
The federal Securities and Exchange Commission has requirements for corporations to report circumstances for possible failure.  Valhi reported a worst-case scenario that residents in the area, as well as elected local, state and federal officials should be aware of – that closure of the site is possible.  How to ensure a safe and secure closure was not discussed.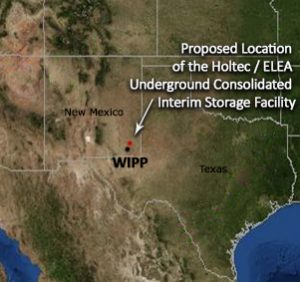 On April 18th, WCS submitted a letter to the Nuclear Regulatory Commission (NRC) requesting a hold be put on its 2016 application for a consolidated interim storage facility, commonly known as a de facto parking lot dump, for 40,000 Metric tons of plutonium fuel generated by commercial nuclear power plants in the U.S.  Citing concerns about the $3.3 million in expenses involved in the review, including the need to conduct more public outreach, WCS thought the NRC application review could resume later this summer, after a decision in the anti-trust case.
In the meantime, the Holtec – Eddy Lea Energy Alliance consolidated interim storage application for storage and disposal of 120,000 metric tons of plutonium fuel from all of the commercial power plants in the U.S is moving through the NRC process.  Holtec is also a privately held corporation.
Tags: Andrews County Texas, Eddy Lea Energy Alliance, Holtec, Judge Sue Thompson, NRC, Nuclear Regulatory Commission, Securities and Exchange Commission, Valhi Inc, waste control specialists, WCS