Medical Journals Issue Urgent Call for Elimination of Nuclear Weapons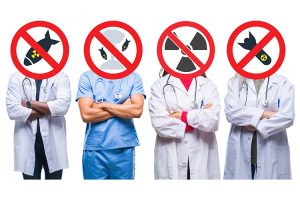 More than 100 medical journals, including the Lancet, the British Medical Journal, the New England Journal of Medicine, and the JAMA, have issued a joint call for urgent steps to decrease the growing danger of nuclear war and to move rapidly to the elimination of nuclear weapons.  At a time of expanded fighting in Ukraine and increased tensions in Korea, leaders of the global health community underscore that any use of nuclear weapons would be catastrophic for humanity.  https://peaceandhealthblog.com/2023/08/02/medical-journals-issue-urgent-call-for-elimination-of-nuclear-weapons/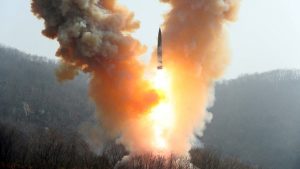 The unprecedented call to action comes in the form of an editorial co-authored by the editors of 11 of the leading medical and health journals, the World Association of Medical Editors and leaders of the International Physicians for the Prevention of Nuclear War (IPPNW).  The editorial was released on August 1st in conjunction with the start of the United Nations Nuclear Non-Proliferation Treaty (NPT) Preparatory Committee Meeting and the 78th year since the bombings of Hiroshima and Nagasaki. https://meetings.unoda.org/npt-/treaty-on-the-non-proliferation-of-nuclear-weapons-preparatory-committee-for-the-eleventh-review-conference-first-session-2023
The editorial warns, "The danger is great and growing.  The nuclear armed states must eliminate their nuclear arsenals before they eliminate us."
Citing the special responsibility of the health community, the editorial urges "health professional associations to inform their members worldwide about the threat to human survival and to join with the IPPNW to support efforts to reduce the near-term risks of nuclear war."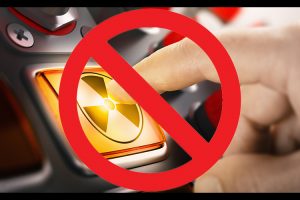 It calls on the nuclear armed states, and those allied with them to take three immediate steps: "[F]irst, adopt a no first use policy; second, take their nuclear weapons off hair-trigger alert; and, third, urge all states involved in current conflicts to pledge publicly and unequivocally that they will not use nuclear weapons in these conflicts."
The editorial also urges its members to "work for a definitive end to the nuclear threat by supporting the urgent commencement of negotiations among the nuclear-armed states for a verifiable, time bound agreement to eliminate their nuclear weapons in accordance with commitments in the NPT, opening the way for all nations to join the Treaty on the Prohibition of Nuclear Weapons."
Chris Zielinski, of the World Association of Medical Editors, said, "This is an extraordinary development.  Normally medical journals go to great lengths to ensure that the material they publish has not appeared in any other medical journals.  That all of these leading journals have agreed to publish the same editorial underlines the extreme urgency of the current nuclear crisis and the need for prompt action to address this existential threat."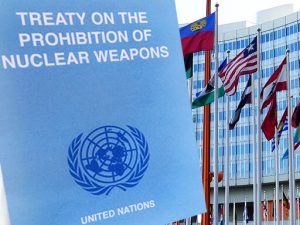 Dr. Arun Mitra, one of the authors of the editorial, said, "The medical community needs to warn the general public of the enormity of the threat we face.  It is an integral part of our responsibility as health professionals."
Dr. Ira Helfand, another co-author, said, "We have to support the efforts of civil society organizations like the International Campaign to Abolish Nuclear Weapons and the Back from the Brink campaign in the United States."  https://www.icanw.org/ and https://preventnuclearwar.org/
---


Trinity: Legacies of Nuclear Testing – A People's Perspective Art Exhibit at the Branigan Cultural Center, 501 N. Main Street, Las Cruces, NM.  The exhibit will be up until September 23, 2023.  https://www.lascruces.gov/1528/Branigan-Cultural-Center
Wednesday, August 9th at 1 pm – Please join members of Veterans For Peace, Concerned Citizens for Nuclear Safety, Nuclear Watch New Mexico, Nonviolent Santa Fe and others for an informal gathering at Ashley Pond to commemorate the nuclear bombing of Nagasaki on that day 78 years ago. We will engage in silent meditation at the shelter shown on the aerial photo.  Also bring water and protection from sun and/or possible rain. Please encourage friends and family to join you in attending.
Sunday, August 13th from 2 to 3 pm at the Museum of International Folk Art – Mara Taub, long-time advocate for prisoner and immigrant rights, will present "Between the Lines: Prison Art and Advocacy.  Mara is the founder of The Coalition for Prisoner's Rights, a Santa Fe based nonprofit which focuses on advocacy, support, and providing prisoner's with reading materials and prisoner and family support-related resources. https://www.internationalfolkart.org/event/details/5603/2023/08/gallery-talk-discussion-platica-y-discusian-en-la-galeraa
MOIFA will be collecting appropriate paperback books the day of the talk for Mara's organization, please bring paperback books you'd like to donate!
Exhibit will be up until November 5, 2023.  https://www.internationalfolkart.org/exhibition/5411/between-the-lines-prison-art-advocacy-a-community-conversation
Saturday, August 26th at 10 am – 60th anniversary of Dr. Martin Luther King Jr.'s original March on Washington for Jobs and Freedom – in Albuquerque, NM. The March will bstart at Faith Temple Church, at 1000 Broadway Southeast.  http://www.faithtemplecogic.org/default.asp?sec_id=180005641  The gathering and line up will begin at 9:30 am.  The march will begin at 10 am with a rally from 10:30 am to noon. For more information, contact Charles Powell, Planning Chair for the Albuquerque March at CRPowell5@gmail.com
Martin Luther King III is making a march in Washington, DC on this date.  He says:  "It's Not a Commemoration, it's a Continuation!  We March on!"
Tags: Back from the Brink, British Medical Journal, Chris Zielinski, Dr. Arun Mitra, Dr. Ira Helfand, Hiroshima, International Campaign to Abolish Nuclear Weapons, International Physicians for the Prevention of Nuclear War, IPPNW, JAMA, joint call, Korea, Lancet, Nagasaki, New England Journal of Medicine, NPT, nuclear weapons, Ukraine, United Nations Nuclear Non-Proliferation Treaty Preparatory Committee, unprecedented call to action, World Association of Medical Editors