No additional money will guarantee 80 pits per year according to the Nuclear Weapons Council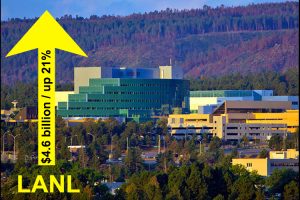 Recently released Biden Administration budget documents reveal that for Fiscal Year 2023, beginning on October 1st, the Administration is proposing a Los Alamos National Laboratory (LANL) budget of $4.6 billion, an overall increase of 21 percent.  This amount is more than double the 2015 LANL budget of $2.2 billion.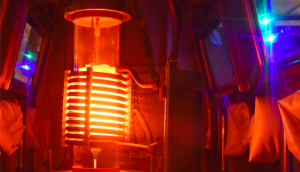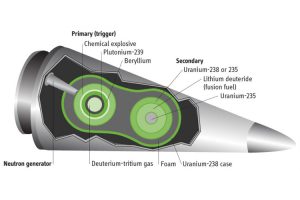 LANL is the only U.S. facility with the capabilities to fabricate plutonium pits, the fissile trigger for nuclear weapons.  Even though LANL has not fabricated more than 11 pits, which it did in 2011, it is charged with fabricating 30 pits per year by 2030.  These pits are for new designs for new weapons systems under the National Nuclear Security Administration (NNSA) nuclear weapons modernization program.
During the May 4th hearing of the U.S. Senate Armed Services Subcommittee on Strategic Forces, Senator Elizabeth Warren questioned members of the Nuclear Weapons Council.  [ https://www.armed-services.senate.gov/hearings/watch?hearingid=6A0AFAF9-5056-A066-60E4-F8AFEBAAAC19  at 1:23:30.  Warren began with the statement that she believes that the nuclear weapons modernization program is "unsustainable and dangerous."  She wanted to see significantly less reliance on nuclear weapons.  She praised the Biden Administration for canceling the provocative sea-launched cruise missile. 
The Congressional Budget Office estimated that the modernization program will cost $1.7 trillion, an estimate Warren said "is far too low."
In the rare unclassified congressional hearing, members of the Nuclear Weapons Council provided stark comments about the inability of the NNSA to produce 80 plutonium pits by 2030.
William LaPlante, under-secretary of defense for acquisition and sustainment, said, "The Nuclear Weapons Council stands by the assessment
… that no additional money will get the pits to 80 per year."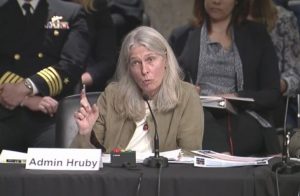 Jill Hruby, NNSA administrator and member of the Nuclear Weapons Council, concurred with LaPlante's statement.
In 1946, Congress created the Nuclear Weapons Council under the Atomic Energy Act.  It is a joint NNSA and Pentagon group charged with the coordination of civilian and military nuclear weapons procurements.
Senator Angus King, chair of the Strategic Forces Subcommittee, stated that the hearing in May was originally scheduled for January.  King emphasized that the hearing was not related to the events in Ukraine and should not be interpreted as "somehow nuclear saber rattling on the behalf of the United States."  Id., at 00:36:03.
Senator Warren observed that NNSA is asking the American taxpayers to throw more money at the nuclear weapons modernization program, which "is not going to get us to the original goal of 80 pits per year by 2030."
---


Cerro Pelado Wildland Fire now at over 43,000 acres and about 3 ½ miles from LANL backgate. Embers are igniting new fires two miles ahead of the fire.  For more information, https://inciweb.nwcg.gov/incident/8075/
Tuesdays on May 17, 24 and 31 at 6 pm MDT for one hour – Pax Christi: New Study Circle on Archbishop Wester's Pastoral Letter on Nuclear Disarmament.  https://paxchristiusa.org/2022/04/26/register-for-the-new-study-circle-on-archbishop-westers-pastoral-letter-on-nuclear-disarmament/
Thursday, May 19 – Sunday 29, 2022: virtual and live in Rio International Uranium Film Festival.  https://uraniumfilmfestival.org/
"The Department of Defense currently operates 38 toxic burn sites in the U.S., mostly in low-income, rural communities. At these sites, the military collects excess, obsolete, or unserviceable munitions, including bullets, missiles, mines, and the bulk explosive and flammable materials used to manufacture them, and destroys them by adding diesel and lighting them on fire, or by blowing them up. Last fiscal year, the Department of Defense destroyed 32.7 million pounds of explosive hazardous waste on U.S. soil using these methods, known as open burning and open detonation."
More at: https://grist.org/health/military-burn-pit-health-effects-veterans-overseas-domestic/
SIGN THE PETITION to the White House
https://cswab.org/cease-fire-campaign/cease-fire-petition/
Tags: : Nuclear Weapons Council, Biden Administration budget, Congressional Budget Office, Jill Hruby, LANL, Los Alamos National Laboratory, National Nuclear Security Administration, NNSA, NNSA Administrator, NNSA and Pentagon, nuclear weapons modernization, plutonium pit production, Senator Angus King, Senator Elizabeth Warren, U.S. Senate Armed Services Subcommittee on Strategic Forces, under-Secretary of defense for acquisition and sustainment, William LaPlante