Resist "Normalization" of Nuclear Weapons Industry in New Mexico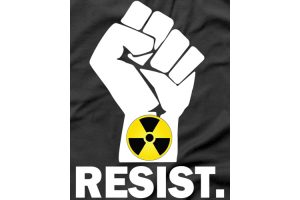 Leading up to the 75th year since the Trinity atomic bomb test in New Mexico and the U.S. bombings of Hiroshima and Nagasaki next year, there are a plethora of events, activities, and dialogues taking place to "normalize" the nuclear weapons industry in New Mexico.  Knowing the details of the harm done to all living
beings by the nuclear weapons industry, CCNS is resisting these attempts.  There are two events of note.  They are the Friday, August 2nd opening of the Black Hole/Atomic City (State of Decay) exhibition in Albuquerque, and the Saturday, August 3rd Hiroshima Peace Day Commemoration in Los Alamos.
Dedicated to alternative stories of the "nuclear business" in New Mexico, the Black Hole/Atomic City (State of Decay) exhibition examines the combined burden of nuclear by-products and waste that decays over tens of thousands of years on the People of New Mexico.  It questions the theft and decimation of sacred Indigenous lands.  It examines how involuntary radiation exposures affect future generations.  It asks about the ongoing threats from transportation, storage, and disposal of radioactive wastes.
Barbara Grothus, exhibition organizer, said, "The tired story of Profiteers of the Nuclear Business in New Mexico has worn thin.  For generations, Indigenous people and residents of their colonized lands have suffered and died for the State of Decay.  Their stories must no longer go unheard."
The exhibition is at the Sanitary Tortilla Factory, located at 401 2nd Street Southwest, in Albuquerque.  The opening reception is on Friday, August 2nd from 6 to 9 pm.  The exhibition will be up until Friday, August 30th.    Black Hole_Atomic City (State of Decay) – Press Release-2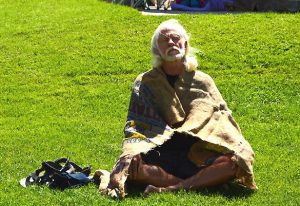 Also, the 16th Annual Hiroshima Peace Day Commemoration and Peace Vigil will take place on Saturday, August 3th in Los Alamos.  People will gather at Ashley Pond, in the center of town, at 2 pm.
Participants will remember the 74th anniversary of the bombings at the place where the first nuclear weapons were built and where they continue to be built.  There will be a silent procession towards Los Alamos National Laboratory.  Participants may sit in silence for 30 minutes in sackcloths, or burlap bags, and ashes, which will be provided.  Participants will walk back to Ashley Pond for discussion and reflection, led by Father John Dear, an activist and author.
He said, "We've been going to Los Alamos every August for sixteen years now, to pray and speak out for the abolition of nuclear weapons; but the world's violence and war making is only worsening while we continue to waste billions of dollars on these weapons of mass destruction."
For more information, please contact Ellie Voutselas at ellievout@gmail.com or (505) 474-8557.  August 6 Hiroshima 2019 Flyer rev3-1
---


CCNS is releasing this week's Update early to encourage you to get your scoping comments in about the Department of Energy's (DOE) plans to expand plutonium pit production at the Savannah River Site (SRS) in South Carolina.  They are due on Thursday, July 25th.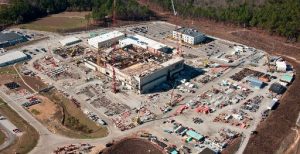 A sample public comment letter containing the story of the boondoggle MOX facility is available at our SRS Watch's website at http://www.srswatch.org/ under "In the News" on the right side of the home page.
The Conservation Voters of South Carolina have set up this automatic comment submission form, in case anyone wants to go this quick route:  https://p2a.co/EKKU5yl
Key points include:
1.  DOE plans to expand plutonium pit production at Los Alamos National Laboratory (LANL) and the Savannah River Site (SRS) to produce 80 pits (the triggers for nuclear weapons) per year.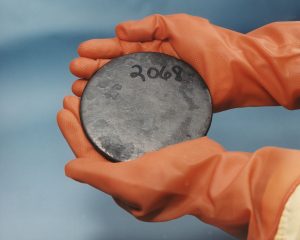 2.  DOE plans to prepare an environmental impact statement about its SRS proposal to produce 50 pits per year in the boondoggled MOX facility, which was never completed.  Comments are due on Thursday, July 25th.
3.  As usual, DOE is putting the cart before the horse.  The 1996 Department of Energy (DOE) nation-wide programmatic environmental impact statement on Stockpile Stewardship and Management set a plutonium pit production cap of 20 pits per year at Los Alamos National Laboratory (LANL).
4.  Because DOE is planning to expand pit production at a second site at SRS, it is necessary for DOE to supplement the 1996 programmatic environmental impact statement (PEIS) – before conducting an environmental impact statement process for the SRS MOX plant.
5.  Conducting a supplemental PEIS process would require DOE to hold public hearings across the country, and along the transportation routes.
Tags: " Barbara Grothus, "nuclear business, Black Hole/Atomic City (State of Decay), Father John Dear, Hiroshima, Hiroshima Peace Day Commemoration, Los Alamos, Los Alamos National Laboratory, Nagasaki, sack cloths and ashes, Sanitary Tortilla Factory, Trinity atomic bomb test