Proposed Funding Increases for DOE Operations in New Mexico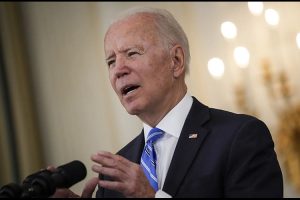 Exploding Biden Administration budgets for the three Department of Energy (DOE) sites in New Mexico fully support the dangerous trend to develop more provocative nuclear weapons.  As a result, there is an urgent need to change course, retire the Waste Isolation Pilot Plant (WIPP) in 2024 as planned, and find a new site that is not located in New Mexico for the plutonium-contaminated waste generated by weapons manufacturing.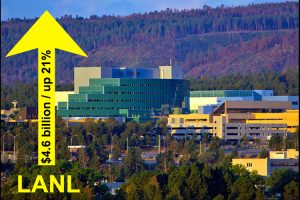 For Fiscal Year 2023, beginning on October 1, 2022, the Administration is proposing a budget for Los Alamos National Laboratory of $4.6 billion, an overall increase of 21 percent.
For the same fiscal year, the Administration is proposing a budget of $3 billion for Sandia National Laboratory, an overall increase of nearly 9 percent.
For WIPP, the deep geologic dump located 26 miles east of Carlsbad, the Administration is proposing a budget of $459 million, a 9 percent increase.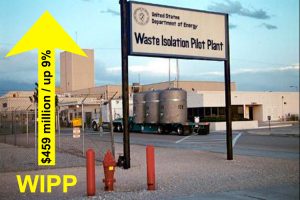 Increased federal funding for nuclear weapons development, fabrication and waste generation does not trickle down to New Mexico communities.  Socioeconomic indicators reveal New Mexico's ranking as 49th or 50th in the United States of America.  In fact, while in 1959, New Mexico ranked 37th in per capita income, in 2019, New Mexico ranked 49th.  Recently New Mexico ranked last in education and 49th in overall child well being.  https://nukewatch.org/press-release-item/new-mexico-number-one-in-nuclear-weapons-and-radioactive-wastes-near-last-in-citizen-and-child-well-being-2022/
People are becoming sick and tired of the nuclear industry that risks public health and safety and pollutes the air, water and soils.  Upon learning about a DOE proposal to ship up to 50 metric tons, or 100,000 pounds of "surplus" plutonium on New Mexico roads for eventual disposal at WIPP, the 285 ALL community group based in the El Dorado area south of Santa Fe, created a petition asking New Mexico Michelle Lujan Grisham to take action against this proposed expansion of WIPP.  Over 1,100 petition signatures were gathered from across the state and presented to the Governor's Office on March 1st.  http://nuclearactive.org/why-you-should-care-about-the-expanding-wipp-mission/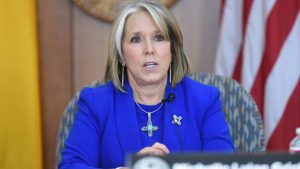 On April 8th, the Governor wrote to the Department of Energy Secretary Jennifer Granholm requesting her to address the issues raised by New Mexicans, including that "DOE develop a new disposal site in a state other than New Mexico." Secretary Granholm has yet to respond.  https://www.env.nm.gov/wp-content/uploads/2022/04/2022-04-08-Gov-MLG-Letter-to-DOE-re-WIPP-Petition.pdf  and https://stopforeverwipp.org/
Cindy Weehler, a co-founder of 285 ALL, said, ""The Governor's interest in the concerns of her constituents is so very important.  She understands that WIPP was never intended to be the only site for this nuclear weapons waste."
---

Friday, April 22 at 11 am at the New Mexico Roundhouse (state capitol), celebrate Earth Day in the open air! Join the Santa Fe Justice Makers and others to rally there.  Bring signs for Mother Earth and against nukes.  Before noon, the groups will walk to the corner of Guadalupe and Alameda to join the weekly noon vigil of CCNS, Nuclear Watch New Mexico, and Veterans For Peace until 1 pm.
Friday, April 22 (Earth Day) at 10 am – Sunday, April 24, 2022 – Taos Environmental Film Festival – important films, a staged reading of a play, a forum and more – at the Taos Community Auditorium.   https://taosenvironmentalfilmfestival.com/  On Sunday, April 24th from 5 to 7:30 pm, a staged reading of Exposed, a play by Mary Dickson, a Downwinder of the above-ground atomic tests at the Nevada Test Site, will be presented. Mary Dickson will be present.
Friday, April 22nd – Support the Red Water Pond Road Community at 1 pm to hold signs at the junction of Hwy 566 and Frontage Road Hwy 118, near Red Rocks State Park. The Nuclear Regulatory Commission (NRC) is visiting the Red Water Pond Road Community at 2 pm and then hosting a public meeting in Gallup at 6:30.  For more information, please see flyer here.  April 22 RWPRC Flyer
Friday, April 22nd from 3 to 4 pm, Thomas De Pree, Ph.D., a Postdoctoral Fellow, University of New Mexico Health Sciences, will present live and virtually, The Politics of Baselining in the Grants Uranium Mining District of Northwestern New Mexico. To register:  https://goto.unm.edu/22
Saturday, April 23, 2022 from 8 am to 5 pm – Symposium on Rocky Flats: Impacts on the Environment and Health. Brought to you by Physicians for Social Responsibility (PSR) Colorado and The Colorado Medical Society.  This Symposium will span topics ranging from the history of Rocky Flats, contamination issues still plaguing the area, legal issues, critical analyses of epidemiological studies, and effects of radiation on the genome and epigenome.  Everyone, regardless of education or career background, is welcome to register.  For more information:   https://www.psrcolorado.org/
Thursday, April 28th at 5 pm – virtual Town Hall about the Ten-Year Permit Renewal Application and Request to Permit proposed Panels 11 and 12, submitted by the Waste Isolation Pilot Plant (WIPP) to the New Mexico Environment Department. The discussion will focus on the request to permit two new panels 11 and 12 to the west of the current underground disposal site.  To view the submittal, see  https://www.env.nm.gov/hazardous-waste/wipp/, under WIPP News entry for March 17, 2022. To register for the April 28th virtual meeting: https://us06web.zoom.us/j/84311281923 For questions regarding this virtual town hall meeting please contact the WIPP Information Center at infocntr@wipp.ws or by calling 1-800-336-9477.
The meeting will be held virtually using Microsoft TEAMS. You may join the virtual meeting using the link provided at https://www.sandia.gov/about/environment/environmental_management_system/index.html, follow the Public Meeting Link on the left of the page. On mobile devices and Apple devices, you may need to download a free app to join the meeting.
DOE/SNL presentations can be reviewed in advance at: https://www.sandia.gov/about/environment/environmental_management_system/index.html, follow the Public Meeting link on the left of the page.   KAFB presentations can be found at https://www.kirtland.af.mil/Home/Environment/.
Please note: if a presentation and associated questions take less time than allotted, we will continue to the next presentation. Therefore, we recommend attending the entire meeting to ensure you do not miss presentation(s) of interest to you.
The federal agencies encourage questions and recommend submitting them in advance by email. Questions will be prioritized and will be addressed as time permits. Attendees may also ask questions via chat during the meeting, and those will be answered as time permits. Emailed questions that are not addressed during the meeting will be answered by email following the meeting. To submit a question, please send an email to envinfo@sandia.gov, please include April 2022 Public Meeting Question in the Subject line.
Tags: 285 ALL, Biden Administration budgets, Cindy Weehler, Department of Energy, DOE, DOE Secretary Jennifer Granholm, LANL, Los Alamos National Laboratory, new disposal site, New Mexico Environment Department, New Mexico Governor Michelle Lujan Grisham, NMED, Petition Signatures, Sandia National Laboratory, SNL, surplus plutonium, trickle down, Waste Isolation Pilot Plant, WIPP