The New Shaft Permit Modification – Part 4 – Public Participation Now and at the May 17th Public Hearing

The New Shaft Permit Modification
Part 4


Public Participation Now




and at




the May 17th Public Hearing
The WIPP underground showing the proposed new shaft and drifts (corridors)
The New Mexico Environment Department (NMED) regulates WIPP as a Hazardous Waste Facility for the storage and disposal of transuranic mixed waste. Transuranic waste is waste contaminated with radioactive elements greater than (trans-) uranium (uranic). Most transuranic waste is contaminated with plutonium and most also includes hazardous waste. NMED's authority to regulate WIPP comes from the federal Resource Conservation and Recovery Act (RCRA) and the state Hazardous Waste Act. Within NMED, hazardous waste sites are regulated by the Hazardous Waste Bureau (HWB).
Public Participation
During the WIPP permitting process, public comment is required. RCRA requires meaningful public participation, including adequate information and notification. Public participation must also be equal and non-discriminatory. Because of previous and continuing problems with disparate treatment, in 2017 NMED signed an Informal Resolution Agreement with EPA to keep public participation fair and meaningful for all New Mexicans.
In 2019 and 2020, several hundred people commented on the WIPP shaft modification permit. 97% of comments each time have been against the new shaft and against WIPP expansion. These comments may have influenced NMED's decision not to renew the Temporary Authorization given DOE to start excavating the new shaft before the required public hearing.
We are in a comment period now that will continue through the last day of the public hearing in mid May.
Read on for more details on the public process
or
skip to the end for information on




how to comment now and during the public hearing
Barriers to Public Participation
NMED has not made it easy for the public, and especially for the "Low English Proficiency" (LEP) public, to inform themselves and be able to participate in the permitting process in a meaningful way. Only the Public Notice, the updated Fact Sheet and the Index to the Administrative Record are in Spanish. The Draft Permit and the Public Involvement Plan (PIP) (which guides the public process) are not in Spanish. (Click here for an analysis of problems in the PIP, Public Notice and updated Fact Sheet. Links to these documents and to the WIPP Permit webpage are provided at the end of the newsletter.)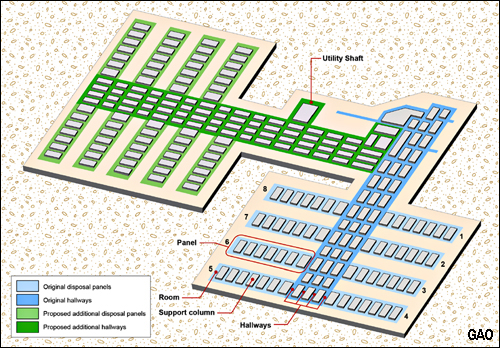 GAO's map of the WIPP underground showing the proposed New Shaft (labeled "Utility Shaft") and drifts but also showing the waste panels and waste rooms. The original footprint is in blue. The proposed, expanded footprint is in green. (image: GAO)
The Updated Fact Sheet is inadequate. The Fact Sheet states that the new shaft is only needed for better underground ventilation during the current operational period for WIPP. It denies that this "utility shaft" is to support DOE's planned WIPP expansion. But that justification falls flat because it never explains why the taxpayers would spend almost $200 million on the new shaft if WIPP is going to stop waste disposal in 2024 and the new shaft won't be finished until just a few months before that date. Importantly, the updated Fact Sheet does not mention that the Temporary Authorization allowed shaft construction to begin before the required public hearing, which many people view as a predisposition to approve the permit modification and prejudice the hearing process.
NMED has said that it wants to increase public involvement in their permitting and that they particularly want to make sure that LEP persons can participate equally and in a meaningful way. But because of the limited amount of information provided even for English speakers, commenting is very difficult. Additional discriminatory barriers to participation have been created for persons who are not fluent in English as they have access to even less information than English speakers have. For LEP persons it is almost impossible to be adequately informed and to be able to participate in a meaningful way in this hearing process.
Nevertheless, the public has been persistent in making their concerns known to NMED and this has led to positive change in the past. It is important that NMED hears about public needs and concerns and that the agency is called out for not providing equal participation for all New Mexicans. Our voices do make a difference.
---
How to Comment
Email written comments to:
Madai.Corral@state.nm.us
In the subject line include: HWB 21-02 WIPP Shaft
Mail written comments to:
Hearing Clerk, NMED, Room S-2100
PO Box 5469, Santa Fe, NM 87502-5469.
In your heading, include: HWB 21-02 WIPP Shaft
At the public hearing provide written or oral comments in your preferred language. If you will be commenting in a language other than English or Spanish, arrange for interpretation, ideally, 10 or more days ahead by contacting:
Ricardo Maestas
ricardo.maestas@state.nm.us
505-476-6000
---
How to Attend the Public Hearing
The hearing begins on Monday, May 17 at noon.
The virtual public hearing is on Zoom from Noon to 4 pm and 6 to 9 pm each day.
You may also join by phone
Join Zoom Meeting:
Phone one-tap: US: +16699006833,,91728945523#,,,,*050223# or +12532158782,,91728945523#,,,,*050223#
Meeting URL: https://zoom.us/j/91728945523?pwd=YitrSUtFYnZkcE5hVGFrb2Z1UDlUdz09
Meeting ID: 917 2894 5523
Passcode: 050223
Join by Telephone
For higher quality, dial a number based on your current location.
Dial: US: +1 669 900 6833 or +1 253 215 8782 or +1 346 248 7799 or +1 929 436 2866 or +1 301 715 8592 or +1 312 626 6799
Meeting ID: 917 2894 5523
Passcode: 050223
The hearing is in English, with simultaneous Spanish interpretation.
If you need an interpreter in a language other than Spanish, contact:
Ricardo Maestas
ricardo.maestas@state.nm.us
505-476-6000
---
Please share this newsletter with
family, friends and colleagues
and
 
Please donate to the Stop FOREVER WIPP coalition
through our GoFundMe Page.
---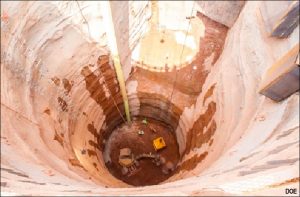 Looking down into the partially excavated New Shaft (image: DOE)
References
The Hearing Public Notice is at:
https://www.env.nm.gov/hazardous-waste/wp-content/uploads/sites/12/2016/05/2021-03-18-HWB-Shaft-Hearing-Public-Notice-Final-Eng-Span.pdf
The Updated Fact Sheet is at:
https://www.env.nm.gov/hazardous-waste/wp-content/uploads/sites/12/2016/05/2021-03-18-HWB-Shaft-Hearing-Updated-Fact-Sheet-Final-Eng-Span.pdf
The Public Involvement Plan (PIP) is at:
https://hwbdocuments.env.nm.gov/Waste%20Isolation%20Pilot%20Plant/200611.pdf
The Informal Resolution Agreement is at:
http://nuclearactive.org/wp-content/uploads/2021/04/ResAgreement_1-19-2017.pdf
Analysis of the PIP, Public Notice and Updated Fact Sheet is at:
http://nuclearactive.org/wp-content/uploads/2021/04/Analysis-of-the-Permit-Modification-documents.pdf
The WIPP Permit Webpage is at:
https://www.env.nm.gov/hazardous-waste/wipp/
---
For More Information
Stop Forever WIPP
https://www.facebook.com/StopfvrWIPP/
Southwest Research and Information Center (SRIC)
http://www.sric.org/
Concerned Citizens for Nuclear Safety (CCNS)
http://nuclearactive.org/
Southwest Alliance
https://www.swalliance.org/
Stop FOREVER WIPP • swalliance.org • nuclearactive.org
Tags: STOP FOREVER WIPP