Ongoing Seismic Concerns at LANL and Expanded Plutonium Pit Production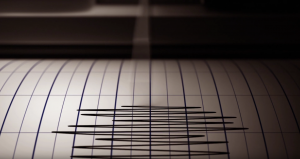 Plutonium operations at Los Alamos National Laboratory's Technical Area 55 are centered in the middle of the 36-square mile national nuclear weapons facility.  LANL is the only U.S. facility with the capabilities to fabricate plutonium triggers, or the fissile pits, for nuclear weapons.  However, Technical Area 55, or TA-55, is located within the complex Pajarito Fault Zone between two young, north – south running faults called the Guaje Mountain and Rendija Canyon faults.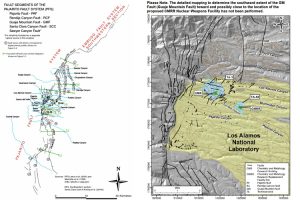 Visual evidence of faulting can be found in the canyons to the north of TA-55.  http://nuclearactive.org/gilkeson/ see Seismic Documents.
The U.S. Department of Energy owns LANL.  It has plans for expansion of all things plutonium-pit production at the Plutonium Facility and at least five new support buildings at TA-55.  CCNS anticipates that DOE will continue its efforts to conceal and ignore the reality of the growing seismic threats of the young faults.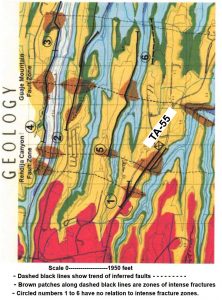 We witnessed similar efforts in the mid-2000s when DOE began to design a new super Walmart-sized Nuclear Facility within TA-55 next door to the Plutonium Facility.  DOE was so bold as to dig into the volcanic tuff with heavy equipment to prepare a pad for future construction.  http://www.nuclearactive.org/news/030510.html  In the end, public opposition and escalating costs forced the cancellation of its plans.  http://nuclearactive.org/livestreamed-nuclear-safety-board-hearing-on-february-21st-in-albuquerque/
Fabricating plutonium pits for nuclear weapons involves many steps – some using aqueous processes that result in water contaminated with radiation and hazardous materials.  That water is treated across the street from the Plutonium Facility at the Radioactive Liquid Waste Treatment Facility and for decades was discharged through an industrial outfall into Effluent Canyon.  Since November 2011, though, the treated water has been evaporated into the air at a mechanical evaporator.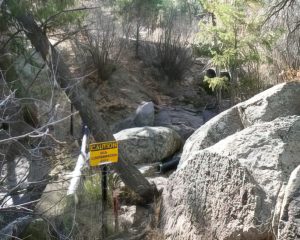 In April, the Environmental Protection Agency renewed the five-year industrial permit for LANL to discharge through Outfall 051 into Effluent Canyon.  https://www.epa.gov/nm/los-alamos-national-laboratory-lanl-industrial-wastewater-permit-final-npdes-permit-no-nm0028355
We note that on May 11th, CCNS, Honor Our Pueblo Existence, and the Albuquerque Veterans for Peace, Chapter No. 63, appealed the EPA decision to permit the outfall and five others to the Environmental Appeals Board.  https://yosemite.epa.gov/oa/EAB_Web_Docket.nsf/f22b4b245fab46c6852570e6004df1bd/ba987f24df0c356085258837004f3dcd!OpenDocument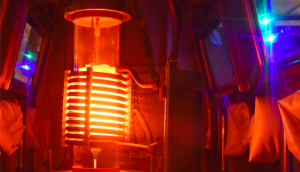 Then on May 5th, the New Mexico Environment Department approved for the first time a ground water discharge permit for not only for the Radioactive Liquid Waste Treatment Facility, the outfall and Mechanical Evaporator, but for two large solar evaporative tanks, and a new low-level radioactive liquid waste treatment facility.  In addition, DOE plans to build a liquid waste treatment facility for the transuranic plutonium liquid waste.  https://www.env.nm.gov/public-notices/, go to Los Alamos County, and scroll down to DP-1132 where the draft permit is posted, but not the final permit.
These facilities are all in support of DOE's plans for expanded plutonium pit production at LANL.
---


Tuesdays on May 24 and 31 at 6 pm MDT for one hour – Pax Christi: New Study Circle on Archbishop Wester's Pastoral Letter on Nuclear Disarmament.  Registration at:  https://paxchristiusa.org/2022/04/26/register-for-the-new-study-circle-on-archbishop-westers-pastoral-letter-on-nuclear-disarmament/
Thursday, May 19 – Sunday, May 29, 2022: virtual and live in Rio International Uranium Film Festival.  https://uraniumfilmfestival.org/
Sunday, June 12, 2022 – 40th Anniversary of the New York City March and Rally of One Million People for Peace and Nuclear Disarmament. Free virtual commemoration event from 10 am to 2 pm MDT; noon to 4 pm ET.  Register at https://www.june12legacy.com/?emci=f80a145c-9ed3-ec11-b656-281878b8c32f&emdi=7aa2d758-73d7-ec11-b656-281878b8c32f&ceid=299000   Watch Robert Richter's film In Our Hands about the 1982 March and Rally at https://vimeo.com/590296934?emci=f80a145c-9ed3-ec11-b656-281878b8c32f&emdi=7aa2d758-73d7-ec11-b656-281878b8c32f&ceid=299000
Sunday, June 12th "Defuse Nuclear War" virtual 2 ½ hour event at 2 pm MDT; noon ET. Live presentations from a wide range of speakers including Medea Benjamin, Leslie Cagan, Mandy Carter, Khury Petersen-Smith, David Swanson and Katrina vanden Heuvel. World premiere of a video featuring Daniel Ellsberg on "defusing the threat of nuclear war," produced by Oscar-nominated director Judith Ehrlich.  https://us06web.zoom.us/webinar/register/WN_jhUM5ClzQJGAQysfNUeO2A
Saturday, June 18, 2022 in Washington, DC – Mass Poor People's and Low-Wage Workers' Assembly and Moral March on Washington and to the Polls.  https://www.poorpeoplescampaign.org/june18/
Tags: Albuquerque Veterans for Peace Chapter 63, Department of Energy, DOE, Effluent Canyon, Environmental Protection Agency, EPA, Guaje Mountain Fault, Honor Our Pueblo Existence, HOPE, LANL, Los Alamos National Laboratory, low-level radioactive liquid waste treatment facility, mechanical evaporator, New Mexico Environment Department, Outfall 051, Pajarito Fault Zone, PF-4, Plutonium Facility, plutonium pit production, Radioactive Liquid Waste Treatment Facility, Rendija Canyon Fault, super Walmart-sized Nuclear Facility, TA-55, Technical Area 55, transuranic plutonium liquid waste, two large solar evaporative tanks