Livestreamed Nuclear Safety Board Hearing on February 21st in Albuquerque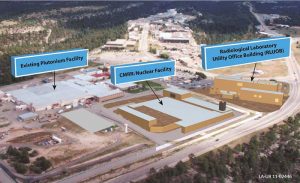 Complete oversight of the Chemistry and Metallurgy Research Replacement (CMRR) Project at Los Alamos National Laboratory (LANL) by the Defense Nuclear Facilities Safety Board is no longer allowed under the revised Department of Energy Order 140.1.  The Radiological Laboratory Utility Office Building, or RLUOB, one of the facilities of the CMRR Project, handles weapons grade plutonium.  It is designated as a Hazard Category 3 facility.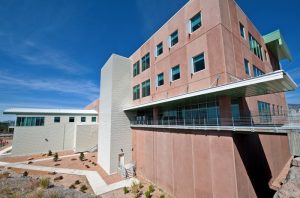 The Department of Energy (DOE) Order eliminates all Hazard Category 3 facilities from the Board's purview.
Oversight of the CMRR Project is one of the concerns that will be discussed at the Board's Thursday, February 21st public hearing from 5:30 pm to 9 pm Mountain time at the Albuquerque Convention Center.  It will be live streamed from the Board's website at dnfsb.gov.  A link will be posted there on the day of the hearing.  https://www.dnfsb.gov/content/federal-register-notice-5
Please use the sample public comment letter f DOE O 140.1 sample comment ltr 2-14-19 to submit your comments to hearing@dnfsb.gov
This is the Board's third public hearing about DOE Order 140.1.  It is being held in New Mexico at the request of Tewa Women United and Honor Our Pueblo Existence, both based in the Espanola Valley, downwind of LANL.  To view the previous hearings, visit dnfsb.gov/public-hearings-meetings.
The Board invites you to attend the hearing and provide public comments from 7:15 to 8:50 p.m.  You can pre-register to speak by emailing hearing@dnfsb.gov by February 19th.
The Board invited its Technical Director, Chris Roscetti; as well as Todd Shrader, the manager of the Waste Isolation Pilot Plant; Jeffery Harrell, the Sandia Field Office manager; Doug Hintze, the Los Alamos clean-up manager; and William (Steve) Goodrum, the Los Alamos nuclear weapons program manager, to testify.
The purpose of the CMRR Project has always been to replace the Cold War-era Chemistry and Metallurgy Research building because of on-going safety and seismic issues.  In the mid-2000s, DOE proposed the CMRR Project, which consisted of two parts.  One part is the RLUOB, which was constructed and does analytical chemistry and materials characterization of the plutonium cores, or pits, for nuclear weapons manufactured at LANL.  It does not meet the seismic requirements of a Hazard Category 3 facility.
The second part was a Super Wal-Mart-sized Nuclear Facility, which was defeated through citizen action in New Mexico and across the country.  In 2014, it was officially canceled.
Since then, DOE gave itself permission to increase the amount of plutonium allowed in the RLUOB from 8.4 grams to 400 grams, which increased its rating to a Hazard Category 3 facility.  https://nuclearactive.org/doe-gives-itself-permission-to-increase-plutonium-in-cmrr-without-required-nepa-analysis/  And now, DOE has issued DOE 140.1 to eliminate the Board's oversight of it.
To learn more, please check out previous Updates, with links to important documents, at https://nuclearactive.org/chairman-tries-to-abolish-the-defense-nuclear-facilities-safety-board/ ; http://nuclearactive.org/wp-content/uploads/2018/08/2018-100-028-NA-1-Welcome-Letter-ARCHIVE.pdf ; http://nuclearactive.org/wp-content/uploads/2018/08/DOE-O-140.1-Interface-with-the-Defense-Nuclear-Facilities-Safety-Board.pdf ; https://nuclearactive.org/dnfsb-public-hearing-about-doe-interface-on-august-28th/ ; http://nuclearactive.org/santa-fe-county-commissioners-call-for-suspension-of-doe-order-140-1/ ; https://nuclearactive.org/ana-opposes-new-doe-order/ ; http://nuclearactive.org/doe-must-hold-hearings-in-new-mexico-about-order-140-1/ ; http://nuclearactive.org/safety-board-holds-nov-28-live-streamed-public-hearing/ ;  http://nuclearactive.org/public-comments-at-safety-board-hearing-say-it-all/  ; and http://nuclearactive.org/feb-21-safety-board-public-hrg-livestreamed-from-abq/
Also see September 27, 2018 comments submitted to the Board by Nuclear Watch New Mexico at https://nukewatch.org/newsite/wp-content/uploads/2018/12/DNFSB-NWNM-comments-on-DOE-Order-140.1.pdf
---


Did you know about these upcoming events?

2.    Sunday, March 17th, 2019 Benefit Fundraiser for the Tularosa Basin Downwinders Consortium at the National Hispanic Cultural Center, Albuquerque, NM, from 1 to 5 pm.  Music, dancing, food, silent auction, door prizes.  Tickets will be available soon! Flyer: 
TBDC benefit poster
  Stay tuned!
https://www.trinitydownwinders.com/

3.  Saturday, April 6th, the Trinity Site, on the White Sands Missile Range, is open to the public from 8 am to 2 pm.  The Tularosa Basin Downwinders Consortium will hold two peaceful demonstrations – one at the Tularosa Gate; the other at the Stallion Gate, near San Antonio.  Stay tuned for more details. 
https://www.trinitydownwinders.com/
Tags: Chemistry and Metallurgy Research Replacement Project, Chris Roscetti, CMRR, Defense Nuclear Facilities Safety Board, Department of Energy, DNFSB, DOE, DOE Order 140.1, Doug Hintze, hazard category 3, Honor Our Pueblo Existence, Jeffery Harrell, Los Alamos National Laboratory, Nuclear Facility, plutonium, Radiological Laboratory Utility Office Building, RLUOB, Sandia National Laboratories, Tewa Women United, Todd Shrader, Waste Isolation Pilot Plant, William (Steve) Goodrum, WIPP