Urgent! Your comments needed immediately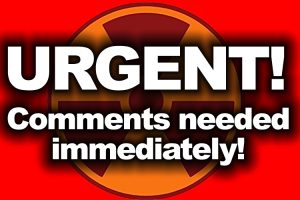 Dear friends:
We are writing with concerning news regarding the Radioactive Liquid Waste Treatment Facility at Los Alamos National Laboratory. Concerned Citizens for Nuclear Safety (CCNS) and Honor Our Pueblo Existence (HOPE) have filed for a review of the Water Quality Act permit that was issued last May by the New Mexico Environment Department.
On April 6th, the NM Water Quality Control Commission (WQCC) hearing officer recommended that the WQCC dismiss the position that CCNS and HOPE have standing in this permit review of DP-1132.
Now we need your help! Please submit comments to the New Mexico Water Quality Control Commission BEFORE TOMORROW'S 9AM MEETING. Sample comment available here: 230410 Public comments to WQCC Members
You can submit your comments electronically to Pamela Jones, Hearing Clerk at Pamela.Jones@env.nm.gov or at the NMED Public Comment Portal at https://nmed.commentinput.com/?id=ZCP4E
Please participate in the public hearing tomorrow, April 11th at 9 am, either in person or virtually and make your voice heard.  We are agenda item No. 9.
Thank you!
CCNS Board and Staff
Tags: Honor Our Pueblo Existence (HOPE), Los Alamos National Laboratory, NM Water Quality Control Commission (WQCC), Radioactive Liquid Waste Treatment Facility