Biden-Putin Geneva Summit and Future Arms Control Dialogue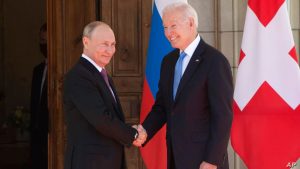 The presidents of the United States of America and Russia met for several hours on Wednesday, June 16th, 2021, in Geneva, Switzerland.  They discussed a number of matters, including cyber security, human rights, and "strategic stability," or arms control.  Strategic stability is defined as no first use of nuclear weapons and no build up of nuclear forces.  The two countries possess 91 percent of the world's nuclear weapons.  https://fas.org/issues/nuclear-weapons/status-world-nuclear-forces/
Acknowledging the two countries' progress towards arms control, including the recent five-year extension of the New Strategic Arms Reduction Treaty, or New START Treaty, the two presidents agreed to create a bilateral Strategy Stability Dialogue.  The goal of the dialogue would lead to arms control and risk reduction measures.
Together, the two presidents released a three paragraph U.S. – Russia Presidential Joint Statement on Strategic Stability, which reads:
"We, President of the United States of America Joseph R. Biden and President of the Russian Federation Vladimir Putin, note the United States and Russia have demonstrated that, even in periods of tension, they are able to make progress on our shared goals of ensuring predictability in the strategic sphere, reducing the risk of armed conflicts and the threat of nuclear war.
"The recent extension of the New START Treaty exemplifies our commitment to nuclear arms control. Today, we reaffirm the principle that a nuclear war cannot be won and must never be fought.
"Consistent with these goals, the United States and Russia will embark together on an integrated bilateral Strategic Stability Dialogue in the near future that will be deliberate and robust. Through this Dialogue, we seek to lay the groundwork for future arms control and risk reduction measures."  https://www.whitehouse.gov/briefing-room/statements-releases/2021/06/16/u-s-russia-presidential-joint-statement-on-strategic-stability/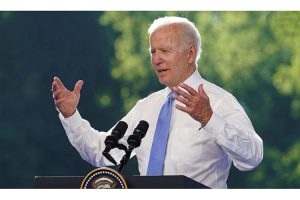 During their individual press conferences following the meeting, the presidents committed to ongoing consultations and dialogue about what comes after New START and to control new and more dangerous nuclear weapons that by reducing response time, raises the risk of accidental war.  http://en.kremlin.ru/events/president/transcripts/65870 and  https://www.whitehouse.gov/briefing-room/speeches-remarks/2021/06/16/remarks-by-president-biden-in-press-conference-4/
In response, Beatrice Fihn, of the International Campaign to Abolish Nuclear Weapons, stated, "While we support this diplomatic initiative, we need to see more substantial progress from the leaders with the world's two biggest nuclear arsenals on reducing their nuclear arsenals and moving to join the international Treaty on the Prohibition of Nuclear Weapons."  https://www.icanw.org/
Joni Arends, of CCNS, asked, in light of the presidents' commitments, when, in Northern New Mexico, will a Strategic Stability Dialogue begin about how to transition from its dependence on nearly $3 billion a year to fabricate more plutonium triggers for nuclear weapons at Los Alamos National Laboratory.  She said, "It's time."  http://nuclearactive.org/
---

We are Podcasting! 
1. Every Friday from noon to 1 pm –
Protest LANL signing a 10-year lease (for the former Descartes building) to establish itself "permanently" in Santa Fe at the corner of Guadalupe and W. Alameda.  JOIN Veterans for Peace, CCNS, Nuclear Watch NM, and others.  We'll have banners.  Please bring a sign.
2. Th. June 24th from 5:30 to 7 pm –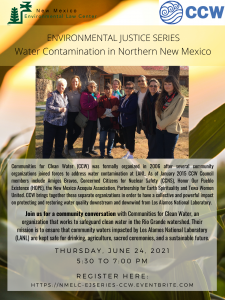 NM Environmental Law Center Environmental Justice Series about Water Contamination in Northern New Mexico with the Communities for Clean Water (CCW). CCW's mission is to ensure that community waters impacted by LANL are kept safe for drinking, agriculture, sacred ceremonies, and a sustainable future.  CCNS is a founding member of CCW.  https://nmelc.org/  To register:  https://nmelc-ejseries-ccw.eventbrite.com  
3. Sat. June 26th from 9 to 11 am MDT webinar –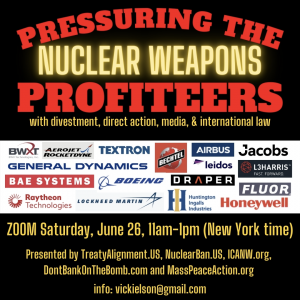 Pressuring the Nuclear Weapons Profiteers with divestment, direct action, media, and international law. Speakers and Facilitators:  Susi Snyder, Don't Bank on the Bomb, Nick Cantrell, Green Future Wealth Management, and Vicki Elson, Treaty Alignment Campaign.  CCNS is a co-sponsor of the webinar.  REGISTER HERE or https://masspeaceaction.org/event/pressuring-the-nuclear-weapons-profiteers/
 4. MARK YOUR CALENDAR! Saturday, July 17th –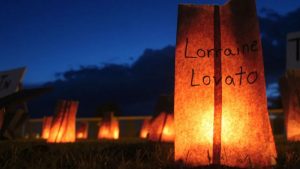 Tularosa Basin Downwinders Consortium (TBDC) Town Hall Meeting and Candlelight Vigil in Tularosa.  In the afternoon, the TBDC will host a Town Hall meeting to discuss the Radiation Exposure Compensation Act (RECA) at the old Community Center.  In the evening, the TBDC host the 12th Annual Candlelight Vigil to memorialize loved ones who have lost their lives to cancer and honor those who are living with or who have survived cancer.  It will take place at the Tularosa Little League Field.  Stay tuned for more details.  https://www.trinitydownwinders.com/
Tags: Beatrice Fihn, CCNS, International Campaign to Abolish Nuclear Weapons, Joni Arends, Los Alamos National Laboratory, New START, New Strategic Arms Reduction Treaty, President Joseph R. Biden, President Vladimir Putin, Strategic Stability Dialogue, U.S. – Russia Presidential Joint Statement on Strategic Stability