CARD and AFES Cite NMED Discriminatory Public Process for WCS Ground Water Permit


Citing a discriminatory public process involving the proposed ground water discharge permit for Waste Control Specialists (WCS), Citizens for Alternatives to Radioactive Dumping (CARD), and the Alliance for Environmental Strategies, recently requested that the New Mexico Environment Department stop the permitting process.  The Environment Department responded by terminating the public comment period.  Comments were due to the Environment Department by August 8th.  The Department plans to reissue the public notice in both English and Spanish soon, thus starting the public comment period again.
The draft permit would allow WCS, a limited liability corporation, to discharge an theoretical maximum of 170,500,000 gallons per day from the 14,900-acre radioactive and hazardous waste storage and disposal facility located in Texas on the Texas-New Mexico border, five miles east of Eunice, New Mexico.  d_WCS_GWDP_1817_060917
The Environment Department's discriminatory practices include the omission of a public notice in Spanish, the dominant language in the Eunice area; and the omission of a study about the potentially affected local communities.  Further, the Environment Department did not provide inclusive public participation opportunities as required by their January 19, 2017 Settlement Agreement with the Environmental Protection Agency (EPA).  That agreement resolved a 2003 civil rights complaint filed by CARD about the discriminatory practices involved in the permit process for the Triassic Park Hazardous Waste Treatment and Disposal Facility, located east of Roswell.  EPA_FINALResolutionLetterandAgreement_TriassicPark_Complainant_011917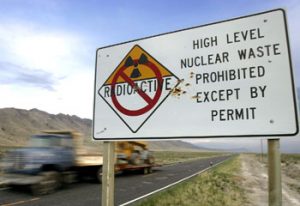 CARD, an Albuquerque-based non-governmental organization, filed the complaint with EPA alleging violations of Title VI of the 1964 Civil Rights Act based on race and national origin.  CARD claimed the Environment Department "failed to require or perform a scientific investigation into possible disparate impacts; failed to ensure that limited-English proficient Spanish speaking residents were provided a meaningful opportunity for effective public participation in the permitting process; and has a statewide pattern and practice of similar discriminatory permitting and lack of access for limited-English proficient residents to the public participation and permitting process."  http://nuclearactive.org/epa-reaches-informal-resolution-of-14-year-old-civil-rights-complaint-against-nmed/  Fourteen years later, the Environment Department continues the same practices.
Noel Marquez, of the Artesia-based Alliance for Environmental Strategies, wrote the Environment Department, stating, "When it comes to issues of contamination of our lands, water and air regarding our southeastern region of New Mexico, the people will always come first."
Marquez explained, "Our water is precious and many of us operate small farms and we will not allow the state or nuclear industry to threaten or stigmatize our home lands with radioactive dumps and their toxic effects.  The EPA has also noticed [the Environment Department's lack of] outreach to the public and we hope that our communities will be better served in the future."
Tags: AFES, Alliance for Environmental Strategies, CARD, Citizens for Alternatives to Radioactive Dumping, Environmental Protection Agency, EPA, Eunice, ground water discharge permit, new mexico, New Mexico Environment Department, NM, NMED, texas, Title VI Civil Rights Complaint, Triassic Park Hazardous Waste Treatment and Disposal Facility, waste control specialists, WCS