Comment Period for Triassic Park Hazardous Waste Permit Extended to January 20, 2017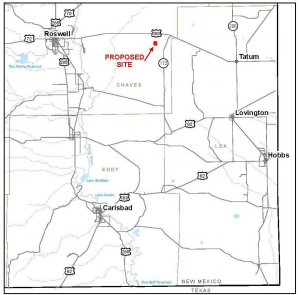 Recognizing the concerns raised by the community on the lack of adequate public notice about the renewal of the Triassic Park hazardous waste permit, the New Mexico Environment Department agreed to a 60-day extension of the public comment period from November 18th to January 20th, 2017 at 5 pm Mountain Standard Time.  The Environment Department will issue a third public notice, in both English and Spanish, to inform the public about the extension.
Triassic Park is a yet-to-be-built 35-acre commercial hazardous waste disposal facility located on 480 acres in rural Chaves County, about 35 miles east of Roswell.  It is near the small communities of Dexter, Hagerman, and Lake Arthur, where a large number of Spanish-speaking residents live and high levels of poverty exist.
The Environment Department also will ensure that the public notice and the permit fact sheet, both in English and Spanish, are physically posted at 27 locations in the area surrounding the landfill.  Those locations include six in Artesia, at the city council building, public library, the Cottonwood Rural Water Co-op, the Riverside Mutual Domestic Water Association, and the two post offices; one in Carlsbad, at the Otis Water Users Co-op; two in Dexter, at the town hall and post office; three in Hagerman, at the town hall, post office, and Fambrough Water Co-op; three in Lake Arthur, at the post office, town hall and Lake Arthur Water Co-op; nine in Roswell, at the public library, city hall, Roswell Adult Center, Berrendo Water Co-op, Cumberland Cooperative Water Users Association, and the four post offices; and three in Tatum, at the post office, town hall and community library.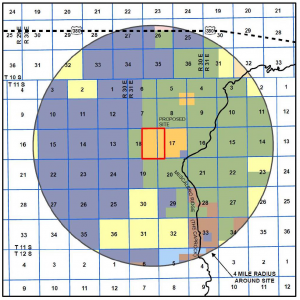 The public notices will also be published in the Albuquerque Journal, the Roswell Daily Record, and the Carlsbad Current Argus in the classified section.  Public service announcements will air on KUNM-FM 89.9 in Albuquerque, KALN-FM 96.1 in Dexter, and KBIM-FM 94.9 in Roswell.
A printed copy of the draft permit is now available at the Environment Department's District III office in Roswell, located at 1914 West Second; and in the Roswell Public Library, located at 301 North Pennsylvania.
For more information about Triassic Park, please visit sacredtrustnm.org.  The draft permit and many associated documents are also available at env.nm.gov/HWB/tpperm.html
Tags: fact sheet, foreign waste, hazardous waste, NMED, public notice, radioactive waste, toxic waste, Triassic Park