New Mexico Targeted for Deep Borehole Irradiated Fuel Disposal Facility – Upcoming Public Meetings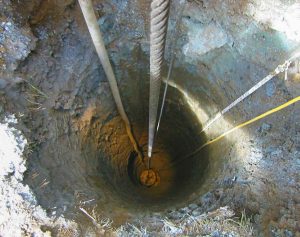 The Department of Energy (DOE) is proposing to build a deep borehole disposal facility for irradiated nuclear fuel in one of four locations in New Mexico, Texas, or South Dakota where crystalline, or granite, formations exist.  Currently there are four contractors working to find a community that is willing to sign an agreement to allow drilling of a three-mile deep test borehole.  https://energy.gov/under-secretary-science-and-energy/articles/studying-feasibility-deep-boreholes
In New Mexico, DOE is courting the Nara Visa area along the Texas border in Quay County, and the privately held Y Bar Ranch, owned by Greg Duggar, in Otero County.  DOE is saying the proposed $30 million project will bring jobs and that no nuclear waste would be disposed in the test borehole.  What they are not saying is that the test borehole may lead to deep borehole disposal facility.
The plans have been in the works since before 2012.  There has been a technical back and forth between DOE and the U.S. Nuclear Waste Technical Review Board.  In 1987, Congress created the Board in amendments to the Nuclear Waste Policy Act to evaluate the technical and scientific validity of activities undertaken by the Energy Secretary.
In 2015, the Board hosted a two-day international technical workshop about radioactive waste disposal in deep boreholes.  In January 2016, the Board submitted its findings and recommendations in a report to Congress and DOE.  The findings included a warning that the time required creating a regulatory framework, finding an acceptable site, and characterizing the geology for a deep borehole "might be comparable to that of a mined geologic repository."  http://www.nwtrb.gov/reports/DBD_final.pdf, p. iv.
In response to the courting in Quay County, a series of "Say NO to the Borehole Public Forums" will be held in Texas and New Mexico from March 13th to April 3rd.  Cydni Wyatt, from Nara Visa, is one of the organizers.  She said, "We're raising community awareness.  People need to understand the long-term implications of these boreholes.  A viable test borehole opens the door to a nuclear waste disposal site in the future."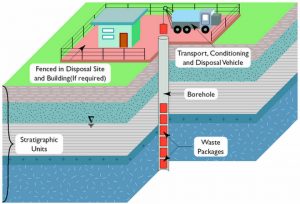 Say NO forums will be held on Monday, March 13th at 7 pm Central Standard Time at the First Baptist Church ROC in Dalhart, Texas; on Tuesday, March 14th at 7 pm Mountain Standard Time at the Logan Civic Center in Logan, New Mexico; on Monday, March 20th at 7 pm at the Herzstein Museum in Clayton, New Mexico; on Monday, March 27th at 7 pm at the Tucumcari Convention Center; and on Monday, April 3rd at 6 pm at the San Jon Community Center.
Enercon, the DOE contactor in Quay County, is expected to attend.
The contractor in Otero County is Terranear PMC.  They will be holding a public meeting on Tuesday, March 14th from 4 to 5 pm at the Patron's Hall, 1106 N. New York Avenue, in Alamogordo.  Terranear PMC will host meetings throughout Otero County and plans to announce the schedule soon.
Tags: borehole, Department of Energy, disposal, irradiated nuclear fuel, nara vista, new mexico, otero county, quay county, say NO forums, south dakota, texas, U.S. nuclear waste technical review board