NMED Holding Listening Sessions in Las Cruces and Albuquerque about Proposed Changes to State's Water Protection Regulations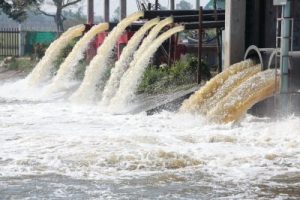 The New Mexico Environment Department is attempting to eviscerate the public participation requirements provided in the New Mexico Ground and Surface Water Protection Regulations.  Reducing public participation is clearly the goal of the Martinez administration.  One glaring example is found in a document entitled, "Hit [L]ist for Regulation Changes," which was released by the Department following an Inspection of Public Record Request made by the New Mexico Environmental Law Center.  Number One on the Hit List, created last November by the Department's Ground Water Quality Bureau, is to "figure how to further reduce [public notice and participation requirement] efforts."  GWQB HIT LIST FOR REGULATION CHANGES
This summer the Department released its initial draft changes to the regulations for public review and comment.  In August, CCNS, other non-governmental organizations and individuals submitted extensive comments to the Department.  20160817-ccns-20-6-2-nmac-comments
This week the Department announced that it would host two listening sessions, one in Las Cruces and one in Albuquerque, about their proposed revisions.  The Department is working to host additional sessions in Farmington and Roswell.  https://www.env.nm.gov/gwb/
The New Mexico Water Quality Act requires that if a person or entity wants to discharge a pollutant into water, they are required to obtain a discharge permit from the Department.  The regulatory process requires opportunities for public review and comment of the draft permit and an opportunity to request a public hearing.  Once issued, permits may be modified and are renewed every five years, both of which require additional public participation.
In order to change the regulations, the Department is required by state law to present the proposed revisions to the New Mexico Water Quality Control Commission.  Inevitably, there will be a public hearing before the Commission about the proposed changes next spring.
In the next week or two, the Department plans to post revised regulations on its website and to open a public comment period prior to submitting the final proposed changes to the Water Quality Control Commission.
The first listening session is scheduled for Tuesday, September 20th in Las Cruces at the New Mexico State University, Environmental Health and Safety Office, the Academic Research C, Room 110, located at 1620 Standley Drive, from 5:30 to 7:30 pm.
The second listening session is scheduled for Thursday, September 22nd in Albuquerque, at the Erna Fergusson Library meeting room, located at 3700 San Mateo Northeast, again from 5:30 to 7:30 pm.
Joni Arends, of CCNS, said, "If you are concerned about water, please attend one or more of the Department's listening sessions and let your voice be heard."
If you would like to receive updates about the Department's process, please contact Steve Huddleson, manager of the Pollution Prevention Section of the Ground Water Quality Bureau, at (505) 827- 2936 or Steven.Huddleson@state.nm.us.  In the alternative, you may sign up to received "General News" from the Ground Water Quality Bureau at https://www.env.nm.gov/gwb/#GWQBnews (bottom of page).
Tags: abatement, abatement plans, alternative abatement standard, discharge permit amendment, EDB, electronically edited, ethylene dibromide, ground water, Ground Water Quality Bureau, GWQB, Hit List, NM Water Quality Act, NMED, permit fees, RCRA, Resource Conservation and Recovery Act, signs, surface water, technical infeasibility, variance, Water Quality Control Commission, water quality regulations