Officials and NGOs Express Deep Concerns about Holtec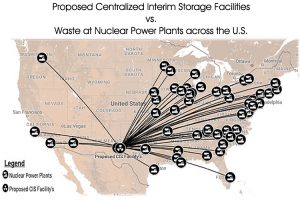 On Tuesday, June 23rd, the Nuclear Regulatory Commission (NRC) held a webinar and invited telephone comments on the Draft Environmental Impact Statement (DEIS) for a nuclear waste storage facility that Holtec proposes to build halfway between Carlsbad and Hobbs.  Holtec applied for a license to store all of the nation's most radioactive spent fuel from commercial nuclear power plants.  Over twenty years, Holtec proposes to ship 10,000 canisters to the site by railroads, passing through more than forty states.  https://www.nrc.gov/waste/spent-fuel-storage/cis/holtec-international.html, scroll down to Environmental Impact Statement.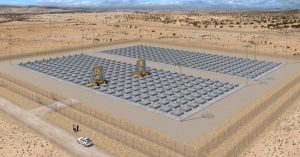 In 2012, officials in Eddy and Lea counties announced that a private company would submit a license application in March 2013.  In December 2015, Holtec told the NRC that it would submit the license application in June 2016, so that the facility could begin operating in 2020.  The application was submitted in March 2017, and stated that NRC's license would be issued in 2019 and that construction would begin by March 2020.  https://wethefourth.org/
The webinar was the first comment meeting on the DEIS.  Many commenters requested that, because of the pandemic, face-to-face meetings be held after the discovery of a vaccine.  For five and a-half hours, people from more than a dozen states weighed the benefits to New Mexico of waste storage against its potential hazards and considered what it would mean for the state.
To learn more about the Holtec DEIS and the second NRC webinar on Thursday, July 9th, starting at 3 pm MDT (you have to register beforehand to speak), check out the materials prepared by the Nuclear Issues Study Group (NISG), with talking points from Sierra Club and NISG, as well as the NRC's powerpoint presentation at https://mailchi.mp/eafed8a467ac/call-to-action-holtec-public-meeting-today-online-at-3pm-mdt
Many commenters noted that the DEIS does not adequately address transportation in New Mexico or nationwide, since it states: "Because no arrangements regarding which nuclear power plants will ship [waste]…the details regarding the specific routes that would be used also are not known at this time."  See the April 14, 2017 Update for a listing of transportation maps.  http://nuclearactive.org/nrc-extends-public-comment-period-for-high-level-irradiated-waste-storage-at-wcs-to-april-28th/
Many commenters stated that the storage could be permanent because there is no disposal site.  They reminded the NRC that this is why the law requires that a permanent repository be selected before the designation of an interim facility like Holtec, and this has not been done.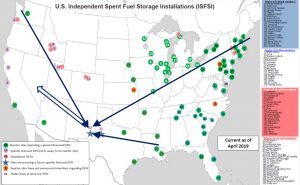 They pointed out that the DEIS considers impacts for forty years, while Holtec plans to operate the facility for at least 120 years.  Others noted that the DEIS rejected consideration of improved storage at or near the nuclear plants, so the only alternative considered was the Holtec site, even though the law requires consideration of all reasonable alternatives.
Many commenters, reflecting on racial and environmental justice, felt that New Mexico, as one of the poorest states in the nation, is being considered a "throwaway" state for waste that others don't want.  Both James Kenney, Secretary of the Environment Department, and Sarah Cottrell Propst, Secretary of the Energy, Minerals and Natural Resources Department, found the DEIS technically inadequate for many reasons and reiterated that Governor Michelle Lujan Grisham strongly opposes the project.  NM Governor Holtec Ltr 060719
---

Do You Know about the Upcoming Commemoration Events for Trinity, Hiroshima and Nagasaki?
1.  Thursday, July 16th Commemoration of the July 16, 1945 –

first atomic bomb test at the Trinity site in southcentral New Mexico.  Details will be available soon.  https://www.trinitydownwinders.com/
2.  Sunday, August 2nd to Sunday, August 9th – virtual National Convention of Veterans for Peace. The convention theme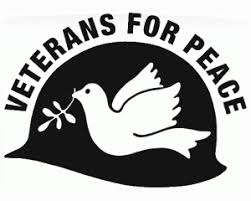 is "Human Rights over Nuclear Might."  The New Mexico plenary will take place on Sunday, August 2nd in mid-afternoon.  Stay tuned for details.  To learn more about VFP's National Convention, go to:   https://www.veteransforpeace.org/2020-annual-convention
3.  Thursday, August 6th at 8 pm EST; 6 pm MST; 5 pm PST –75th Commemoration Hiroshima Day Live One-Hour Online Webinar,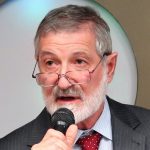 hosted by the New Mexico 75th Commemoration of Hiroshima/Nagasaki Committee and Pace e Bene. CCNS is an organizer and co-sponsor of the event.  The webinar is free.  Please register or check the website closer to the event date for more information. https://paceebene.org/hiroshimaday2020
4.  August 6th – August 9th – Fasting around the world for nuclear disarmament! 
The message is:  Nuclear disarmament must happen now!  Join the Fast!  Demand that your country signs the Treaty on the Prohibition of Nuclear Weapons!   For more information, visit http://www.abolition2000.org/event/international-fast-for-nuclear-disarmament/  or email Dominique Lalanne, <do.lalanne@wanadoo.fr>
Tags: consolidated interim storage facility, DEIS, draft environmental impact statement, Governor Michelle Lujan Grisham, Holtec International, James Kenney, NRC, Nuclear Regulatory Commission, public on-line webinar, Sarah Cottrell Propost, transportation