Piketon, Ohio Residents File Suit Against DOE & Contractors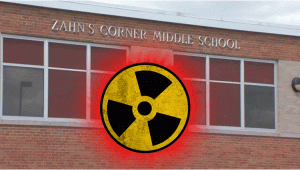 Residents living within four miles of the Department of Energy's Portsmouth [Uranium] Gaseous Diffusion Plant filed the first class action lawsuit after Pike County officials closed Zahn's Corner Middle School earlier this month after radioactive contamination was detected inside and outside of the school.  http://www.huntingtonnews.net/sites/default/files/n64/mcglone.pdf  Enriched uranium was detected inside the school, while an air monitor located near the school found neptunium-237.  The middle school is less than two miles from the Portsmouth site, with 300 students served by 25 staff
members.
Jennifer Chandler, a Piketon village councilwoman, reported that in the past five years, five students have been diagnosed with cancer.  Unfortunately, three of them have died.  She wonders if there is a cancer cluster in her village.
The Portsmouth Gaseous Diffusion Plant began producing enriched uranium and weapons-grade uranium for nuclear weapons in 1954.  After the end of the Cold War, it began producing uranium for nuclear power reactors.  Since 2001, DOE and its contractors have been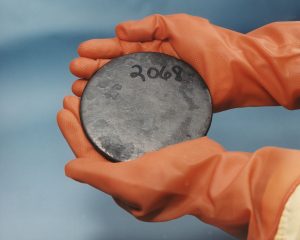 working to decontaminate and decommission the 3,777-acre site.
DOE conducts routine air monitoring.  In 2017, DOE detected trace amounts of neptunium and enriched uranium.  In 2018, DOE detected americium.  All three radionuclides are by-products of nuclear production.  The data was released in March 2019.
One of the neighbors, Elizabeth Lamerson, took matters into her own hands and contacted scientists at Northern Arizona University.  She began her own sample collection process and the University conducted a public interest study to investigate possible sources.  One source may be the construction of an on-site waste disposal facility for 2 million cubic yards of waste from decontamination and decommissioning work.
Last weekend, DOE Secretary Rick Perry sent "a world class team of certified health physicists" to do follow-up sampling.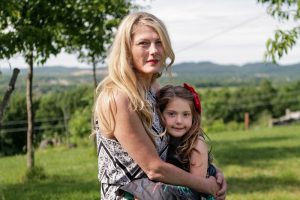 Besides the DOE, other defendants include its contractors – Centrus Energy Corporation; United States Enrichment Corporation; Uranium Disposition Services, LLC; BWXT Conversion Services, LLC; Mid-America Conversion Services, LLC; Bechtel Jacobs Company, LLC; Lata/Parallax Portsmouth, LLC; and Fluor-BWXT Portsmouth, LLC.
The plaintiffs seek to represent the following individuals, including all property owners within a seven-mile radius of the Portsmouth Site; all residents and former residents with more than one year of residence, also within a seven-mile radius; and all current and former students at Zahn's Corner Middle School from 1993 to the present, as well as their parents.
The plaintiffs are asking the U.S. District Court to certify the class; award damages for loss of use and enjoyment of their property; and punitive damages.  They are also asking for remediation of their property; a medical surveillance and medical monitoring program; and other procedures to settle the case.
To read a descriptive timeline, go to https://www.wsaz.com/content/news/Traces-of-carcinogen-found-in-air-monitor–509173091.html
---

1.  New Mexico has a uranium enrichment facility too.  It's called URENCO USA, which is located at 275 Hwy. 176, approximately 4.5 miles east of Eunice, NM.  URENCO USA uses a different technology than the Portsmouth Gaseous Diffusion Plant.  URENCO USA uses centrifuges to separate uranium.  https://www.nrc.gov/materials/fuel-cycle-fac/ur-enrichment.html
2.  URENCO USA submitted an application to renew and modify its groundwater discharge permit (DP-1481) to the New Mexico Environment Department.  URENCO USA proposes to discharge 19,717,000 gallons per day – yes, that is correct – nearly 20 million gallons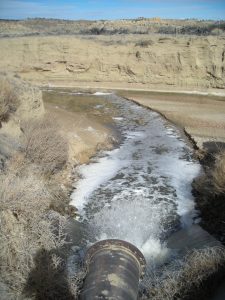 per day – of industrial wastewater and stormwater to a treatment and disposal system.
3.  This is an area with lots of oil and gas extraction and other nuclear-related operations, including the Waste Isolation Pilot Plant (WIPP).  Two projects to bring all of the nation's high-level radioactive waste generated in nuclear power plants to this area are currently before the Nuclear Regulatory Commission right now.  They are:
a.    the Holtec International proposal, located on oil and gas extraction lands, 16 miles north of WIPP; and
b.    The Interim Storage Partners (formerly Waste Control Specialists, LLC) located on the New Mexico – Texas border, six miles east of Eunice, NM.
4.  On January 22, 2019, the Environment Department issued a Public Notice 1 stating that URENCO USA had received the application.  VIEW DISCHARGE PERMITS 
5.  The Environment Department permit writer is Jason Herman, at jason.herman@state.nm.us, at 505 827-2713.  Ask to be informed when the Public Notice 2 (PN-2) is issued.  PN-2 lets the public know that a draft permit is available to review and that there is an opportunity to ask for a public hearing.
Tags: cancer cluster, class action lawsuit, Department of Energy, DOE, DOE Secretary Rick Perry, Elizabeth Lamerson, Jennifer Chandler, Northern Arizona University, Portsmouth Gaseous Diffusion Plant, radioactive contamination, Zahn's Corner Middle School