SRIC and NRDC Address NEPA Requirements for Reopening WIPP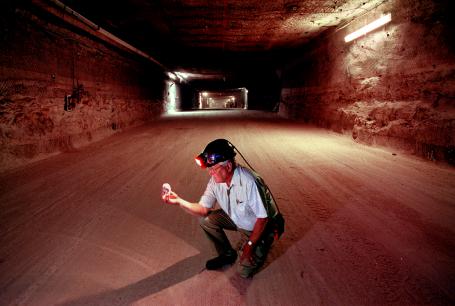 The Department of Energy (DOE) has been working to reopen the Waste Isolation Pilot Plant (WIPP) for the disposal of radioactive and hazardous waste without conducting the proper National Environmental Policy Act (NEPA) review.  In their recent eight-page letter to DOE Secretary Moniz, Southwest Research and Information Center (SRIC) and the Natural Resources Defense Council (NRDC) highlight the reasons why DOE must conduct the proper NEPA reviews, including supplementing the WIPP environmental impact statements, before reopening WIPP.  nrdc-sric-ltr-to-moniz-wipp-nepa-final112116
WIPP was to be a "start clean, stay clean" operation and was so analyzed in the 1980, 1990 and 1997 environmental impact statements.  The February 2014 fire and radiation release, which contaminated over 8,000 feet of the underground mine and 22 workers on the surface have created a contaminated facility that was not analyzed for in previous NEPA documents.  NRDC and SRIC state that DOE's analysis "materially underestimated the probability and environmental consequences" of the low-probability, high consequence events.  Those events are now reasonably foreseeable, with significant adverse effects that require supplemental analysis under NEPA.
DOE's plans to recover the mine, including the installation of a new exhaust shaft, a new permanent ventilation system, and disposing of waste in contaminated rooms, have not been analyzed, as required by NEPA.  The two non-governmental organizations argue that NEPA requires analysis of the proposed changes before WIPP could be reopened.  They have asked DOE to meet with them to discuss the "nature of the analyses to be undertaken."
NEPA is a federal law, signed by President Nixon in 1970, to address major federal actions and their impacts on the environment.  It establishes "a national policy which [ ] will promote efforts which will prevent or eliminate damage to the environment and biosphere and stimulate the health and welfare of man."  https://ceq.doe.gov/laws_and_executive_orders/the_nepa_statute.html 
SRIC and NRDC call for analysis of the 600 potentially explosive waste drums emplaced in the underground, as well as at Waste Control Specialists, located on the Texas-New Mexico border, and at Los Alamos National Laboratory (LANL), the source of the exploding drums.  The analysis must include review of DOE waste handling requirements and the inadequate line management oversight programs and processes at DOE Headquarters, WIPP, LANL and their respective contractors, including Energy Solutions, Inc.
The contaminated mine now requires the identification and analysis of new alternatives to reopening WIPP.  These could include not reopening WIPP, closing the contaminated areas and mining new rooms for waste emplacement.
Don Hancock, of Southwest Research and Information Center, commented, "NEPA requires that DOE's plans and reasonable alternatives must be discussed with the public prior to deciding to reopen WIPP.  DOE must do so."